Reg ATS
Submitted by Tyler Durden on 04/07/2014 09:23 -0400
In the aftermath of Michael Lewis' book "Flash Boys" there has been a renewed surge in interest in High Frequency Trading. Alas, much of it is conflicted, biased, overly technical or simply wrong. And since we can't assume that all those interested have been followed our 5 year of coverage of a topic that finally has earned its day in the public spotlight, below is a simple summary for everyone.
Submitted by Tyler Durden on 12/15/2012 15:26 -0400
Instead of uttering one more word in a long, seemingly endless tirade that stretches all the way to April 2009, we will this time let such dignified members of the credible, veritable status quo as Credit Suisse, who have released a two part primer on everything HFT related, with an emphasis on the broken market left in the wake of the "high freaks", which is so simple even a member of congress will understand (we would say a member of the SEC, but even at this level of simplicity its comprehension by the rank and file of the SEC is arguable). As Credit Suisse conveniently points out "market manipulation is already banned", but that doesn't mean that there are numerous loophole that HFT can manifest themselves in negative strategies that have virtually the same impact on a two-tiered market (those that have access to HFT and those that do not) as manipulation. Among such strategies are:
Quote Stuffing: the HFT trader sends huge numbers of orders and cancels
Layering: multiple, large orders are placed passively with the goal of "pushing" the book away
Order Book Fade: lightning-fast reactions to news and order book pressure lead to disappearing liquidity
Momentum ignition: an HFT trader detects a large order targeting a percentage of volume, and front-runs it.
Submitted by Tyler Durden on 11/04/2012 14:41 -0400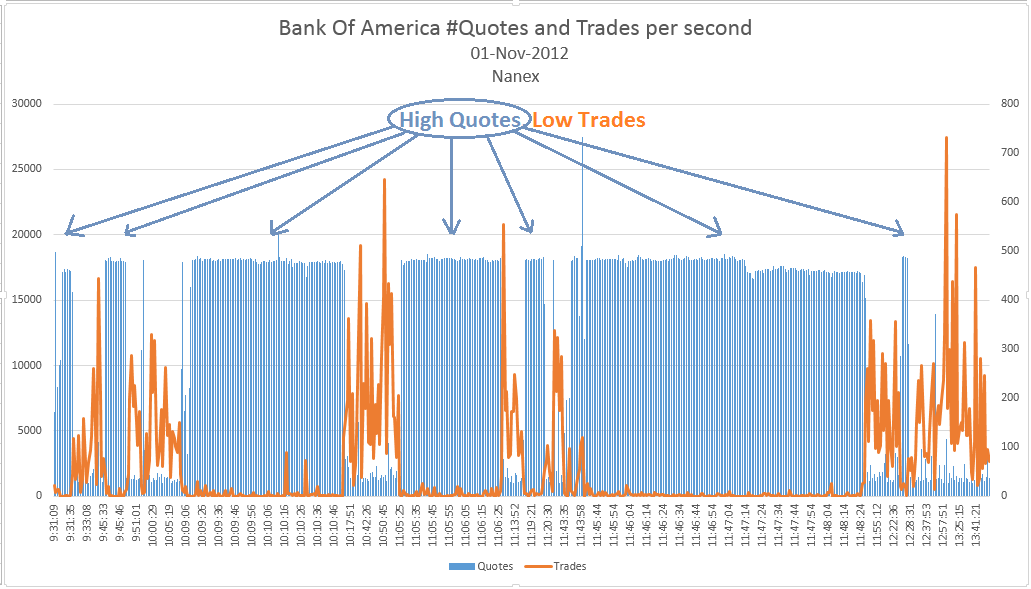 Back in the summer of 2010, when the SEC was still desperate to (laughably) scapegoat the May 6 Flash Crash on Waddell and Reed, in an attempt to telegraph to the public that it was in control of the HFT takeover of the stock market (an attempt which has since failed miserably as days in which there are no occult trading phenomena have become the outlier and have resulted in the wholesale dereliction of stock trading by retail investors), we first presented and endorsed the Nanex proposal that the flash crash was an "on demand" (either on purpose or by mistake) event, one which occurred as a result of massive quote stuffing which prevented regular way trading from occuring and resulting in a 1000 DJIA point plunge in minutes (the audio track to which is still a must hear for anyone who harbor any doubt the market is "safe"). It turns out that in the nearly 3 years since that fateful market crash, not only has nothing been done to repair the market (ostensibly broken beyond repair and only another wholesale crash, this time without DKed trades, and bailed out banks, could possible do something to change the status quo) but the Denial of Service (DoS) attacks that HFT algos launch, for whatever reason, have become a daily occurrence as the following demonstrations from Nanex confirm beyond a shadow of a doubt.