You're now on the archive server. Commenting has been disabled.
Greece: It's Time to Go
Submitted by Burkhardt on 10/09/2012 14:32 -0400
Greece: It's Time to Go
Justin Burkhardt | FXFocus.com
The lost decade. You never realize you're lost until hours into a trip when you find out you have no clue where you are. In Greece's case, that took years. The good times were rolling and the markets were booming.
Then came the burst of the bubble. What looked like endless prosperity turned quickly into a nightmarish hell of austerity, tax increases, and rampant-unemployment. With the moral hazard already breached by Lehman, the EU tried to prop the country up with bailout after bailout. Restrictions and targets were imposed then promptly ignored.
Investors soon realized the free market has no place when politics run amok. The bond vigilantes came out in force to make Greek debt unsustainable without a constant ECB backstop.
Now, after years of trying, the end of a Greek era should be close at hand. The constant bailouts, the barrage of opposition, the missed targets; failure has thwarted the country's every effort to pull themselves out of the hole they are so deeply in.
Today German Chancellor Angela Merkel met with Greek Prime minister Antonis Samaras to discuss the Greek crisis. It is obvious that the harsh austerity measures are not yielding the results that Merkel believed they would, but her visit to Athens confirms one thing; that regardless of the countries inadequacies, she does see a Greek future in the EU.
Merkel made sure to add tension to her "relief" statement by stressing that Greece still needs to push through key cost-cutting reforms in order to be compliant with previous German terms.
From the outside, this looks like the Greek story has entered syndication. Greece still can't get their act together; Germany comes in slaps them on the hand like a child and offers a threat to make them think about what they did. Does anything REALLY change though? No…
Greece is already requesting a two-year extension on their fiscal targets. Is this evidence that the country is likely to continue within the same cyclical trend they have been in for the last decade?
If we were following "Free market" principals, which we are not, it would dictate that Greece is not viable and that the EU should cut their losses quickly and begin focusing on the other looming threats within the EU.
Much of Southern Europe is in a deep recession, and Greece is an unnecessary distraction.
FOREX Insights
The market has already started to react to the news flowing out of Europe. The EUR.USD is 0.70 percent off of the days high and short-term the outlook is that we will see a continued decline.
The pair just completed its "B" wave move retracing 76.4 percent of the previous downtrend and is zipping through wave "C" now. The Expectation for a "C" wave is that it will extend 61.8 percent past the end of wave "A" at a minimum. But most frequently we see equality between waves "A" and "C", thus our expectation is that wave "C" will find its bottom at or around $1.2705.
Indicators On Watch
- EUR German Consumer Price Index (Thursday)
- EUR ECB Publishes Oct. Monthly Report (Thursday)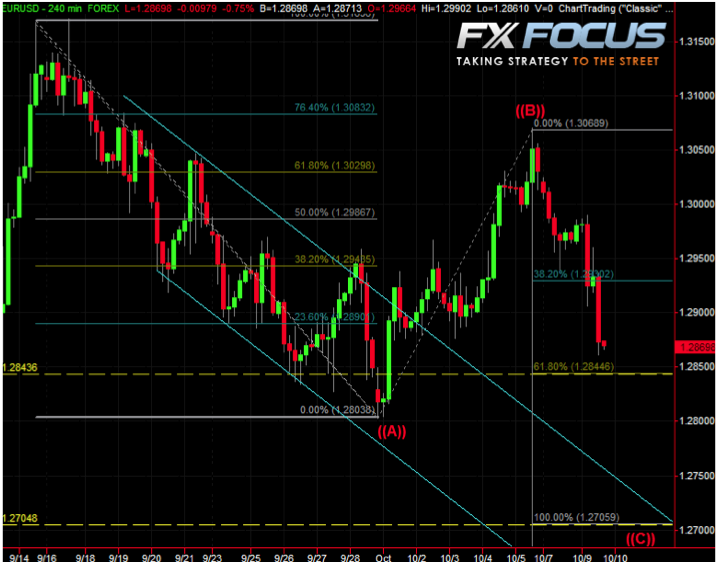 Your currency analyst,
Justin Burkhardt

Disclaimer: I have no positions in any stocks mentioned, but may initiate a (long or short) position in the EUR.USD over the next 72 hours.
»
Similar Articles You Might Enjoy: