The housing market is sending mixed signals in 2012. Time can sneak up on you and if you rewind to the last presidential election cycle the housing market was already moving lower. So here we are in 2012 and the housing market is still weak. A recent report shows that 1 out of 3 Americans with a mortgage is still underwater owing $1.2 trillion more on their home than it is currently worth. Keep in mind that the 5 to 6 percent cost of selling a home is shouldered by the seller and that isn't reflected here. In spite of this, most underwater homeowners continue to pay their mortgage dutifully. Even in Las Vegas where 71 percent of homeowners are underwater, many by twice the current home value, only 14 percent are 90+ days delinquent. With so many homeowners underwater what implications will this have on the 2012 election?
The underwater nation
Home prices are still at their nadir on a nationwide scale: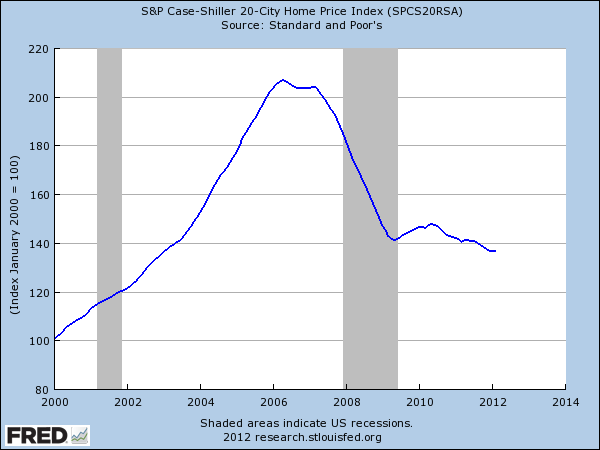 The Case-Shiller is a repeat home sale index which captures the best price movements since it tracks the same home over time. The index is delayed by a few months and given recent changes, it is likely that prices are reaching a nominal bottom nationwide. However, we should take a look at the top 10 underwater regions in the US: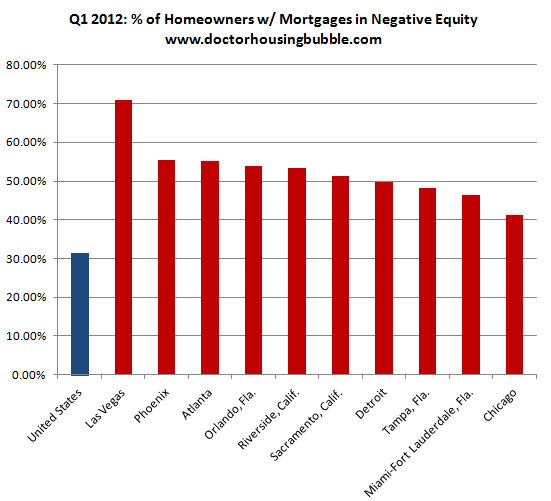 Source: Zillow
California, Arizona, Nevada, and Florida still dominate the list. These are the states also with the largest share of shadow inventory. Many of those focused like hawks on home prices rarely examine the inseparable connection of household incomes to the value of housing. Part of the continued weak pricing power in housing stems from the sluggish economy. If you look at the chart above, many of the top underwater regions have negative equity rates of 50 percent or higher for mortgage holders. While many continue to pay their mortgage, you can rest assured that many are seeking alternatives.
The politics are already heating up around this issue. HARP 2.0 is getting major activity especially with refinancing underwater homeowners. Again, these artificially low rates are helpful for those already in homes but looking forward, what larger impact will this have on the economy? If you think low rates for very long durations are good just for the sake of saving the banking and housing sector you can take a glance at Japan and see how that turned out. It is interesting that HARP 2.0 is taking on much more momentum in 2012 versus the initial HARP version.
Housing will be a factor in the upcoming election however many battleground states have negative equity rates below that of the overall national rate: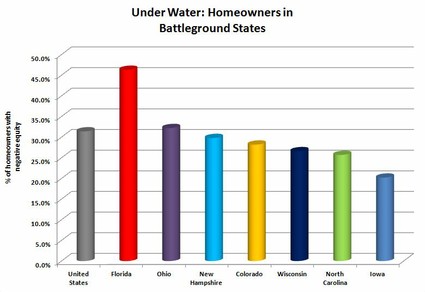 The discussion online now revolves around housing reaching a bottom on a nationwide scale. Yet the vast majority of reputable analysts conclude that just because a bottom has been reached this does not mean home prices are set to skyrocket or suddenly move up. Shadow inventory will keep prices in check for a few years and these low interest rates are giving buyers more perceived purchasing power since many only focus on the monthly nut. What happens when rates go up even slightly?
To provide evidence that distressed properties will keep a tug on prices at the low end, a RealtyTrac report listed a few top places to purchase foreclosures:

*Based on sales price
The above is interesting because many places that were already presumed affordable in 2011 continued to fall well into 2012. Distressed properties do sell for discounts and many times for deep discounts. Here in California we are seeing banks more willing to sell homes via the short sale process and avoiding the REO channels of releasing real estate. Just because home sales are picking up and inventory is moving doesn't mean housing is in good shape. The housing market appears to be better than it is because of the massive amount of support from mark-to-market accounting suspensions, the Fed intervening and pushing mortgage rates to record low levels, and a banking system that is leaking out shadow inventory. In other words, the housing "market" is one of the most controlled systems in the economy and prices are still near the bottom after many years of intervention.
It'll be interesting to see how politics will show up in the 2012 housing market. HARP 2.0 and other refinancing programs are a big win for anyone with a GSE mortgage. For those deep underwater it still does not make sense. If you bought a home for $500,000 and it is now worth $250,000 what big benefit is there if your mortgage drops from say 6% to a rate in the 3% range? Sure your monthly nut drops but the home price tag is still inflated. It is likely better to walk and purchase the home at $250,000 and take the hit on your credit report. Unfortunately these odd controlled market games are now par for the course. Yet of the 16,000,000 underwater homeowners 9 out of 10 continue to pay their mortgage on time. This is likely another reason why principal reductions are not part of the bailout equation years later. Banks are willing to walk away quicker than a cheetah on a bad bet but it is apparent that even Americans deep underwater on their homes are willing to pay for an asset that is clearly overvalued. The new name of the game is refinance at the artificially low rate and ignore the data showing a less affluent younger generation that is more focused on quality jobs than purchasing a property.

Did You Enjoy The Post? Subscribe to Dr. Housing Bubble's Blog to get updated housing commentary, analysis, and information.