New highs will become a daily headline feature it seems until we actually have a down day. 
Thursday, Jobless Claims fell (340K vs 347K previous), Productivity (-1.9% vs -2% previous) and Costs (4.6% vs 4.5% previous) were very poor reports, and the Trade Deficit grew (-$44.45B vs -$38B). Lastly, Consumer Credit expanded to $16.2 billion from $14.6 billion primarily on student loans (in a bubble) and auto loans (subprime auto loans booming).  Bulls chose to glom onto the jobs report to push markets higher along with a little help from accumulated POMO from Uncle Sugar.
At the ETF Digest our lazy portfolios are mostly fully invested but our trading programs are this week reduced to 50% invested. It seems heretical. Are we looking to reenter long? Possibly, but we'd like to see some serious buy side volume for a change. Volume on these melt-ups has returned only to 2006 levels despite all the hoopla of large inflows into ETFs and mutual funds. The latter is only true because it reverses heavy outflows over the past 5 years.
Thursday we featured a short video look at the Shanghai CSI 300 Index. This index is to China what the S&P 500 Index is to the U.S. Due to direct investing restrictions by China on foreign investing; the only ETF to utilize is the Van Eck China ETF (PEK) however, the ETF utilizes a derivative to link to the index via Credit Suisse. Unfortunately this has created a premium for PEK that can be significant. The premium on Thursday was 5.66% for example. This has reduced liquidity and made trading PEK less than satisfying. It's rumored that soon the government will approve new entries to invest directly and link to the index. Van Eck has shrewdly prepositioned itself to benefit from this change.  In the meantime, the CSI 300 Index has become volatile and was rocked by mixed economic signals now changing daily. Monday, the government announced a crackdown on speculative housing by increasing mortgage interest rates, higher down payments and a 20% tax on sales. This crushed the index. Tuesday rumors and comments, mostly by brokers and pundits, indicated that economic growth data would be better than expected which caused the index to reverse course higher. On Thursday China announced 3.5% inflation, threatening the tightening of interest rates combined with slowing economic data expected on March 9th or stagflation. The index then fell 1.2%. And, so it goes. Until Van Eck receives approval we'll wait to trade PEK.
Elsewhere, overseas the Bank of Japan voted to do nothing with their own QE activity until the new panel is in place appointed by Prime Minister Abe. So that has the presses at the ready.
In the eurozone the ECB's Mario Draghi did little that wasn't expected. Interest rates remained unchanged and he shrugged-off any concerns about his native Italy. He's no doubt waiting for talking points from Goldman Sachs or someone who might accidentally run over the upstart Grillini movement.
Stocks made gains once again led by the price-weighted DJIA (DIA) with higher priced shares as the cause. The S&P 500 is the next index to make new historic highs and thus sell more soap for the financial media. The NASDAQ might make new all-time highs in my lifetime if the Bernank goes to WARP 5 (see below Star Trek explanation) on printing presses.
"In the original configuration, Warp factor 5 was the maximum speed that could be maintained by a ship using the Warp Five engines for 53 minutes only.
This speed was first tested in 2152. By 2153, Warp 5 had become a sustainable cruising velocity that could be maintained for long periods of time.
The speed of Warp 5 corresponded roughly to a velocity of 200 times the speed of light." 
Stock sectors leading the way higher were mostly financials (XLF) and banks (KBE). The dollar (UUP) weakened perhaps because Angela Merkel doesn't like the euro below 130 and/or that interest rates in the eurozone are slightly higher than in the U.S. Take your choice. Even as the dollar declined gold (GLD) also was once again weaker. Commodity (DBC) tracking indexes were higher led by a surge in oil prices (USO).
Volume, the missing link, remains as light as I've seen since Thanksgiving. Breadth per the WSJ was modestly positive.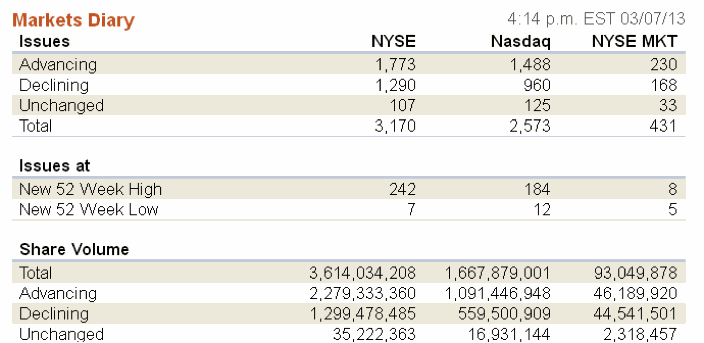 Continue to U.S. Sector, Stocks & Bond ETFs
Continue to Currency & Commodity Market ETFs
Continue to Overseas Sectors & ETFs
The NYMO is a market breadth indicator that is based on the difference between the number of advancing and declining issues on the NYSE. When readings are +60/-60 markets are extended short-term.
The McClellan Summation Index is a long-term version of the McClellan Oscillator. It is a market breadth indicator, and interpretation is similar to that of the McClellan Oscillator, except that it is more suited to major trends. I believe readings of +1000/-1000 reveal markets as much extended.
The VIX is a widely used measure of market risk and is often referred to as the "investor fear gauge". Our own interpretation is highlighted in the chart above. The VIX measures the level of put option activity over a 30-day period. Greater buying of put options (protection) causes the index to rise.
Continue to Concluding Remarks
Markets just keep inching their way higher and higher. They're overbought. That said that condition can continue longer than you can expect. The last time I saw this was during dotcom days which isn't encouraging. Many "tape watchers" don't give a rip about volume. They just follow the tape without noticing whether 200M shares traded or 80M like today. The heavy volume on sell days indicates distribution and that's what we've been seeing. 
Friday brings the employment report for March. Expectations are for 170K new jobs will be created and the unemployment rate may drop to 7.8%.