Even with the late rally Thursday, stocks were still short-term oversold per the McClellan Oscillator, making another run higher more likely. The employment report provided the energy bulls needed since the jobs reading came in nearly as expected at 175K vs 167K expected, and prior 166K. The unemployment rate rose a notch to 7.6% vs 7.5% expected, and prior 7.5%. All in all,  it made for a Goldilocks reading, meaning it was weak enough to permit more Fed QE and not so weak as to cause a recession. It would just permit sub-par economic growth with more QE.
Late in the day the Consumer Credit report was issued and signaled expansion at $11 billion, but missed expectations which was $14 billion; prior Consumer Credit was $8.4 billion. The details are that 94% of this credit expansion was on Student and Auto loans with much of the latter in subprime auto loans. For the most part, auto companies are self-financing.
HFT algos don't look too much under the hood and merely trade the headlines. But from our view, the still low employment participation rate (63.4% of the working population is employed, source BLS) is the only reading allowing the unemployment rate to fall.
Therefore, as the population grows and participation rated declines the percent of unemployment since 2008 is really over 11.3%. (Hat tip, Zero Hedge)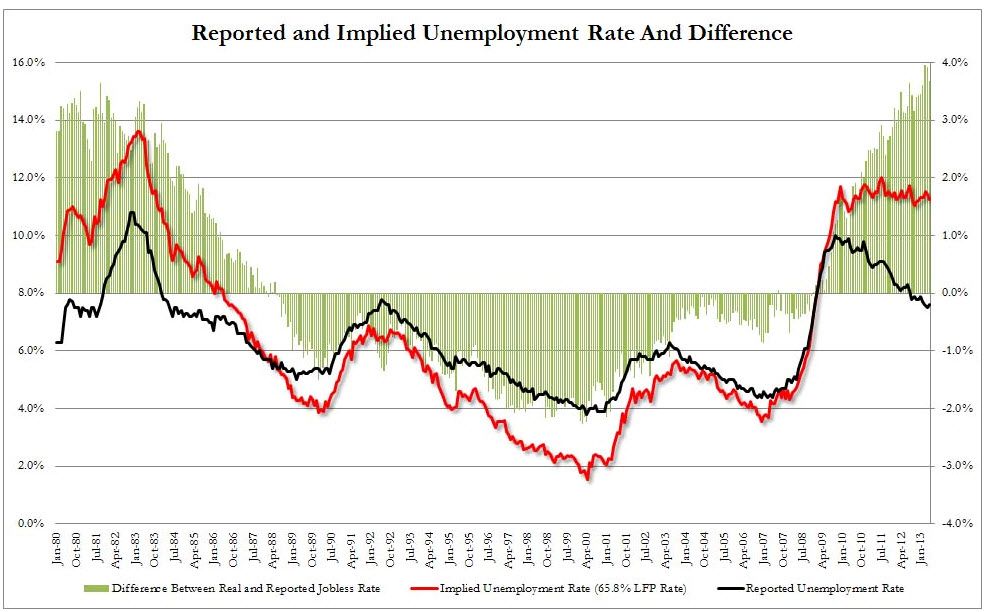 The following chart also from the BLS demonstrates the long term picture of unemployment going back 60 years.
Another uncomfortable fact for the efficacy of QE are the following facts. Since QE3 was launched last September, total bank reserves have grown by $244.1 billion and excess reserves by $239.4 billion – meaning that 99% of the funds remain idle. So no lending or investment is taking place as banks just take Fed liquidly in and simply earn the overnight interest rate. So, doing the same thing over and over again doesn't do the job of curing unemployment and growing the economy—just the illusion of it.
Main Street sees the stock market doing well which should stimulate more confidence if only people don't look at the details of conditions.
Stocks rallied sharply out of the gate as headline data suggested more QE, which frankly is all markets have going for it beyond stock buybacks and reduced float.
The most oversold sectors experienced a rally and short squeeze while the overbought sectors were sold. Equity sectors leading markets higher included the major indexes which managed to close the volatile week green (These +/- 200 point days for the DJIA are a bit much even for the pros). Other oversold sectors in the rally included financials (XLF), consumer discretionary (XLY), energy (XLE), and tech (XLK). Still doing poorly, or at least not in the bullish flow, was India (EPI), Asia Ex-Japan (AAXJ), Emerging Markets (EEM), Australia (EWA) and China (FXI). Dividend areas were mixed with energy-related (AMLP) ETFs doing well, while Emerging Market dividend ETFs (DEM) were weaker.
The dollar (UUP) rallied slightly while gold (GLD) was hit hard once again as risk-off assets were shunned. Previously rising credit spreads narrowed as Treasury's (TLT) fell and High Yield (HYG) outperformed. Commodity tracking ETF (DBC) was a little higher given its high energy weighting as crude oil (USO) rallied. Meanwhile, copper (JJC) continues to underperform which is generally taken as a poor sign of economic growth.
We're still only 25% invested with a couple of dividend plays and now just one short position using FXP (ProShares 2X Short China). 
Volume was above average and breadth per the WSJ was quite positive as short-term oversold conditions evaporate. (See NYMO chart)

You can follow our pithy comments on twitter and become a fan of ETF Digest on facebook.
NYMO
The NYMO is a market breadth indicator that is based on the difference between the number of advancing and declining issues on the NYSE. When readings are +60/-60 markets are extended short-term.
NYSI
The McClellan Summation Index is a long-term version of the McClellan Oscillator. It is a market breadth indicator,and interpretation is similar to that of the McClellan Oscillator, except that it is more suited to major trends.I believe readings of +1000/-1000 reveal markets as much extended.
VIX
The VIX is a widely used measure of market risk and is often referred to as the "investor fear gauge". Our own interpretation is highlighted in the chart above. The VIX measures the level of put option activity over a 30-day period. Greater buying of put options (protection) causes the index to rise.
SPY 5 MINUTE
SPY DAILY
.SPX WEEKLY
INDU WEEKLY
RUT WEEKLY
QQQ WEEKLY
XLF WEEKLY
XLY WEEKLY
XLI WEEKLY
IYT WEEKLY
IYR WEEKLY
ITB WEEKLY
AMLP WEEKLY
DEM WEEKLY
IEF WEEKLY
HYG WEEKLY
UUP WEEKLY
FXE WEEKLY
FXY WEEKLY
FXA WEEKLY
GLD WEEKLY
GDX WEEKLY
SLV WEEKLY
JJC WEEKLY
DBC WEEKLY
USO WEEKLY
XOP WEEKLY
DBA WEEKLY
EFA WEEKLY
EZU WEEKLY
EEM WEEKLY
AAXJ WEEKLY
EWA WEEKLY
EWJ WEEKLY
EPI WEEKLY
EWZ WEEKLY
FXI WEEKLY
...
This was one helluva week. Nevertheless current markets are still hooked on QE. The dissenting Dallas Fed President Richard Fisher has voiced his concerns about this many times and once again the other day in this speech. Even former Fed Chairman Alan Greenspan, admittedly less respected than previously, suggested the Fed should start tapering nowto slowly wean these addicts off QE. This would then be a slow process rather than something shockingly abrupt. Former Fed Chairman Paul Volcker has expressed the same message in his own way.
The big deal will be what comes out of the next Fed meeting on the 19th as quadwitching nears. The entertainment will continue with Retail Sales the headline economic report next Thursday.
Let's see what happens.