---
"Don't Tread On Our Freedom" - Texas Gov Joins Resistance Against COVID Vaccine Passports
Critics are already poking holes in NY Gov. Andrew Cuomo's plan to roll out a digital "vaccine passport" in New York, and as officials like Dr. Anthony Fauci struggle to explain how Texas has kept cases so low for so long after scrapping 100% of COVID-related restrictions, the Lone Star State's governor has become the second in the country to speak out against "vaccine passports".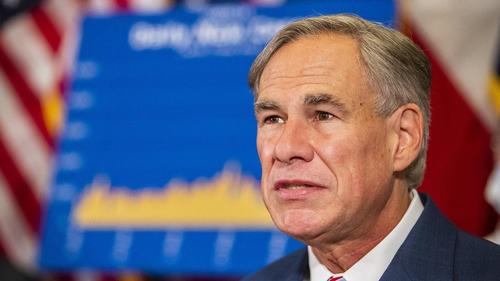 The White House has insisted that it wouldn't permit requirements to make vaccination for COVID mandatory. But at this point, airlines, hotels, restaurants, bars and other businesses are looking at "vaccine passports" as one way to help reopen their businesses more quickly, and more completely. So Gov. Abbott announced yesterday that no Texas government agencies or political entities would be permitted to require "vaccine passports" in the state.
NEW: Texas Gov. Greg Abbott announces that he has issued an executive order prohibiting state agencies or political subdivisions in his state from creating "vaccine passport" requirements.pic.twitter.com/lkjQQZRK4n

— Jennifer Franco (@jennfranconews) April 6, 2021
"Don't tread on our personal freedoms," the governor warned, even as he made clear that he was not against the idea of vaccination in principle, but resented the idea that citizens would effectively be forced to accept the vaccine. "Every day Texans return to normalcy as more people get (and become immune to) the spread of Covid-19," Abbott declared, adding that the jabs "help slow the spread of Covid, reduce hospitalizations and reduce fatalities."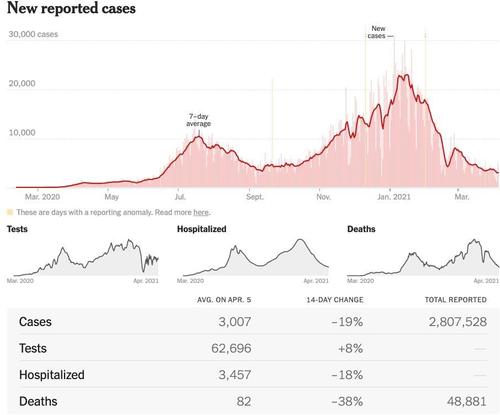 Source: NYT
Yesterday, we reported on comments from Dr. Fauci, who acknowledged that there was no obvious explanation for how Texas has managed to combat cases, deaths and hospitalizations while reopening the state almost back to 2019 levels. The good doctor even had the audacity to suggest that infections might be spreading with a "lag" (a month has passed since Abbott's order).
According to RT, at least 17 separate vaccine passes are in the works to track travelers' medical data, the Biden administration told the media earlier this week, though the president has previously insisted that he has no plans for a nationwide vaccine passport.
Before Gov. Abbott, Florida Gov. Ron DeSantis last month expressed concern that these types of mandates would "create two classes of citizens based on vaccinations," and that putting private companies in charge of guarding vaccine data would be akin to putting the fox in charge of guarding the henhouse. He argued it would be ridiculous to require people to "show proof of vaccine to just simply be able to participate in normal society."
Most of the emphasis on vaccine passports has come from Europe, which is launching its own electronic initiative in an effort to safeguard its struggling tourism industry in countries like Spain and Greece.
Vaccine passports could preclude millions of Americans from society. If the results of one recent survey are to be believed, Forbes reports one-fifth of American adults are still in no rush to get the vaccine, while only 48% of parents say they don't plan to get their children vaccinated right away, the latest sign that all the complications with the AstraZeneca jab is making people nervous.