---
Leftists Furious As Woody Harrelson Sneaks Covid Vaccine Mandate Joke Onto SNL
On his fifth time as guest host on the now far-leftist Saturday Night Live, Harrelson entered into a monologue which seemed to catch the New York audience off guard as the joke ended with a scathing indirect indictment of Big Pharma, lockdowns and vaccine mandates.
The progressive media is, not surprisingly, furious, accusing Harrelson of not only spreading a "conspiracy theory" but being high with the Rolling Sone's Marlow Stern claiming he was "apparently under the influence."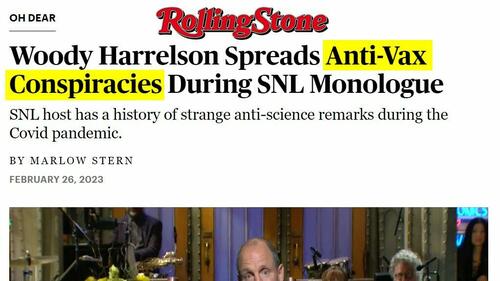 Yes, Woody Harrelson went full anti-vax conspiracy theorist during his SNL Monologue tonight https://t.co/rmwm6JIsYh

— Marlow Stern (@MarlowNYC) February 26, 2023
The same Rolling Stone, of course, which was caught in that whole Ivermectin fabrication-cum-retraction...
That's the same reason the hard-core Dem Party media loyalists, led as usual by @Maddow, spread this fake story all over based on what appears to be a fraudulent source without checking. Fake News is 100% acceptable if done with good political motives:https://t.co/lzAXAHKrfN

— Glenn Greenwald (@ggreenwald) September 5, 2021
As if given a green light by the Pfizer C-Suite, the leftist pile-up began...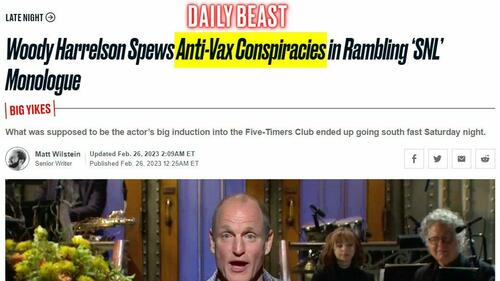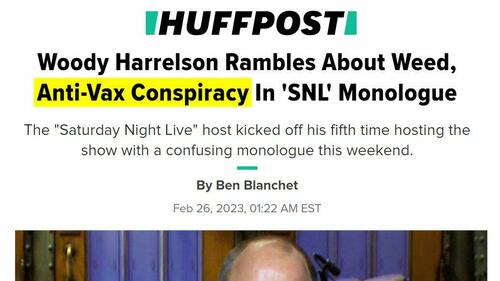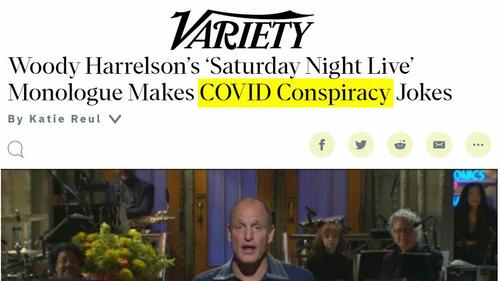 Still, the trend of celebrities and mainstream figures coming out in opposition to the draconian covid restrictions is growing along with skepticism about the vaccines, though, the starved for ratings and pro-establishment SNL is probably the last place we would expect to see such voices given a "platform." Unless, of course, this was just a marketing ploy to end the viewership bleeding...
Woody Harrelson's monologue! pic.twitter.com/FAEcBDnIKu

— Saturday Night Live - SNL (@nbcsnl) February 26, 2023
And while the old media - a melting ice cube still generously funded by ads from companies such as, oh, Pfizer - is losing its mind, Twitter owner Elon Musk had a clear and sobering reaction to the monologue.
🎯

— Elon Musk (@elonmusk) February 26, 2023
Loading...