---
Bitcoin Cash Pumps And Dumps After Kroger Confirms Crypto Adoption Was Fake News
In another indication of the mainstream adoption of cryptocurrencies, The Kroger Co., America's largest grocery retailer, announced: "that it will begin accepting Bitcoin Cash" for products. But moments after the headline and a Bitcoin Cash pump underway, a Kroger spokesperson said the news release to accept Bitcoin Cash this holiday season is "fraudulent." 
Nevermind, it's fake

KROGER SPOKESPERSON: PRESS RELEASE SAYING KROGER TO ACCEPT BITCOIN CASH THIS HOLIDAY SEASON IS FRAUDULENT https://t.co/vPovx7iDXZ

— zerohedge (@zerohedge) November 5, 2021
This is like #DeepFake quality stuff $KR pic.twitter.com/mtC2s9687j

— Dominic Chu (@TheDomino) November 5, 2021
Bitcoin Cash pumped and dumped on the news.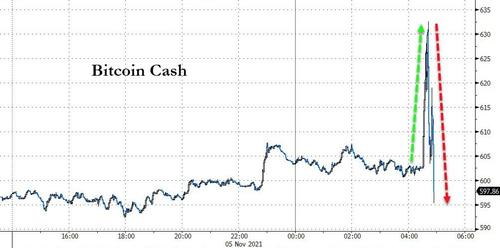 In September, this is precisely what happened when a fraudulent statement via GlobeNewswire was released: "Walmart Announces Major Partnership With Litecoin (LTC)." 
Friday morning's fraudulent headline was released through PRNewswire.
Hey @kroger maybe unhack your website? pic.twitter.com/PTl6JZys2G

— zerohedge (@zerohedge) November 5, 2021
As further questions need to be asked, how are these fake headlines allowed to be published through reputable press release companies?