---
Bitcoin Surges Above $24K, Shrugging Off US Treasury Custody Comments
The U.S. Treasury Department said Friday it is proposing new requirements involving convertible virtual currencies that would require banks and other intermediaries to maintain records and submit reports to verify customer identities for certain transactions. But instead of the typical lurch lower on the threat of the 'r'-word, Bitcoin has extended its recent run to new record highs above $24k...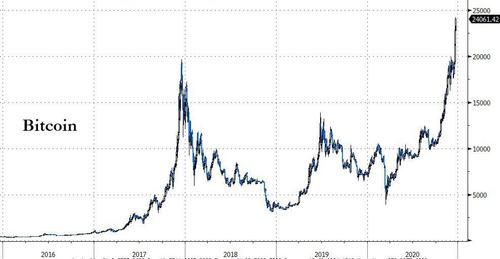 Source: Bloomberg
...breaking out of a 36 hour range...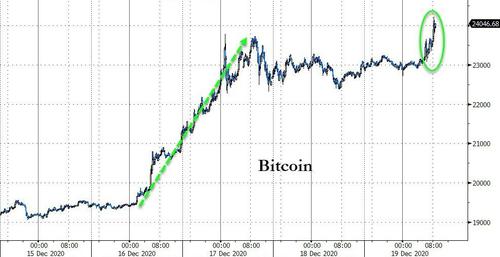 Source: Bloomberg
As CoinTelegraph's Joseph Young notes, the threat of new crypto sector-focused regulations is a credible event which has negatively impacted crypto prices in the past, but this time around there are a few reasons why the proposed rule probably will not lead to a Bitcoin price crash.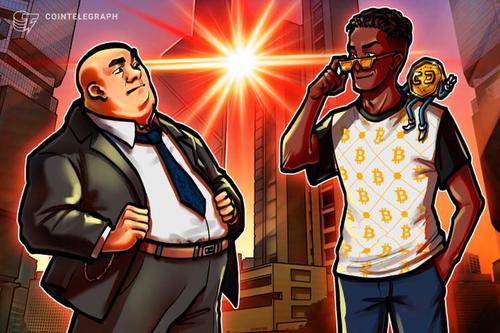 image courtesy of CoinTelegraph
The possibility of regulation is priced into the crypto market
Initially, industry executives expressed major concerns when Coinbase CEO Brian Armstrong shared what he had heard about the planned rule.
Last week we heard rumors that the U.S. Treasury and Secretary Mnuchin were planning to rush out some new regulation regarding self-hosted crypto wallets before the end of his term. I'm concerned that this would have unintended side effects, and wanted to share those concerns.

— Brian Armstrong (@brian_armstrong) November 25, 2020
These worries were amplified when Circle CEO Jeremy Allaire told Ryan Selkis that the possible regulation could be detrimental to the entire cryptocurrency sector. The comments from the two industry heavyweights led the entire industry to become cautious about the planned rule proposal.
However, recent reports suggest that the rule might require multiple transactions that are equivalent to $10,000 a day to be reported by financial institutions. Compared with the initial rumors about the rule, it is arguably less rigorous than it appeared. In fact, some experts say the proposed rule is similar to the existing FATF travel rule.
Considering that the rule could be less restrictive than the initially planned regulation, and the fact that the market has had sufficient time to act on it, it's possible that the market has priced it in at this point.
What path can Mnuchin take?
There are two main paths Mnuchin could take to introduce the self-custody wallet regulation.
First, he could take the conventional route of rulemaking, which requires a hearing and a 30-day period.
If Mnuchin takes the conventional approach, the proposal would have to be released this week before the current Presidential term comes to an end.
Alternatively, Mnuchin could aim for a "good cause" way of passing the regulation. This would allow Mnuchin to speed up the process. Jason Civalleri, an attorney, said:
"Further, there's an exception for if an agency articulates 'good cause' that the notice/public procedure requirements are 'impracticable, unnecessary, or contrary to the public interest.' For example, one possible use of this exception is if needed to stop a pandemic. So Treasury would have to articulate why it wants to skip this requirement for 'good cause.' For example, maybe it can show an extraordinary amount of criminal activity will be stymied by the new rule's early implementation. Seems unlikely, but maybe?"
At this point, it is more likely for Mnuchin to take the conventional approach. To take the "good cause" method, he would need to find sufficient evidence to prove that crypto sees significant criminal activity.
Hence, the probability that the proposed rule would be introduced in the upcoming days remains the highest, which would be optimistic for Bitcoin. Matt Odell, a Bitcoin and privacy advocate, said:
"The Block speculating that US gov will simply require exchanges to report bitcoin withdrawals larger than $10k. I already assumed they did this tbh. The concerns Armstrong and Davidson voiced seemed to expect much worse. Maybe the public concern helped. Very bullish if true."
Additionally, the bigger the institutional adoption, the stronger the pushback, and the harder it will be for the US/Treasury to really crackdown on bitcoin.
So, as more institutions flood in, the lower the likelihood of catastrophic regulation as there will now be a powerful lobby demanding status quo.
Meanwhile, CoinTelegraph reports that with Bitcoin derivatives trading on the rise, one platform is letting traders bet on a $100,000 BTC moonshot by Sept 2021.
Cryptocurrency derivatives platform Deribit is letting traders bet on a $100,000 Bitcoin price — and within a certain period, no less. 
As of Thursday, Deribit users can bet on the flagship cryptocurrency reaching $100,000 via options contracts that expire on Sept. 24, 2021. The lofty strike price was established following a surge in daily trade volumes. 
In options trading, a strike price is the value that a derivative contract can be bought or sold when it's exercised. 
Deribit processed 754,123 BTC options contracts in November, according to marketing material that appeared on Twitter Thursday.
The exchange is currently listed as the tenth-largest crypto derivatives exchange on CoinMarketCap, or CMC. Volumes reported by CMC may not reflect actual market turnover due to methodological issues with how the data are collected and reported.
Crypto data analytics provider Skew reported Thursday that Deribit is the largest derivatives market for Bitcoin trades. The firm also said that daily options trading in BTC surpassed $1 billion for the first time.
Deribit tells Bitcoin.com:
"We have seen a total turnover of USD 3.5 billion today (rolling 24 hrs) [...] We have seen a total turnover of USD 1.4 billion today (rolling 24 hrs).:
Bitcoin's coveted six-figure moonshot is considered a foregone conclusion by its most ardent supporters. What some have found shocking as of late is that many of the most bullish forecasts are coming from outside the BTC community.
Citibank has seemingly predicted a $318,000 BTC price next year, while Guggenheim has called for a $400,000 valuation. Meanwhile, JPMorgan says Bitcoin could soon receive a $600 billion catalyst, which would catapult prices sharply higher.