---
The New Bitcoin ETF Just Did Something No Other ETF Has Ever Done
Update (1345ET): BITO just did something no other ETF has ever done...this is the first ETF to crack $1 billion in AUM in under 2 days. GLD did it in 3 days.
I've never seen anything like this. I bet ProShares is even shocked. https://t.co/QZHXAQ4as5

— Eric Balchunas (@EricBalchunas) October 20, 2021
And even Tom Brady is excited...
Tom Brady getting into Crypto was a top signal 🚩🚩🚩🚩🚩🚩🚩🚩 🚩🚩🚩🚩 🚩🚩🚩🚩 🚩🚩🚩🚩 pic.twitter.com/hc6qxQou9o

— Tom Brady (@TomBrady) October 20, 2021
*  *  *
Update (1245ET): Bitcoin made a new all-time high at $19,511 in Dec 2017, then in Dec 2020 it broke out to a new record high, jumping 23% in 2 days (and accelerating 115% to just below $42k in January 2021 before sliding back).
In early February 2021, Bitcoin retook its January record high and accelerated over 25% in 2 days before extending gains to 44% by late Feb before pulling back.
On March 13th, BTC broke out to a new record high and jumped over 8% that day.
On April 13th, BTC broke to another record high and accelerated almost 9% in 2 days.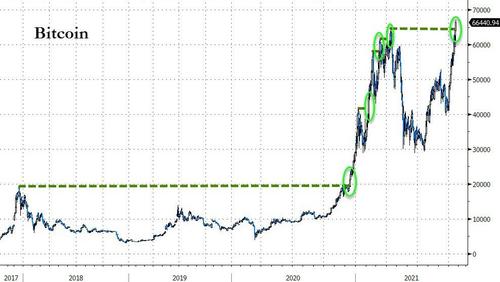 Today's break of the April record high has so far prompted a 5% or so gain. Given the historical strength of these breakouts, it would seem more is to come...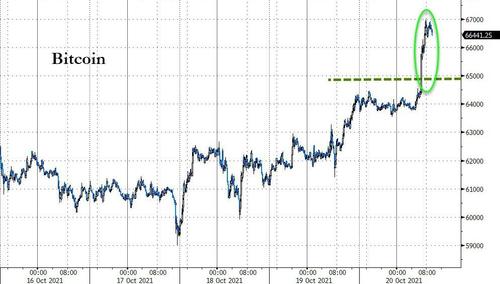 Additionally, there are a number of notable developments across the ETF-Futs-Spot space this week:
1. BITO 2nd day volume on target to bigger than opening day (which is nearly unheard of)...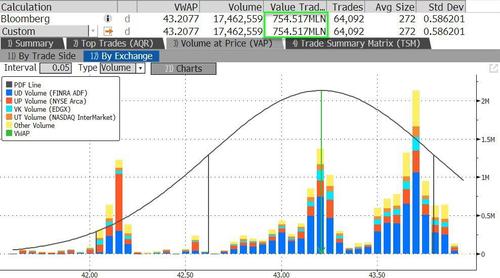 2a. BITO demand has sent BTC Futs soaring higher and spreading across the next few months contracts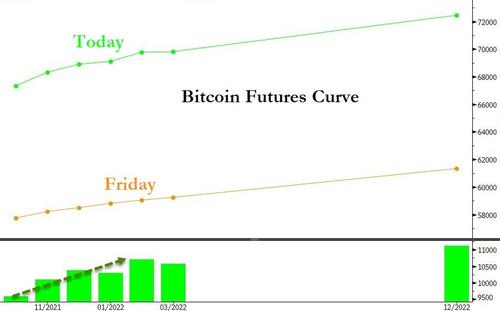 2b. BTC Futs OI now dramatically rising relative to ETH Futs (forced ETF-driven buying in BTC)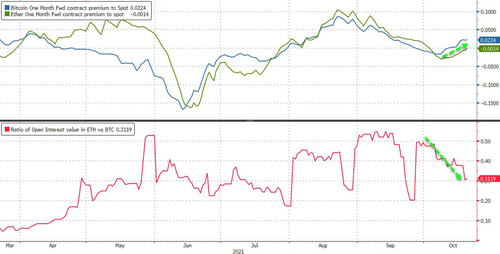 3. The BTC Futs curve implies a significant cost of carry. Goldman Sachs notes that the CME funding continued to rise over the course of last two weeks and is now hovering close to 20% annualised (Figure 3). This is the negative cost of carry that investors will face by investing in CME futures-based ETF at these levels (the funding has been <5% during the summer for comparison).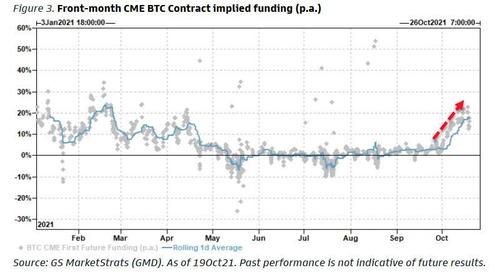 4. BTC Futs premium to spot at over $600 (up notably from last week)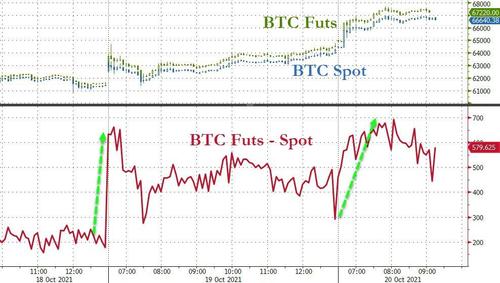 5. GBTC discount to BTC is at record high (as demand pulls away from the BTC Trust)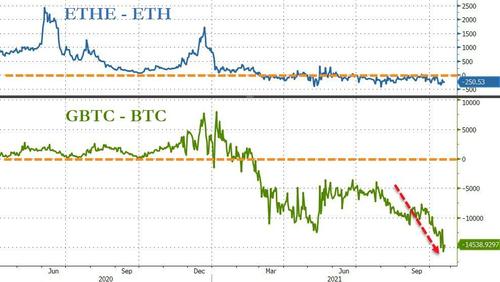 6. Perhaps the biggest indicator of more progress to come is the fact that traders are buying short-dated very deep OTM BITO Calls in massive size...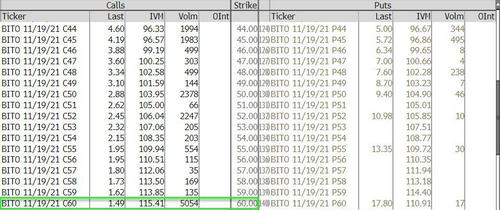 A "gamma squeeze" is underway.
*  *  *
Update (0945ET): On April 14th, 2021, Bitcoin reached a record high at $64,869 before various FUD headlines hit from the SEC and China, sending the biggest cryptocurrency reeling lower - below $30k at one point.
Now, having bottomed at $29,307 on July 20th, bitcoin has just surged above April's prior highs to a new all-time high...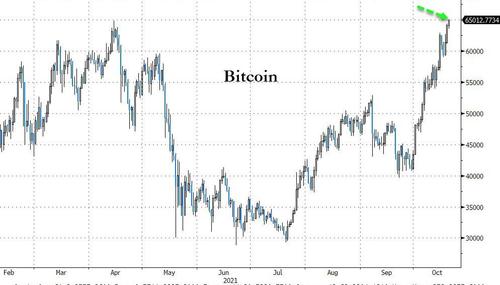 Spiking above $66k...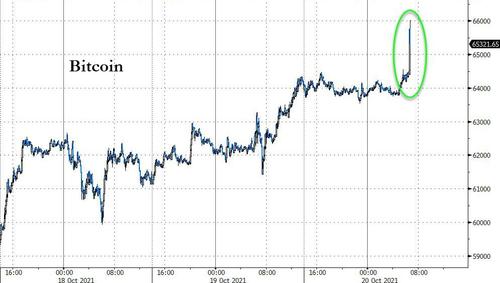 As BITO spiked also...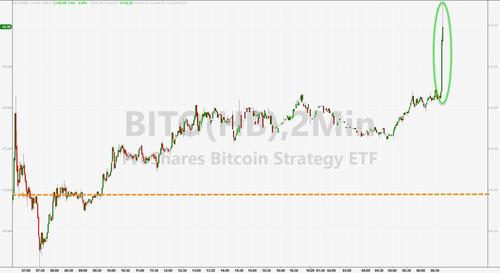 Ethereum is catching a bid, trading up to almost $4k...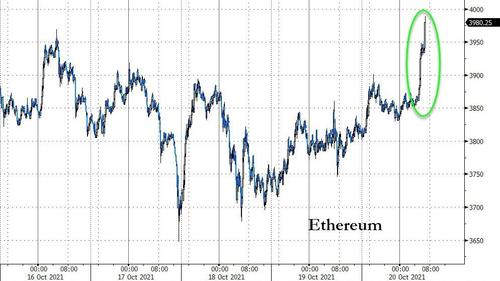 As PTJ said this morning, "crypto is the preferred inflation hedge to gold"...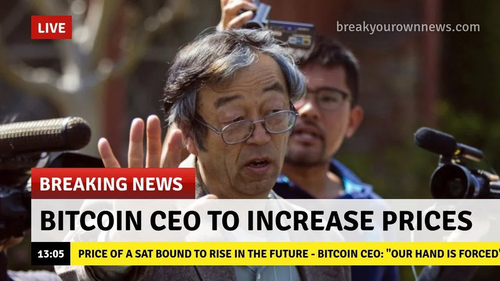 *  *  *
Following the record volume for an ETF's opening day yesterday for the first Bitcoin (futures) ETF, today could be even more 'exciting' as options on the ProShares Bitcoin Strategy ETF (BITO) start trading on the NYSE Arca Options and NYSE American Options exchanges. BITO is trading at yesterday's highs in the pre-market...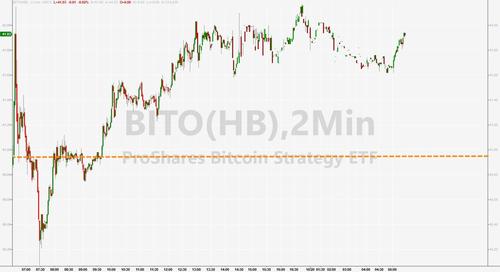 Bitcoin options have traded on crypto exchanges for a while but this will be the first ETF-based options to trade on the cryptocurrency and deepens the crypto adoption for pros and retail alike. Notably, as bybt.com data shows, open interest across all the crypto exchanges has soared to a record high ahead of today's exchange-traded launch...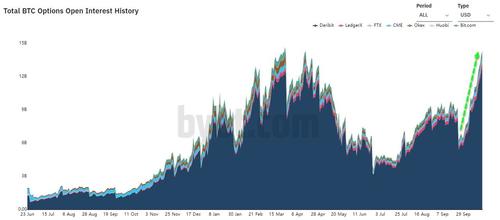 There is a clear bias to upside calls vs downside puts in the crypto-exchange data...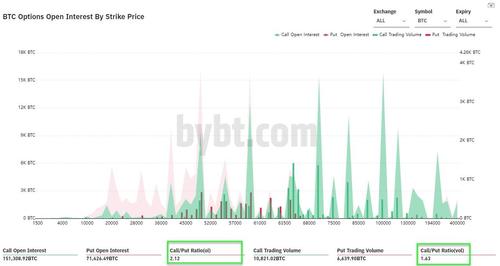 "Options are huge in this case," said Eric Balchunas, senior ETF analyst at Bloomberg Intelligence.

"Retail-YOLO types will be able to trade calls on Bitcoin for the first time in regulated financial markets. Institutions can use puts to hedge or go short Bitcoin." 
The introduction of ETF options should serve to make the crypto derivatives market more liquid as a whole, according to David Abner at Gemini Trust Co., a digital asset firm. 
"Yes, you can go to crypto platforms and trade options, no question -- but you have to go to crypto platforms to do that," Abner said.

Options on the fund "adds to the ecosystem around the ETF which enables better trading for it, so I think it's a good thing for both options traders and investors and the ETF itself," he said.
We suspect the term for today's trading will be "brace" as the options tail wags the underlying's dog to some extent.