---
Trump Shuts Down WTO Appeals Court, Sending EU, China Scrambling For 'Plan B'
Axios certainly has the best intro to today's bombshell development: "Internationalists have always dreamed of a court with jurisdiction over all the countries of the world. In 1995, the World Trade Organization was created — allowing the world's countries to press claims against one another for the first time." 
But it won't survive the Trump presidency as on Tuesday his administration has effectively brought it to an end, neutering its ability to intervene in trade wars, having blocked all new appointments to its dispute-resolution court.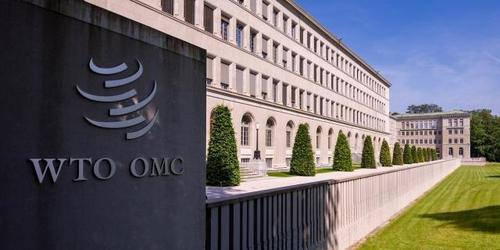 Starting two years ago the US administration began blocking appointments, and now Trump has run out the clock as the now paralyzed WTO's Appellate Body over that period declined from seven judges to three, and with two more terms expiring Tuesday, only one judge remains, thus without the ability to issue a binding ruling. 
Also per Axios:
Donald "Tariff Man" Trump (his words) can now impose whatever tariffs he likes, without fear that the WTO might find them to be illegal.
However, there's widespread perception that the WTO has been rendered obsolete until it undertakes major reforms — for example criticisms that it frequently fails to abide by its own rules, has an inconsistent appeals mechanism, and its rules fail to account for state-controlled enterprises.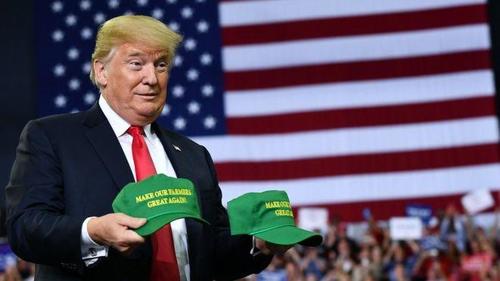 Viewed as among the foremost hindrances to Trump's "America First" program, he's already long bulldozed past WTO rules amid the trade war with China, including punitive levies on Chinese goods (and another tariff increase set for this upcoming weekend), and imposing metal tariffs on allies like Europe, Canada and Japan.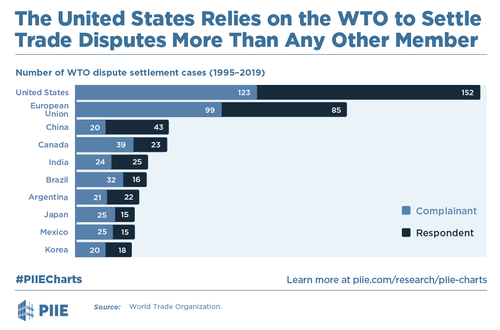 Via the Peterson Institute for International Economics: The World Trade Organization (WTO) resolves trade disputes through its dispute settlement process, a system that the United States helped design to ensure all countries follow negotiated trading rules. Since 1995, a total of 575 cases have been brought to the WTO, and the United States has been either a complainant or respondent in 275 of them. 
* * *
And now the question of China and "a very unfortunate Plan B" initiative, as described in Bloomberg:
China is in preliminary talks to support the European Union's backup plan for settling international trade disputes as President Donald Trump's administration gets closer to scuttling the World Trade Organization's role in refereeing cross-border commerce.

On Tuesday, China's Ambassador to the WTO Zhang Xiangchen told Bloomberg News that Beijing is actively working to support the EU's vision of an appeal-arbitration model, which essentially replicates the work of the WTO's soon-to-be defunct appellate body.
So far such a Europe-based alternative has drawn interest from current WTO members Australia, Argentina, Brazil, Chile, Japan and Turkey, as noted in the report.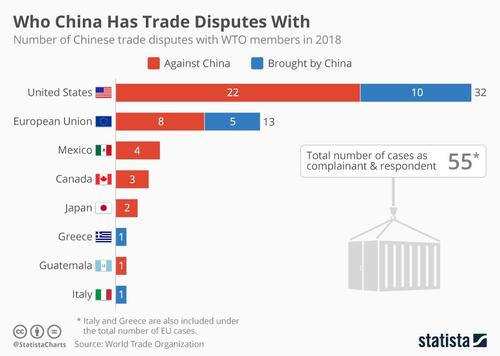 Data for year 2018. You will find more infographics at Statista
Meanwhile, internationalists fear a return to the law of the jungle:
"The WTO is facing its deepest crisis since its creation," Phil Hogan, the European trade commissioner, told members of the European Parliament this year. If the rules governing international trade can no longer be enforced, "we'd have the law of the jungle."
And one former appellate body member James Bacchus, told Bloomberg: "There has been a gradual support for this as a very unfortunate Plan B."
He concluded, "Now it seems to be the best option, given all the lousy options we have left."