---
China Was Biggest Dumper Of US Treasuries In June As Foreign Central Banks Resumed Selling
Foreigners were net buyers of US Treasuries in June ($28.9b), but official entities cut their holdings by $20.6bn as private buyers bought $50.3bn. Additionally,
Foreign net buying of equities at $28.5b

Foreign net selling of corporate debt at $16.6b

Foreign net buying of agency debt at $38b
The return of selling by official entities in June comes after buying $10BN in May, which was the first purchase by foreign CBs since August 2018!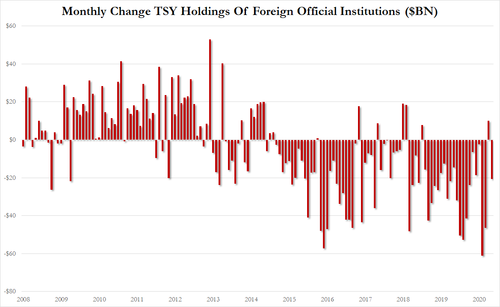 And while May saw record stock-buying by foreigners, in June this slowed down quite a bit to $28.5BN from $79.9BN...
China was the biggest dumped of US Treasuries in June, cutting its exposure by $9.3 billion...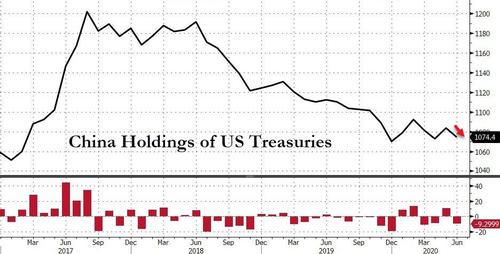 Source: Bloomberg
Others selling US Treasuries in June included Spain, Hong Kong, Canada, and Australia.
On the other side, France added the most Treasuries, $13.7 billion in June...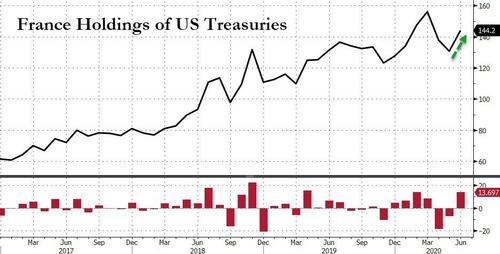 Source: Bloomberg
India was also a big buyer in June (adding $12.8 billion) along with Singapore, Belgium, Ireland, Taiwan, and Korea.
Japan added a modest $0.9bn and remains America's largest creditor holding $1.26 trillion of US Treasuries.
But for now, the trend is not your friend if you're trying to finance record high deficits...