---
China's Youth Unemployment Just Hit A New Record High As Q2 GDP Growth Disappoints
China's economy lost momentum in the second quarter with GDP growing just 6.3%, well below the 7.1% expectation.
The statistics bureau's press briefing begins with its spokesman, Fu Linghui, proudly proclaimed that China's economy improved in the first half despite the grim and complex international environment.
However, bear in mind that the 6.3% YoY growth rate - already quite a bit less than economists estimated - is less impressive when you consider it compares to a quarter in 2022 when Shanghai was under lockdown and other cities faced severe Covid-related restrictions.
The rest of the major macro data was more mixed (though with a downside bias):
China June Industrial Output Rises 4.4% Y/Y; Est. 2.5% - BEAT (and improved from prior month)

China June Retail Sales Rise 3.1% Y/Y; Est. 3.3% - MISS (and slowed from prior month)

China Jan.-June Fixed Investment Rises 3.8% Y/Y; Est. 3.4% - BEAT (but slowed significantly)

China End-June Surveyed Jobless Rate Stands at 5.2% (flat from prior month)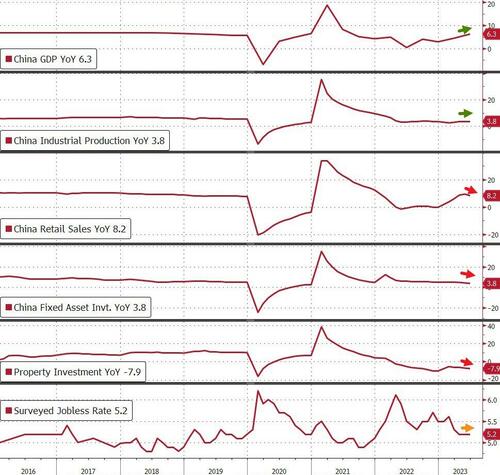 The growth of China's home sales slowed, while property investment and new construction fell deeper, official data showed.
Home sales by value rose 3.7% from a year earlier in the first half of the year, slowing from an 11.9% increase in January to May, the National Bureau of Statistics said Monday.

Property investment fell 7.9% in the first half, compared with a 7.2% decline in the first five months.

New construction starts dropped 24.3% in the first six months, compared with a 22.6% fall in January to May.
With China's extreme Zero-COVID policies now in the distant past, the difficulties facing the world's second-largest economy will further increase global growth fears and lead to increasing calls for Beijing to do more to shore up confidence (i.e. unleash broader stimulus measures).
Ho Woei Chen, economist at United Overseas Bank says the GDP is "a big disappointment":
"But June data is still mixed. The industrial production was better than expected and picked up from May. The weak domestic demand will be of great concern and this will be the target for its monetary and fiscal stimulus."
The problem with those demands is that credit (stimulus) actually rose more than expected...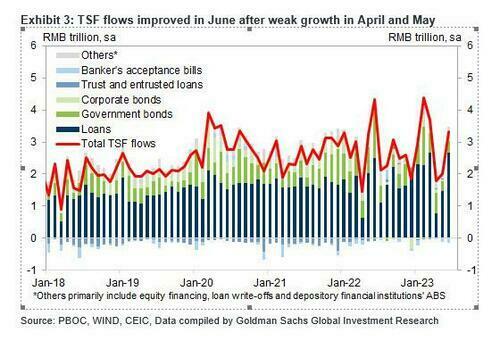 Finally, and in fact probably even more critical than the actual GDP print, China's youth unemployment rate rose to another new record high of 21.3% in June (dramatically worse than the 5.2% nationwide surveyed jobless rate)...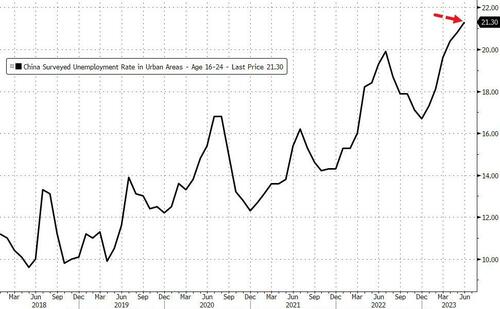 Source: Bloombrg
Of course, China does have a simple solution for this record youth unemployment... "it is becoming increasingly uncomfortable that the world's concerns of a coming war in Taiwan are intensifying at the very same time that China's youth unemployment is surging."
Loading...