---
Italian Government Near Collapse After Renzi Pulls Ministers From Ruling Coalition
As if there wasn't enough chaos in the world.
Yesterday we reported that under the leadership of the ECB's QE Premier Giuseppe Conte, Italy's government has - or rather had - enjoyed a degree of stability unseen in decades, as the technocratic former law professor - initially brought in to lead a government formed by two anti-establishment parties, the anti-migrant League and left-wing populist Five Star Movement - had already survived the collapse of his original coalition. When League leader Matteo Salvini withdrew from the ruling coalition back in 2019, Conte managed to stave off another election by recruiting new allies from the opposition.
Since then, Conte has led Italy through two COVID-19 lockdowns, and as the country lumbers forward, with much of its economy still paralyzed, the PM has his work cut out for him if he wants to get the country's debt burden under control without resorting to punishing austerity measures (which, at this point, would probably spark a full-tilt revolution in the streets of Italy's largest cities).
But as Italy staggers out of another COVID-19-induced-lockdown, the ruling coalition is once again at the point of fracture. After Salvini quit the ruling coalition back in the summer of 2019, Conte struck a deal with Matteo Renzi, the former prime minister, who later broke off from the Democrats and formed his own centrist group.
On Tuesday, now that Italy has finally received the €196 billion-euro ($240 billion) windfall from the European Union COVID bailout package, Italy's parliament must vote on how to spend the money. But since nothing is ever easy in Italy's politically fragmented government, disagreements over spending priorities prompted Matteo Renzi, Italy's extremely unpopular former prime minister and junior partner in the coalition, to consider abandoning the government, and thrusting it into chaos just as the relief package is being finalized.
Moments ago, Renzi did just that, when the small but critical junior coalition partner pulled his ministers, putting the fate of Italy's governing coalition in jeopardy. While the news isn't a complete surprise, Conte had been making conciliatory noises and the market largely ignored yesterday's news of just this eventuality. Still, Italian bond yields had spiked in recent days in anticipation of the government possibly falling, but as Bloomberg notes "it's probably not fully priced in yet."
In response to today's news, the EURUSD initially dipped...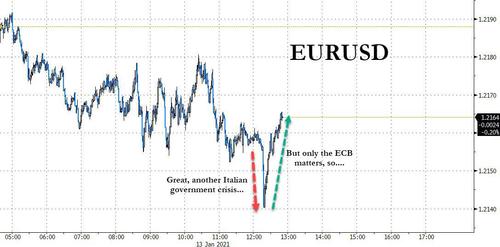 ... but has since rebounded, perhaps realizing that only the ECB matters, and also on the back of the latest weakness in the USD after Schumer told Biden that he will demand a $1.3 trillion fiscal stimulus which has weakened the greenback if not Treasurys just yet.