---
"No V" - US Factory Orders Rebound Slows In June
US factory orders rebounded in May as the economy re-opened, but the bounce was anything but "v-shaped" after March and April's collapse (-11% and -13.5% respectively). Analysts expected the pace of that lacklustre rebound to slow even more in June and it did (rising 6.2% MoM from a revised lower 7.7% rise in May) but it did beat expectations of a 5.0% MoM.
On a year-over-year basis, factory orders remain down over 10%...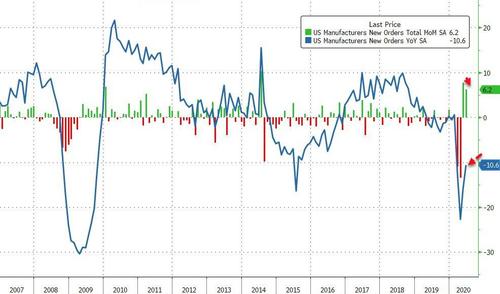 Source: Bloomberg
Factory orders ex-transports rose 4.4% MoM (accelerating from the +2.6% MoM in May)
Source: Bloomberg
And finally, one has to wonder what exactly the survey respondents in the ISM survey are seeing that sent manufacturing new orders to multi-year highs as the 'hard' data is so far off a "V'?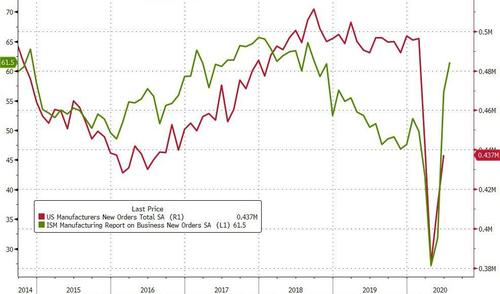 Source: Bloomberg