---
US Manufacturing Surveys Soar In October To 2-Year Highs
Following Europe's continued Manufacturing PMI rebound, US manufacturing was expected to have stabilized at September's  levels through October.
October US Manufacturing ISM BEAT 59.3 - vs 56.0 exp vs 55.4 prior

October US Manufacturing PMI BEAT - 53.4 vs 53.3 exp vs 53.2 prior
That is the highest Manufacturing PMI since Jan 2019, and highest ISM Manufacturing since Aug 2018, and these improvements happen as US macro data is serially disappointing...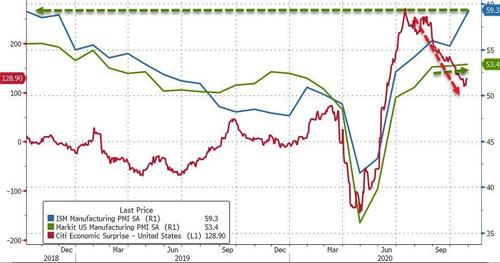 Source: Bloomberg
Although domestic demand ticked higher, Markit reports that new export orders fell for the first time since July.
However, under the ISM hood, export orders improved...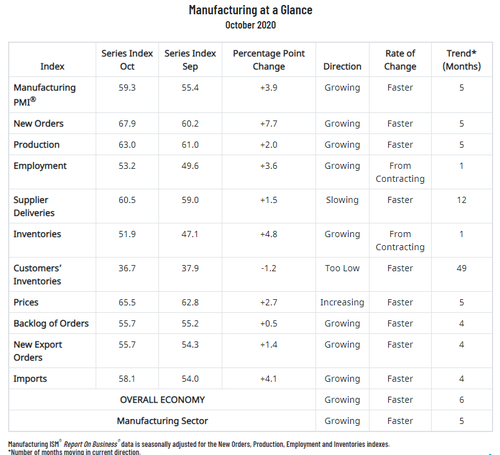 And overall new orders rose at their fastest pace since Jan 2004...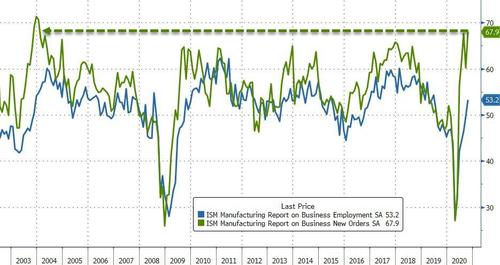 Source: Bloomberg
And ISM respondents are a lot more positive than the mainstream media suggests...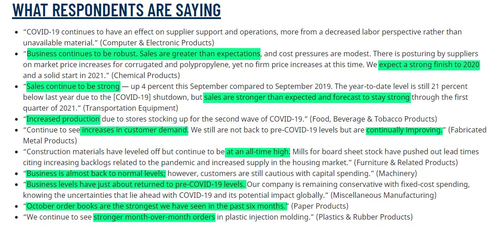 Chris Williamson, Chief Business Economist at IHS Markit said:
"With clues being sought as to whether the economy can sustain its recovery after rebounding from lockdowns, the rise in the PMI in October is encouraging news. It's inevitable that the pace of economic expansion will weaken after the surge seen in the third quarter, but the strength of the PMI hints at a recovery for which the underlying trend continues to strengthen at the start of the fourth quarter.

"Producers of investment goods such as business equipment and machinery are leading the upturn in a welcome sign of rising business confidence and corporate investment, but it was worrying to see consumer goods producers report weakened order book growth, reflecting rising virus-related worries. Going forward, much will naturally depend on the extent to which the economy can remain open and functioning in the face of rising virus case numbers."
Finally, in case you agreed with government data that there's no inflation...

Maybe tap the brakes Mr.Powell?