---
US Restaurant Spending Is Almost Back To Pre-COVID Levels
Something odd happened to the US economy in the past two months as many in the media, the political establishment and even various Fed hacks (recall on August 3 Neel Kashkari Saying Only Way To "Save Economy" Is To Lock It Down "Really Hard" For 6 Weeks), were feverishly counting the daily new US covid cases and warning that only a new shutdown could spare the US from imminent disaster: it has almost fully reopened and according to real-time indicators, it is now recovering at a far faster pace than most had expected (as the Fed's latest economic projections confirmed).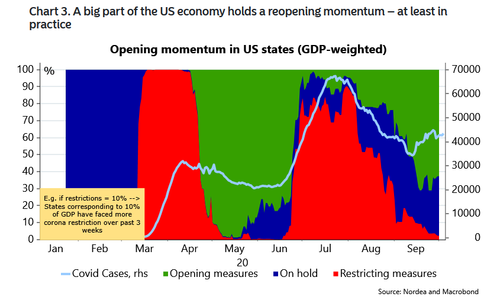 And nowhere is this more visible than in the US restaurant space where with various exceptions - most notably across Manhattan where policy seems to change on a daily if not hourly basis - spending appears to be almost back to pre-covid levels.
In an analysis conducted by BofA analysts looking at daily restaurant trends through September 26th, the Bank of America aggregated credit and debit data showed national restaurant spending improving another 1.7% to down 8% (for the seven days ended September 26th) from a down 9% (from the week prior). While the BofA analysts note that performance on weekends continues to lag weekdays by about 1%-2%, the trend is clear: we are almost back to normalcy.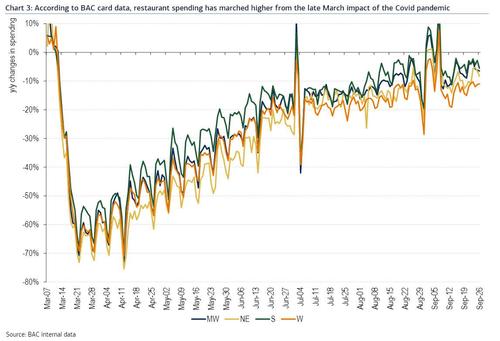 In addition to the normalization in overall restaurant spending, BofA also looked at OpenTable data on dining room reservations. Here too reservation counts have steadily moved higher over the past two and a half months as new Covid cases have been falling. The week ended October 3rd was down 41% y/y, a 2% improvement from the down 43% the prior week.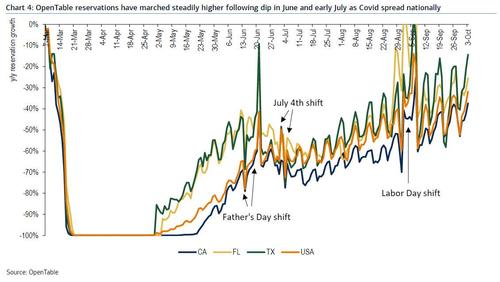 To get a more comprehensive picture of the current state of restaurants, BofA also include the average Saturday night quoted dine-in wait times at Outback Steakhouse locations around the U.S. Wait times show a similar trend to the Olive Garden wait times.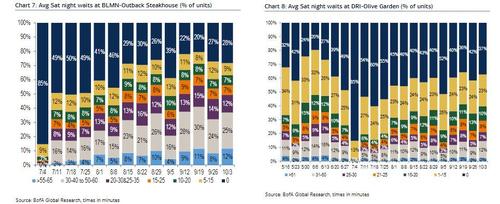 Taking this analysis one step further, and expanding it to states, in the charts below BofA shows the wait times by state over the past six weeks which has seen Florida with some of the shortest waits in the country, suggesting limited new demand as capacity restrictions get raised. At the same time, several states stand out as having longer waits including North Carolina, South Carolina, Pennsylvania, Colorado, Utah, Michigan, and Indiana. According to the BofA strategists, "it is possible that eating times are more spread out, earlier, or later in certain states vs our measuring time."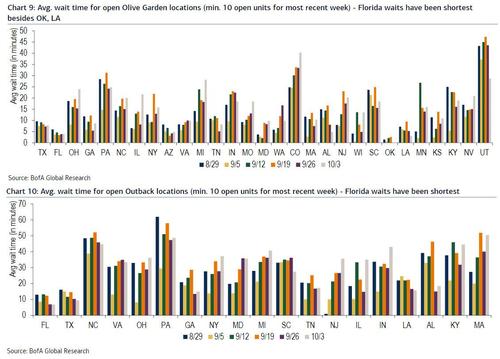 In short, while it hasn't fully recovered yet, as more of the US continues to reopen expect one of the service sectors most adversely impacted by the covid shutdowns, to creep ever higher back to a return to normalcy.