---
Biden Claims Wearing Masks Is "Patriotic Act"; US COVID Cases Top 15MM: Live Updates
Summary:
Germany sees record daily deaths
Biden claims wearing mask is "patriotic act", reopening schools should be 'national priority'
Trump signs order for Americans to have vaccine priority
US tops 15MM COVID cases
Pfizer working on new vaccine formulation that won't need to be stored at -70 degrees C.
2nd patient to receive COVID vaccine named "William Shakespeare"
UK vaccinates first patient: a 90-year-old grandmother
FDA releases data claiming Pfizer vaccine merits approval
US hospitalizations, average new cases, hit new highs
CT now home to most new cases/per capita
India says vaccine licenses coming
Hong Kong to ban indoor dining after 1800
Tokyo reports 352 new infections
Brazil in talks to buy 70 million vaccines
Pfizer, Moderna warn about inability to deliver more doses
* * *
Update (1800ET): Germany's Robert Koch Institute reported another 622 new cases on Tuesday, a new record daily death toll, as Merkel rolls out new restrictions, including announcing plans for a post-Christmas 'circuitbreaker' lockdown.Merkel warned the other day that if Germany doesn't tighten restrictions, the country "won't make it" through the winter.
* * *
Update (1445ET): After retreating from his threats to impose a nationwide mask mandate, Joe Biden is urging Americans to wear masks when they leave home, claiming wearing them is "a patriotic act" not a "political move". As more scientists claim that schools should be allowed to reopen across the country amid data showing they don't contribute greatly to outbreaks, Biden insisted that reopening schools would be "a national priority", adding that "masks, shots and reopening schools" would be the priority.
Dr. Fauci commented that Biden's plan to "beat" the virus is "bold, but doable"
Meanwhile, following reports from last night about Pfizer and Moderna not being able to provide more doses to the US until Mid-2021 (since the companies have signed agreements not only with the US, but other countries as well), President Trump has - as expected - issued an executive order granting Americans "priority" when it comes to vaccine access.
Meanwhile, the number of confirmed COVID-19 cases in the US has topped 15MM, according to Johns Hopkins data.
Additionally, earlier, AstraZeneca released peer-reviewed trial data via the Lancet, with the data showing the vaccine is less than 70% effective.
As we noted earlier, after weeks of pummeling the Midwest, daily case numbers in the region are slowing, while tallies along America's east and west coasts are rising. On Monday, every coastal state except NJ and LA, saw daily cases at least 10% higher than the prior two weeks, according to Covid Tracking Project data.
* * *
Update (0955ET): News about "V-Day", combined with the first FDA reports on Pfizer's emergency-use application, are dominating COVID-related newsflow Tuesday morning. And following reports from last night that Pfizer and Moderna won't be able to expand upon the number of doses already promised for delivery in the US, it appears Pfizer is trying to play down any fears shareholders might have about logistical complications due to the extremely cold temperatures required to ship the vaccine.
In an interview Tusday, CEO Albert Bourlas confirmed that Pfizer's scientists are working on a new formulation that won't need to be stored at -70 degrees C, a temperature that's colder than the north pole, while being transported - something that could greatly reduce the cost of a vaccine that's been criticized as a "vaccine for the rich".
* * *
Update (0915ET): The second individual vaccinated in the UK on Tuesday was an 81-year-old man named "William Shakespeare".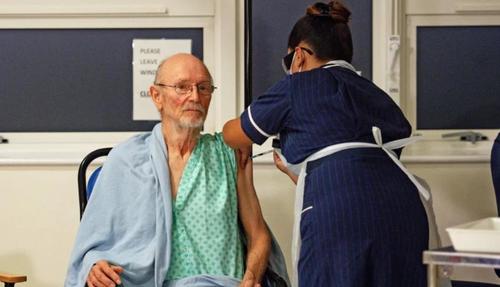 William Shakespeare
Meanwhile, patient No. 1, told the press that the vaccine is the best earlier Christmas present she could have asked for because it means she can now spend the holiday with her family without fear.
This is the moment that 90-year-old grandmother Margaret Keenan returned to the ward at her local hospital in Coventry, after she became the first person in the world to receive the clinically-approved #COVIDVaccine this morning 👏🏾👏🏼👏🏽 pic.twitter.com/80yRjJLRhM

— NHS Midlands (@NHSMidlands) December 8, 2020
At 6.31am, Margaret made history by becoming the first patient to receive the vaccine - all less than a year after the first case of the virus was diagnosed!

Full story: https://t.co/ZrZviITPHs

— NHS Midlands (@NHSMidlands) December 8, 2020
The news elicited some humorous replies on twitter.
Oh yeah right, I. P. Freely and Amanda Hugnkiss up next. This guy is taking the piss for sure. https://t.co/ziCJaz5e8m

— Mike Bird (@Birdyword) December 8, 2020
As far as Mr. Shakespeare is concerned, we wonder if he prefers Bill, or William?
* * *
The big day has finally arrived.
Less than a week after becoming the first western country to approve a COVID-19 vaccine for emergency use, the UK has confirmed the vaccination of the first patient to receive the vaccine outside of a clinical trial setting in the west. Kicking off a day that HMG has branded "V Day", a historical allusion to the allied triumph in World War II. To try and combat burgeoning doubts about the safety and efficacy of the first round of COVID vaccines (which rely on a relatively new mRNA technology), authorities selected a 90-year-old woman, who became the first patient to receive the vaccine.
The patient's name is Margaret Keenan, and she's a 90-year-old grandmother.
"If I can do it, so can you": this 90-year-old UK grandmother has become the first person in the world to receive the Pfizer-BioNTech vaccine outside of trials https://t.co/E11VI2TNXE pic.twitter.com/3hzNL2gzzh

— SCMP News (@SCMPNews) December 8, 2020
As the Associated Press declared in its report on the vaccination, Tuesday is "a momentous day in the global fight against the coronavirus pandemic that has killed more than 1.5MM people and infected over 67 million more in 2020, the worst health crisis the world has faced in a century."
British officials have already distributed nearly a million doses of the Pfizer vaccine across the UK, and injections are beginning in all four of the UK's constituent nations.
The first shot was administered at one of the hospital hubs around the country on what UK officials dubbed "V-Day," Danica Kirka reports from London.
British officials have said elderly nursing home residents will receive first priority for vaccines (after nursing home outbreaks have been blamed for the UK's death toll, which is larger than its European rivals.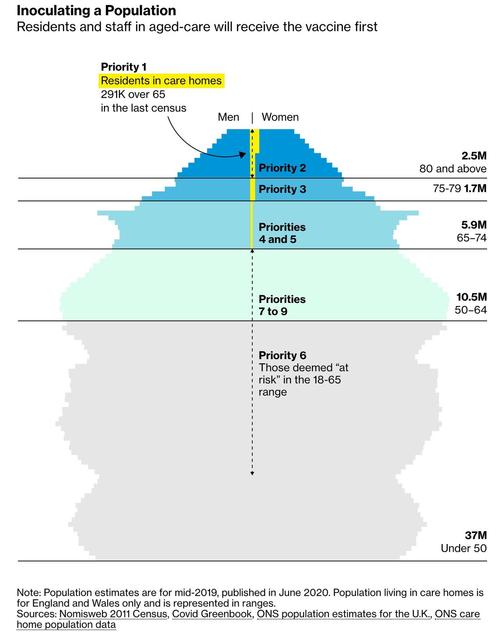 Source: Bloomberg
Meanwhile, in the US, the FDA published a report Tuesday morning from the panel convened yesterday to start examining the data from the Pfizer-BioNTech vaccine trials. They happily declared that there's "no reason" to delay emergency-approval of the vaccine. The agency is expected to release two reports analyzing the Pfizer-BioNTech vaccine ahead of Thursday's meeting, with data expected to break down the vaccine's efficacy with various age, ethnic and other demographic groups. One report is prepared by the agency's own scientists and the other will be from scientists with Pfizer and its German partner.
On Thursday, the FDA's vaccine advisory panel will discuss these materials in advance of a vote on whether to recommend authorization.
Finally, a report from WaPo published last night claimed that Pfizer and Moderna won't be able to supply the US with additional doses until the late spring/summer. While the implication was that this was some kind of retribution from the Trump Administration, former FDA Dr. Scott Gottlieb explained on CNBC Tuesday morning that this was likely not the case.
"How good are the vaccines at preventing infection and preventing transmission? We know they prevent #COVID19 disease ... but how good are they at actually preventing people from getting infected in the first place? @ScottGottliebMD on what questions we still need to answer. pic.twitter.com/MP0rK8Qo0Q

— Squawk Box (@SquawkCNBC) December 8, 2020
Circling back to the state of the US outbreak, hospitalizations nationwide climbed to a fresh record high...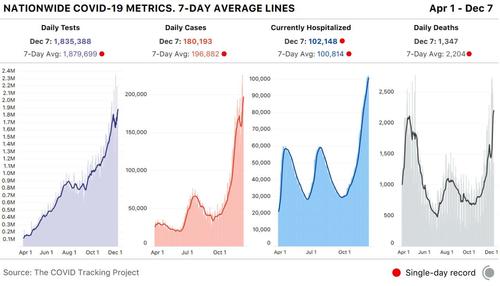 ...Even as some of the most worrisome midwestern and mountain west states - including WI, IL, ND & SD - have seen cases and hospitalizations slow recently.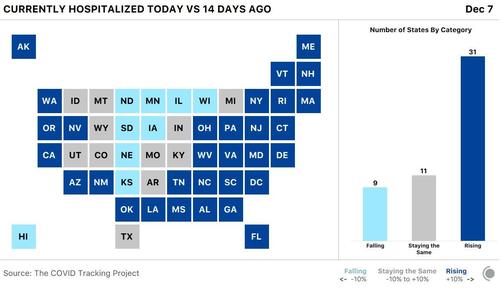 Amazingly, tiny Connecticut, a state that was widely praised for it initial response to the virus, is now seeing the highest case count per capita as testing ramps up.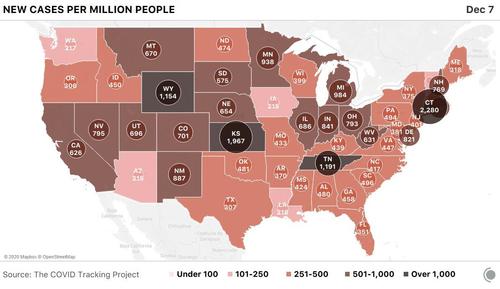 Across the US, states are continuing to tighten restrictions as more than 30MM people are now under lockdown in and around LA as new 'stay at home orders' are handed down in the Golden State.
Here's some more COVID news from overnight and Tuesday morning:
India's federal health secretary Rajesh Bhushan says the government's regulator could grant a license to some developers of COVID-19 vaccines in the next few weeks. Six vaccines, including Astra Zeneca's Covidshield and Bharat Biotech's Covaxin, are in trial stages, Bhushan says (Source: Nikkei).
Indonesia's state-owned pharmaceutical company Bio Farma says that interim data on trials it was conducting on vaccines produced by the Chinese company Sinovac showed up to 97% efficacy (Source: Nikkei).
Tokyo reports 352 new infections, up from 299 a day earlier, with the number of patients in serious condition in the capital increasing by five to 60 (Source: Nikkei).
India reports 26,567 cases in the last 24 hours, the lowest daily count since July 10, bringing the country's total to 9.7 million. The death toll jumped by 385 to 140,958 (Source: Nikkei).
Hong Kong will ban dining in restaurants after 6 p.m. to curb a rise in coronavirus cases in the densely packed financial hub (Source: Nikkei).
Brazil's government says it is in advanced talks with Pfizer to buy 70 million doses of COVID-19 vaccine, and a memorandum of intent should be signed this week (Source: Brazil).
* * *
Britain of course isn't the first country to start vaccinating under emergency order: China has already vaccinated well over 1 million people, and Russia on Saturday started vaccinating health-care workers and other 'vulnerable' individuals in Moscow, the epicenter of what has become one of the largest outbreaks in the world.