---
Alexei Navalny Announces He'll Fly Back To Russia Sunday Despite Arrest Threat
Last month Russian authorities gave anti-Putin activist Alexei Navalny an ultimatum: return to Russia right away for face prison. This as Russian officials have repeatedly condemned Berlin's refusal to allow Russian investigators access to either any of the evidence of his alleged poisoning or Navalny himself, following Germany's prior conclusion that Russian intelligence tried to assassinate him using Soviet-made Novichok nerve agent in August. 
Russia's Federal Prison Service (FSIN) has charged Navalny with violating the terms of a suspended prison sentence still being served over a relatively minor 2014 conviction by staying in Germany. On Thursday the prison service said Navalny faces immediate arrest upon his return from Berlin.
It's now being widely reported that Navalny does indeed plan to return home to Russia after recovering for months in Berlin. He posted a statement to social media on Wednesday saying he's already purchased a plane ticket to arrive in Moscow this Sunday.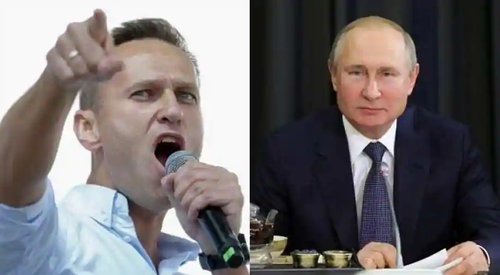 As ABC News reports, he wrote:
"The question 'to return or not' never stood before me. Sunday, January 17, I will return home on the Pobeda flight. Come meet me," Navalny wrote on Twitter Wednesday, referring to a flight with a budget Russian airline.
So it appears he's attempting to make his return into an impromptu opposition rally of sorts in telling the Russian public to "Come meet me".
Kremlin officials have long maintained there is nothing preventing his returning to Russia peacefully and safely, saying that the legal proceedings are a matter for the courts.
"The Kremlin's spokesman Dmitry Peskov has said there are no obstacles to Navalny returning to Russia and told reporters to address questions about his sentencing to the penitentiary service," ABC reports. "Navalny has faced a campaign of physical and legal harassment over the years, targeted by police as well as pro-Kremlin activists. He has blamed his poisoning directly on president Vladimir Putin."
Meanwhile, last week Navalny launched into an unexpected defense of Donald Trump and lambasted attempts to censor the president, which perhaps suggests he's currently working closely with US intelligence or other American officials (hence the need to suddenly weigh in on the Capitol Hill mayhem aftermath):
1. I think that the ban of Donald Trump on Twitter is an unacceptable act of censorship (THREAD)

— Alexey Navalny (@navalny) January 9, 2021
Last month Putin personally weighed in on the saga, dismissing Navalny simply not important enough to be a target of Russian intelligence services. "It's a trick to attack the leaders of Russia," Putin said an an annual media question and answer session. "But that absolutely does not mean he needs to be poisoned," he noted. "Who needs him?"
In perhaps the most provocative and mocking statement, Putin added, "If someone had wanted to poison him they would have finished him off."