---
Baghdad Massacre: ISIS Blamed In Twin Suicide Attack Which Kills & Wounds Dozens
A daylight twin suicide bombing has rocked Baghdad commercial and market districts on Thursday, killing at least 32 and wounding multiple dozens more. 
Iraqi security officials said a "double explosion" targeted crowds at a busy market area in the Bab al-Sharji area near Tayaran Square. The death toll is expected to rise, with the AFP noting authorities say the "preliminary toll" could double.
Though there was no immediate claim of responsibility, Islamic State terrorists are being widely suspected in the attack of such scale on the Iraqi capital that it hasn't been seen since 2018 and prior.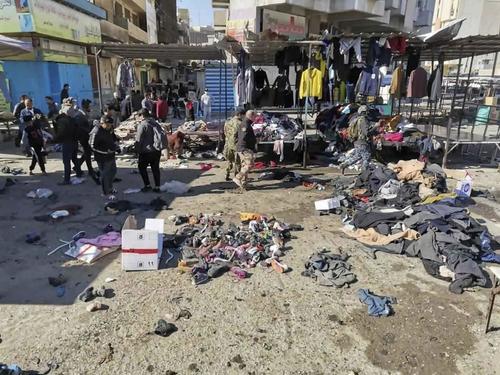 According to NPR's latest update from the scene:
A twin suicide bombing at a Baghdad market killed at least 32 people and injured 75 others on Thursday, an Iraqi interior ministry source tells NPR. At least seven people are still missing.

Two suicide bombers detonated their vests when security forces pursued them through the busy Tayaran square market. An interior ministry spokesman tweeted that the second bomber set off his device after people gathered around those dead and wounded from the first bombing.
In at least one instance the terrorists gathered a crowd around him while claiming to need help just before detonating a suicide vest.
Graphic, intentionally blurred footage of the aftermath of one of the blasts:
Warning: Graphic content, explosions in a busy street market in #Baghdad left scores of dead and wounded civilians pic.twitter.com/KGWA7a3n1I

— Steven Nabil (@thestevennabil) January 21, 2021
Multiple social media videos show a grisly scene of dozens of bodies strewn across a busy central street.
The moment of the second suicide attack in Baghdad #Iraq pic.twitter.com/0tsxTNwEgW

— Steven Nabil (@thestevennabil) January 21, 2021
"Iraq's Health Ministry announced all of its hospitals in the capital were mobilized to treat the wounded," according to the AP.
The timing of the horrific attack is interesting, given it comes a day after the presidential transition in the United States, and after Trump in past weeks drew down thousands of US troops from Iraq. In recent years the chief security concern from the US Embassy and Pentagon's perspective has been the Iran-backed Iraqi paramilitary units, despite their long battling ISIS.
Is the Islamic State attempting to make a major comeback through massive acts of terror at the start of the Biden presidency?