China's state media has confirmed what is a very serious and direct escalation in waters surrounding Taiwan amid ongoing PLA military exercises in the area.
PLA ships are engaged in 'mock' minesweeping activities "amid Taiwan's attempt to deploy sea mines in the Taiwan Straits," though it's unclear the degree to which China's mine-sweeping ships actually entered the contested strait.
#PLA flotillas recently held multiple mine-sweeping exercises amid Taiwan's attempt to deploy sea mines in the Taiwan Straits. https://t.co/TJVLFfhgxG pic.twitter.com/vur6n6g6gH

— Global Times (@globaltimesnews) September 21, 2020
State-run Global Times described the minesweeping ships' exercises as "honing their capability to effectively and rapidly clear sea lanes from mines, and open passages for other warships and landing forces, amid Taiwan secessionists' attempt to surround the Taiwan Straits with mines."
GT further claimed that it was a regular Taiwanese "tactic" to lay mines in the strait in order to "buy time for US reinforcements".
But the publication added this would not succeed due to the PLA's thwarting the operations. 
The PLA drills, described state media, are ultimately aimed at countering "Taiwan secessionists and the US, who have been ramping up tensions in the Taiwan Straits."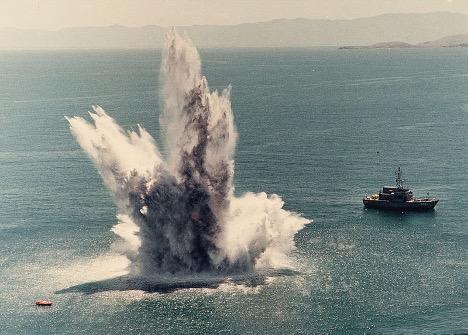 According to GT:
An anti-sea mine flotilla consisting of the Liuyang, the Kaiping, and the Changshu affiliated with the PLA Southern Theater Command recently conducted a mine-sweeping exercise using live sea mines, China Central Television (CCTV) reported on Sunday.

The ships covered the calm sea, under which smart sea mines were hidden, as they would explode once they detect any sound or magnetic field change caused by ships passing by, the report said.
The Monday threat comes days after Taipei hosted yet another top American diplomatic delegation, which Beijing has repeatedly warned against, noting a violation in the longstanding 'One China' policy.
Multiple US advanced weapons sales are also currently in the works, which China also seas as a direct threat. All of this begs the question: were the Chinese minesweepers engaged only in mere "drills"? At the very least a clear signal has been sent.
RT @CGTNOfficial: Chinese navy conducts underwater anti-mine warfare drill pic.twitter.com/TkFmC4iUfb

— China Observer (@ChinaObserver2) September 20, 2020
Though in the past months and more broadly in the last year rhetoric centered on the Taiwan issue has grown more aggressive and bellicose, we've entered different territory - clearly one presenting a war footing and posture on the Chinese side - when active minesweeping operations near Taiwan are referenced, complete with a photo from the bow of the ship presented in state media.