---
CIA Chief Made Secret Visit To China To Salvage Spiraling Relations
CIA director Bill Burns recently made a secret trip to China in an attempt to rescue deteriorating relations between the two powerful rivals. The clandestine trip was revealed Friday by the Financial Times, which wrote "Five people familiar with the situation said Burns, a former top diplomat who is frequently entrusted with delicate overseas missions, travelled to China for talks with officials." It happened last month.
Burns was dispatched as President Biden reportedly sees him as among the most "trusted" senior US officials, and it demonstrates the urgency with which Washington is trying to stabilize the relationship with China.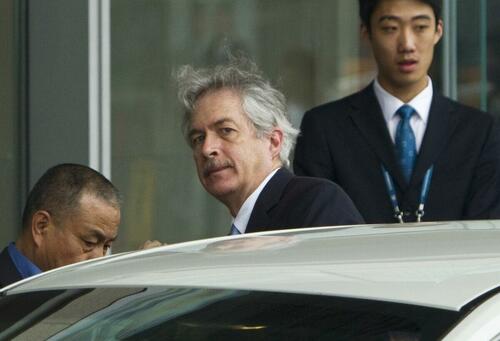 Neither the White House nor CIA have issued official comment, but FT cites one US officials to confirm that "Burns met Chinese intelligence officials during the trip", and further--
"Last month, director Burns travelled to Beijing where he met with Chinese counterparts and emphasized the importance of maintaining open lines of communications in intelligence channels," said the US official. Burns' mission took place in the same month US national security adviser Jake Sullivan met Wang Yi, China's top foreign policy official, in Vienna. The White House did not announce that meeting until it had concluded.
As we've detailed previously, military as well as intelligence channels of communications between the US and Chinese governments, used especially to avoid inadvertent conflict in places like the South China Sea or related to the Taiwan issue, have almost entirely ceased. 
The last time a high-level Biden admin official visited China was all the way back in July 2021, when deputy secretary of state Wendy Sherman traveled to Tianjin for official dialogue.
But relations and communications were severely damaged in the last months going back to the early February Chinese 'spy balloon' shootdown incident over the US east coast. Its flight over North America grabbed headlines and consumed the world's attention for days.
American officials used the whole saga to highlight Chinese spying and malfeasance on US soil - something which Beijing officials vehemently denied. It angered the Chinese government to the point of tit-for-tat vows of retaliation and heated statements which persisted for weeks.
According to more from FT: 
The incident derailed an effort to set "a floor" under the relationship that Biden and Chinese president Xi Jinping had agreed was necessary when they met at the G20 in Bali in November. Biden last month said he expected an imminent "thaw" in relations without providing any detail. Burns travelled to China before Biden made the comment at a G7 summit in Hiroshima. 
Months prior to Russia's Feb. 24, 2022 invasion of Ukraine, Burns was dispatched on an at that time secret trip to Moscow to warn Putin's government over the military build-up near the Ukrainian border. Burns was later in Kiev to warn Zelensky that US intelligence indicated Russia was about to kickstart a major military offensive.
At this point, it remains unclear the degree to which Burns made headway with China, but there are signs of positive economic and bilateral dialogue of late. Military-to-military dialogue has continued to decline, however.
Loading...