---
Senate Hawks Make New Push To Give Ukraine F-16 Jets
At a moment it's widely understood that Russian forces have the upper hand in Bakhmut, with the eastern city nearly surrounded, a new bipartisan push is on among Congressional hawks to pressure the administration into approving sending F-16 jets to Ukraine. 
Politico reports this week on a letter written by a group of bipartisan senators and sent to President Biden: "The fresh push came in a letter Tuesday to Defense Secretary Lloyd Austin from eight senators, and obtained by POLITICO, as top administration officials from President Joe Biden on down have poured cold water on bipartisan calls to send U.S.-made fighters into the fight for now."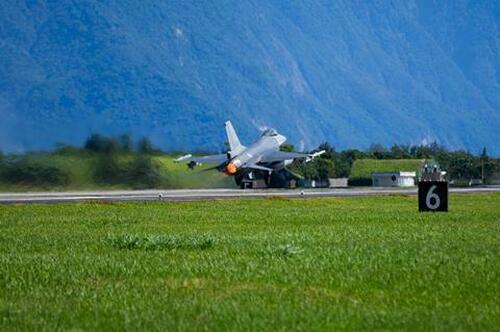 The senators argue that F-16s are badly needed at this "critical juncture" to give the Ukrainians the edge they need. "After speaking with U.S., Ukrainian, and foreign leaders working to support Ukraine at the Munich Security Conference last month, we believe the U.S. needs to take a hard look at providing F-16 aircraft to Ukraine," the senators wrote, while claiming it would be a "game changer on the battlefield."
The initiative was led by Democratic Senator Mark Kelly of Arizona. The senators are also pressing the Pentagon for more information on what kind of timetable and resources it would take to get Ukrainian pilots up to speed on effectively flying the F-16s. Politico notes:
Also signing onto the letter were Democrats Tammy Duckworth of Illinois, Tim Kaine of Virginia, Martin Heinrich of New Mexico and Jacky Rosen of Nevada as well as Republicans Lisa Murkowski of Alaska, Tommy Tuberville of Alabama and Ted Budd of North Carolina.
But Biden administration and defense officials have recently testified to Congress that it's anti-air defense systems, artillery and ammunition that currently rank among Ukraine's highest priorities and requests.
In other corners of the Senate, Republican hawks like Tom Cotton and Lindsay Graham are also making noise about "doing more"...
This isn't a video game https://t.co/TqnmeAeC9T

— No Bailouts Poso 🚫💰 (@JackPosobiec) March 15, 2023
Sen. Cotton recently characterized the White House approach as based on "half measures". Cotton has a whole litany of escalatory measures he would like to see the US adopt when it comes to Ukraine.
And Graham too has been advocating for the US to be ready and willing to shoot Russian planes out of the sky...
Lindsey Graham on the encounter between a US drone and Russian planes: "What would Ronald Reagan do right now? He would start shooting Russian planes down if they were threatening our assets." pic.twitter.com/rmO4Vl6dd8

— Aaron Rupar (@atrupar) March 15, 2023
But the fact that Defense Secretary Lloyd Austin confirmed in a Wednesday afternoon press briefing that he spoke with his Russian counterpart Defense Secretary Sergei Shoigu - in the first such phone call since October -is a good sign that the two sides aren't ready to enter a shooting war yet, and that perhaps for now saner minds are prevailing.
Loading...