---
New York's COVID-19 Mandatory Quarantine List Climbs To 43 States As Cuomo Tries To Limit Travelers From CT, NJ: Live Updates
Summary:
Cuomo complains about rising cases in CT, NJ & PA as travel advisory list grows to record 43
Ireland announces new fines for violating lockdowns
Belgium overtakes Netherlands as worst hit country last week
India sees lowest new cases in 3 months
Kansas nursing home sees all its patients infected
Moderna CEO says expects to apply for FDA EUA in December
Australia sees another shipborne outbreak
Russia outbreak worsens
Argentina tops 1 million cases, 5th country to do so
Singapore Airlines to resume non-stop flights to NY
Chinese officials in Qingdao claim to have detected live virus on frozen food packaging
* * *
Update (1345ET):  As COVID-19 cases rebound in Connecticut and New Jersey, Gov Andrew Cuomo is complaining that his neighbors are sending too many diseased travelers/commuters across the border.
But since New York isn't able to stop the spread of the virus from Connecticut and NJ, it will instead try to stop the rise in cases in those states, Cuomo said.
There's "no way to quarantine" due to all the connections in the Tri-State Area, Cuomo said during a virus briefing. "It would have a disastrous effect on the economy."
Conn., Pennsylvania and NJ all meet the criteria to be added to NY's mandatory quarantine list. Instead, the governor is kindly asking passengers to limit all non-essential travel.
NY also added to more states to its list, Maryland and Arizona, as of Tuesday. No states were removed from the list.
Cuomo said he will speak with the governors of Connecticut and New Jersey to work on some kind of plan to limit travel between the states. Including CT, NJ & PA, 43 states are now on NY's travel advisory list, a situation Cuomo calls "really bizarre".
"We're now in a situation where 43 states are on our travel advisory. This is really a bizarre outcome," Cuomo said. "New York had the highest infection rate [at the beginning the pandemic]. We now have 43 states on our quarantine list. It just shows you how different the situation is now."

"To the extent travel among the states or between the states is not essential, it should be avoided," he said later.
Fortunately, hospitalizations in the state have held below 1,000.
Today's update on the numbers:

Of the 90,540 tests reported yesterday, 1,201 were positive (1.32% of total).

Total hospitalizations are at 942.

Sadly, there were 12 COVID fatalities yesterday. pic.twitter.com/2BxuOToFxJ

— Andrew Cuomo (@NYGovCuomo) October 20, 2020
The governor also slammed President Trump for the rising cases across the country, claiming once again that the president has blood on his hands, even as deaths have held roughly steady nationwide.
* * *
Update (1100ET): After Ireland announced plans to force all bars and restaurants and other "non-essential" businesses to close once again - for a period of between 4-6 weeks - as Ireland embarks on another national lockdown, officials have unveiled a system of fines for anyone found holding a house party in breach of government restrictions, according to Irish Finance Minister Paschal Donohoe, who discussed the issue with reporters.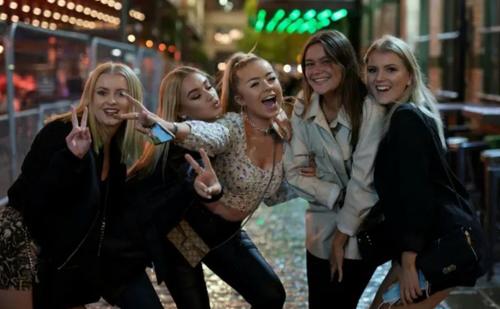 Of course, with bars closed, entrepreneurs might try to make a quick buck by hosting underground parties. Around the world, there have been stories about parties being shut down by authorities, particularly on college campuses.
Officials from the UK to New York State have been raising fines for scofflaws who violate social distancing restrictions.
* * *
Update (0945ET): DB is back with its weekly ranking of worst-hit countries. This week, Belgium and the Netherlands came out on top in the crucial metric of most new cases per 10,000 people.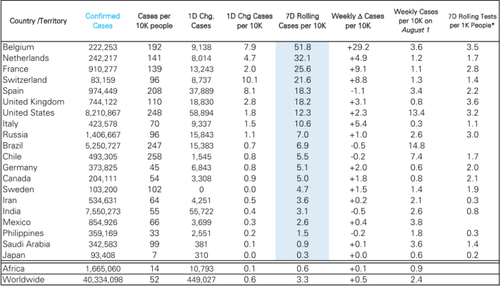 Notably, European countries occupied 7 of the 8 top spots, underscoring just how badly the European outbreak has worsened over the past few weeks.
* * *
Perhaps the biggest news overnight, aside from Ireland adopting the most restrictive lockdown across Europe after announcing plans to return to its highest level of COVID-19 alert, is that the number of new cases diagnosed in India is finally starting to slow, even as PM Narendra Modi continues to reopen the country.
India logged the fewest new cases in 3 months, reporting just 46,790 cases in the last 24 hours. The numbers brought its countrywide total to 7,597,063. India is now within 750,000 cases of the US.

Circling back to Ireland, the government has ratcheted up the coronavirus alert level to 5, the highest level on a scale of five introduced in September. People are being asked to stay at home, while those who can work from home must do so. There will be a penalty for anyone traveling beyond 3 miles of their home, unless they're doing so for essential work, or an essential purpose.
People will be able to meet up outdoors with one other household away from their home for the likes of exercise, within the 3-mile limit. No social or family gatherings are allowed in homes or gardens, but visits on compassionate grounds and for the purposes of caring for a relative can continue.
Finally, in the US, the New York Post reported overnight that a Kansas nursing home saw every single one of its 62 residents test positive, while 10 died.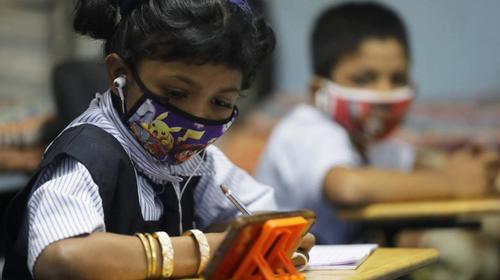 On the vaccine front, Moderna CEO Stephane Bancel said Tuesday that the company expects to file for emergency use approval with the FDA by the end of the year, a comment that sent the company's stock up by double-digits in premarket trade. Moderna has officially stepped up to become one of the front runners as mRNA vector vaccines overtake adenovirus vector vaccines in the race to be the first to receive FDA EUA.
A total of 72,968 people have been infected with the coronavirus in Kansas, while 872 deaths have been attributed to the illness.
Global cases hit 40,327,407 after Johns Hopkins counted 439,890 new cases in a single day, the second daily record in four days.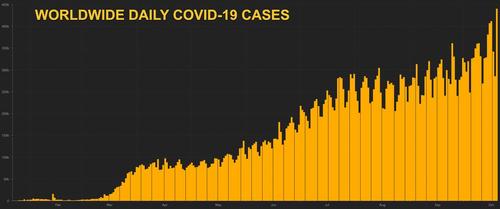 Meanwhile the worldwide death toll hit 1,117,252 after reporting another 4,981 deaths. Even has hospitalizations have risen around the world, COVID-19 deaths - at least on a global scale - have shown little adherence in to trend in cases and deaths.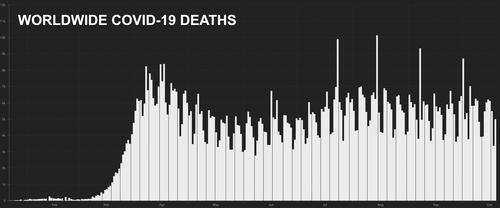 Here's some more COVID-19-related news from overnight and Tuesday morning:
Pfizer and BioNTech SE announce the Japan start of combined Phase I and Phase II clinical trials of their mRNA vaccine candidate. The study will recruit 160 people 20 to 85 years old. The pharmaceuticals earlier agreed to supply Japan with 120 million doses of their now experimental coronavirus vaccine in the first half of 2021 (Source: Nikkei).
A Kuwaiti-flagged livestock ship docked off Australia's west coast is evacuated after at least half the 52 crew test positive for COVID-19, Reuters reports. The cluster is the fourth detected aboard a ship arriving at a Western Australia port over the past month, in a state that has otherwise been free of the virus for weeks (Source: Nikkei).
South Korea confirms 58 cases, marking the fifth straight day of fewer than 100 cases. Of the new infections, 41 were locally transmitted (Source: Nikkei).
Russia's daily tally of coronavirus cases surges to a new high of 15,982, including 5,376 in the capital, Moscow, pushing the national case total to 1,415,316. Authorities reported 179 deaths in the last 24 hours, bringing the official death toll to 24,366 (Source: Nikkei).
Officials in Qingdao, where 12 cases have surfaced this month, say they have found sufficient evidence for the first time showing the virus can survive for long periods on the outer packaging of frozen food, then be transmitted. To prevent further infections, Qingdao will test every package of frozen goods, and handlers will be required to stay in designated areas and be tested every three to five days (Source: Nikkei).
Singapore Airlines will next month resume non-stop flights between the city state and New York to cater to cargo traffic as well as a growing number of transfer passengers travelling via the island (Source: FT).
Greater Manchester is seeking an extra £90m in financial aid in return for tighter coronavirus restrictions as a noon deadline for talks with the UK government approaches (Source: FT).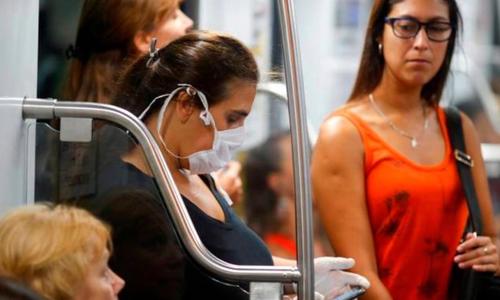 Argentina has become the fifth country to record more than 1m coronavirus infections after it added almost 13,000 cases on Monday. The South American country reported 12,982 new cases on Monday, taking its overall tally to 1,002,622. The US leads the global count of coronavirus cases with more than 8m, followed by India with 7.6m, Brazil with 5.3m and Russia's 1.4m, according to data from Johns Hopkins University. Argentina also reported 451 new deaths, taking Covid-related fatalities to 26,716 or the ninth-highest in the world (Source: FT).