---
Iran Wants Russia To Be More Active In Seeking Gaza Peace: Foreign Minister
Iranian Foreign Minister Hossein Amir-Abdollahian held a phone call with his Russian counterpart, Sergei Lavrov, on Sunday to discuss regional developments and attempts to end the war in Gaza.  
Amir-Abdollahian stressed that significant efforts are needed to stop the violent displacement and killing of Palestinians in Gaza and the West Bank and voiced his wish for Moscow to play a more active role in trying to bring an end to what he described as Israel's ethnic cleansing campaign.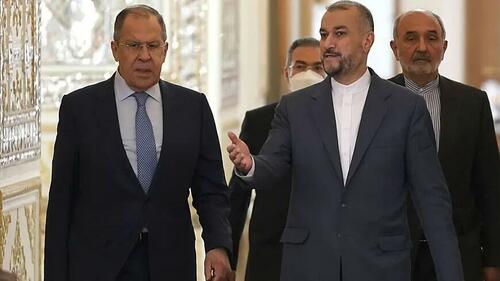 "Resistance will determine the final outcome," Amir-Abollahian noted. The two foreign ministers also spoke about the US role in the war, saying that Washington was planning on extending the violence rather than taking action to bring it to an end.  
"The [US] claims to be seeking an end to the war, but in practice, it escalates the intensity and spreads the sphere of the [US]-Zionist war," Amir-Abdollahian said.  
For his part, Lavrov expressed that he was disappointed with Israel's refusal to stop the attacks on Gaza and made note of the need to continue discussions set to put an end to the war and free captives.  
"The schedule of upcoming contacts and a number of other topical issues on the bilateral and international agenda of mutual interest were also touched upon," the Russian foreign ministry media brief said, noting that the Iranian side that initiated the call.  
The two nations have been prominent in their attempts to bring the war between Palestinian factions and Israel to an end. Amir-Abdollahian previously revealed that Iran has been holding back-channel communications with the US to bring peace to the region.  
Tehran has voiced that it doesn't want a regional conflict to break out:
Russia's Lavrov warns Israeli provocations may drag Iran, Hezbollah into Gaza warhttps://t.co/xYEMJt4sKshttps://t.co/xYEMJt4sKs

— Press TV (@PressTV) November 15, 2023
"We said that Iran does not want the war to spread," Amir-Abdollahian said in an interview with the Financial Times on 16 November. "But due to the approach adopted by the US and Israel in the region, if the crimes against the people of Gaza and the West Bank are not stopped, any possibility could be considered, and a wider conflict could prove inevitable."
On November 15, Lavrov said Russia told Israel: "You cannot buy security, which we are convinced you need, by delaying the creation [of a] Palestinian state, and by [criminally] reducing the territory which was designed for the Palestinian state by the United Nations."
Loading...