---
NATO Pushes For Creation Of "Democratic Resilience Center"
In NATO, the creation of the Center for Democratic Resilience has surfaced, yet again.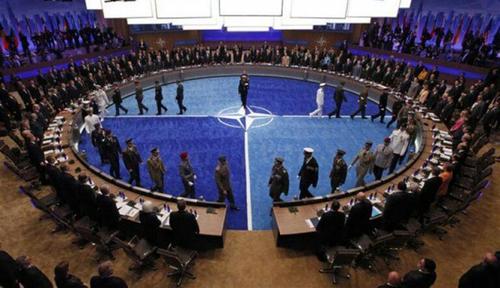 According to the idea, it will have to monitor the facts of violation of democracy in the member countries of the alliance and help the allies to develop democratic institutions more effectively.
For the first time, the initiative to create this office was voiced in 2019, then it was noted in the concept for the development of the NATO alliance 2030 and, finally, in the NATO Parliamentary Assembly a working group was created that will try to translate this idea into reality.
Suffice to say that the main purpose of the Center is to presumably deal with censorship of the information space and discrimination against ethnic minorities in the Baltic States, the constant accusations of human rights violations against Turkey by Greece, as well as Poland's undemocratic attitude towards abortion and the LGBT community in the European sense.
The top priority for the NATO PA is to help the Alliance rededicate itself to its democratic foundations.
"The assault on the US Capitol on 6 January has demonstrated that democracy, while resilient, is also fragile. And the evidence released recently of Russia's interference in our elections highlights the threat which the global march of autocracy poses to our democracies," noted Congressman Connolly. "We must constantly strengthen and protect democracy against attempts to undermine it – both from within and from without."
Importantly, members and the invited speakers discussed how to advance the Assembly's recommendation to establish a NATO Democratic Resilience Centre.
"NATO has a well-oiled machinery focused on military matters, but it lacks a body which is fully focused on defending our democracies," the President stressed.
Congressman Connolly first proposed the idea for such a Centre in 2019. It has since been backed up by the Assembly as a whole as well as the independent Group of Experts appointed by the NATO Secretary General for the NATO 2030 process.
Back in January 2021, NATO PA President Connely also spoke of the centre with NATO Secretary General Jens Stoltenberg.
Its aim is to assist members and partner nations to strengthen their democratic institutions.
The Assembly advocates for NATO to rededicate itself to the shared democratic foundations. As part of these efforts, the Standing Committee set up a Working Group to refine a concept of a Centre for Democratic Resilience within NATO – an idea Congressman Connolly introduced in 2019 on the occasion of NATO 70th anniversary and since backed by the Assembly as a whole.
"NATO has a well-oiled machinery focused on military matters, but it lacks a body which is fully focused on defending democracy. This must change." President Connolly stresses. "Establishing a Democratic Resilience Center inside NATO Headquarters would show that NATO is truly serious about defending our democratic model."
The Working Group was charged with gathering insights from key stakeholders and independent experts, garnering broad support within the Assembly and, ultimately, putting together a strong and concrete proposal for submission to Allied parliaments and governments.
The Working Group will be governed by the Assembly's Bureau, together with the Chairperson of the Committee on the Civil Dimension of Security. President Connolly will lead the group and his predecessor Attila Mesterhazy (Hungary), currently serving as Assembly Vice-President, will serve as Rapporteur.
In short, the US is pushing for NATO to become the world's premier proponent of the democratic and liberal world order.
Still, the alliance of the unwilling needs reviving, and every members agrees on that. The NATO mouthpiece, Atlantic Council supports this movement.
"Reviving the transatlantic partnership, however, will require more than the traditional close diplomacy, warm rhetoric, and lofty white papers. It will demand bold action that proves the United States and Europe can still accomplish major feats together. A unified vision is a good start, but ultimately insufficient: America and Europe must set out to do big things and then execute on them, creating a new legacy of joint triumphs that their citizens can rally around and upon which future generations can build. It is only with such foundational touchstones, which galvanize a fresh political consensus in favor of the transatlantic bond, that real trust and all the benefits that it brings can be restored.

Creating these new touchstones will require investments of time, resources, and political capital. There is a significant list of issues on which deep transatlantic cooperation could make a major difference. Attempting to boil the ocean, however, would be a recipe for failure. US and European leaders must prioritize. The key is to select a small number of urgent and tangible projects with good odds of success. Three projects—ending the COVID-19 pandemic, reinvigorating transatlantic security, and reconciling US and European policies on technology—should rise to the top of the agenda."
Democracy is important, but a united front on censorship in technology, and not letting Russia and China do as they please comes first.
It should also be noted that NATO intends to use force even if the aggression against its member countries is committed with the use of non-military means. NATO Secretary General Jens Stoltenberg issued such a warning at a webinar at the University of South Florida.
"We will never grant our potential adversary the privilege of knowing exactly when we [NATO Allies] use Article 5. But we have made it clear that we will use Article 5 when we deem it necessary. In addition, we can use Article 5. when we see aggression using other means than conventional military means," Stoltenberg said.
He was referring to Article 5 of the North Atlantic Treaty signed in Washington in 1949. It enshrines the principle of collective defense of the North Atlantic Treaty Organization. The article provides for a collective response in the event of an "armed attack on one or more" NATO member countries.
"We saw that aggressive actions were taken [in the recent past] by other countries against NATO allies, when not traditional military means, but non-military means were used to try to undermine our positions, split us, attack us," the secretary general argued, not going into details.

According to him, "this is exactly what NATO should adapt to." And the alliance makes the necessary decisions, Stoltenberg said. He recalled that now, for example, NATO is ready to apply Article 5 in response to cyber-attacks. "We decided a few years ago that an attack in cyberspace, a cyberattack, could trigger Article 5. This is a completely new signal [to a potential adversary]," Stoltenberg said.
In addition, he called for NATO to begin more actively "countering disinformation" and protecting the "critical infrastructure" of the alliance.