---
Quiet US Seizure Of Iranian Crude Prompted Iran's Capture Of Houston-Destined Tanker
When on Thursday the US Navy announced that Iranian commandos had seized a Marshall Islands-flagged oil tanker in the Gulf of Oman, conveniently absent from the narrative was the fact that just days prior the United States seized a ship laden with Iranian crude, identified as the Suez Rajan which was destined for China.
"US authorities ordered a tanker of Iranian crude oil to redirect towards the US in recent days, in a move officials believe was the trigger for Iran's decision to capture a US-bound tanker on Thursday," the FT reports. "Three people briefed on the situation said the US had intervened to summon a ship loaded with Iranian crude, originally destined for China, as Washington looks to step up enforcement of sanctions on Tehran."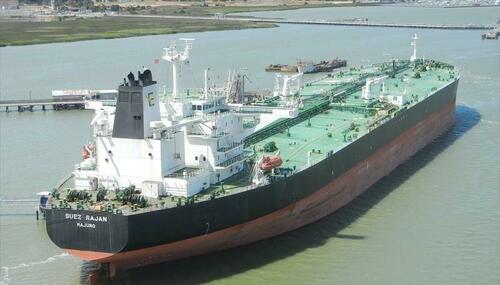 The Thursday seizure of the Advantage Sweet Suezmax crude tanker by the Iranians, which had been chartered by Chevron to move product from Kuwait to Houston, had resulted in swift condemnation by the Biden administration, with the US calling on Iran's government to immediately release the oil tanker.
While the Advantage Sweet incident grabbed international headlines, Washington's action against the Suez Rajan (a Greek tanker carrying Iranian product) was not widely publicized or even known about.
But US officials are now making the following belated admission: 
The previously unreported US action towards the Suez Rajan shines a new light on Iran's decision to capture the Advantage Sweet, a US-bound tanker of Kuwaiti crude that was chartered by Chevron.

A US official said Thursday's "seizure appears to be in retaliation for a prior US seizure of Iranian oil, which Iran recently attempted to get back but failed".
The ship with Iranian crude had been destined for China, and reportedly the Iranians had tried to pursue it when it was diverted toward the US after a court order from the DOJ. One of the companies involved with the vessel had helped with the US apprehension.
In recent years the US has seized a number of tankers with Iranian oil for alleged sanctions-busting activities, including recent interventions against vessels headed to highly sanctioned Syria.
Loading...