---
Russian Opposition Leader In A Coma After Being Poisoned For The 2nd Time In 16 Months
Update (0730ET): Though doctors have yet to affirmatively declare that Navalny was indeed poisoned, his spokeswoman is insisting that Putin was behind the attack, even as journalists have warned against jumping to conclusions because so many rich and powerful people in Russia hate Navalny.
Navalny's spokeswoman on who might have poisoned Russian opposition leader: "It is Putin. Whether he gave the order or not, it is on him". https://t.co/gOqo1QzmJU

— Leonid Ragozin (@leonidragozin) August 20, 2020
Leonid Ragozin is a journalist known as a prominent critic of Putin. Because who needs facts when "Putin did it"?
He also accused Russian media of sowing lies about the "poisoning".
After Lifenews, another Kremlin-friendly source names a substance Navalny might have been poisoned with. Both versions however vaguely hint at drug addiction, which makes them sound very dubious. https://t.co/Z9prlbo0K4

— Leonid Ragozin (@leonidragozin) August 20, 2020
Over in the Kremlin, Putin's press shop officially wished the opposition leader a speedy recovery.
KREMLIN SPOKESMAN SAYS KREMLIN WISHES NAVALNY A SPEEDY RECOVERY LIKE ANY OTHER CITIZEN WHO FINDS THEMSELVES IN SUCH CIRCUMSTANCES
KREMLIN SPOKESMAN SAYS DOCTORS ARE DOING EVERYTHING THEY CAN TO HELP OPPOSITION POLITICIAN NAVALNY RECOVER
* * *
For the second time in just over a year, Russian opposition leader Alexei Navalny has apparently been poisoned. According to media reports, the liberal politician and leader of Russia's anti-Putin domestic opposition was admitted to a hospital in Siberia after his aircraft was forced to make an emergency landing.
Navalny became sick on a flight from Tomsk to Moscow on Thursday and lost consciousness on the aircraft after reportedly drinking a cup of tea in the airport (it's always the tea), according to his spokeswoman Kira Yarmysh. The politician collapsed in the plane's bathroom during the flight.
According to reports, he was in a coma according to the most recent update.
Local health officials said Navalny was in intensive care and doctors were "performing all necessary tests."
This is the second time in just over a year that Navalny, the most visible member of Russia's domestic political opposition, has been mysteriously poisoned. Back in July 2019, while serving a 30-day sentence for planning an unauthorized protest, Navalny was apparently poisoned while in prison - the authorities attributed his symptoms of severe facial swelling to "an allergic reaction" - and was briefly treated at a nearby hospital before being abruptly sent back to the pen.
He is also still blind in one eye from a 2017 attack when a pro-Kremlin activist threw corrosive chemicals in his face.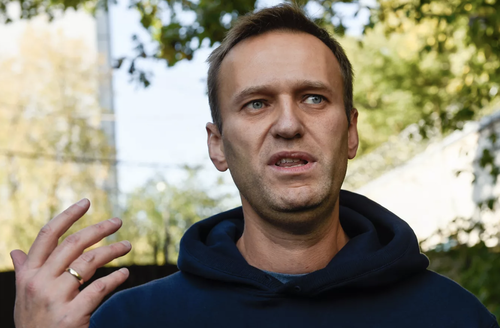 Navalny's camp says doctors at the hospital have been given the 'tap on the shoulder' and told not to disseminate any more information about Navalny's case. Alexei Kalinichenko, deputy chief doctor of the hospital in Omsk where Navalny was taken, said "there was no certainty that poisoning is the cause" though it is "one of the versions" under consideration. "We suspect Alexei was poisoned with something mixed into his tea...It was the only thing he drank all morning. Doctors said that the toxin was absorbed more quickly through hot liquid."
Russian media are now speculating on the agent used in the poisoning, with one gossip site claiming GHB was the substance used on Navalny.