In what will no doubt be taken as a direct shot across the Trump administration's bow, China has been appointed to a key United Nations human rights post. 
Fox reports on Saturday: "China has been appointed to a panel on the controversial U.N. Human Rights Council, where it will help vet candidates for important posts — despite its decades-long record of systematic human rights abuse that the U.S. has said fueled the coronavirus pandemic."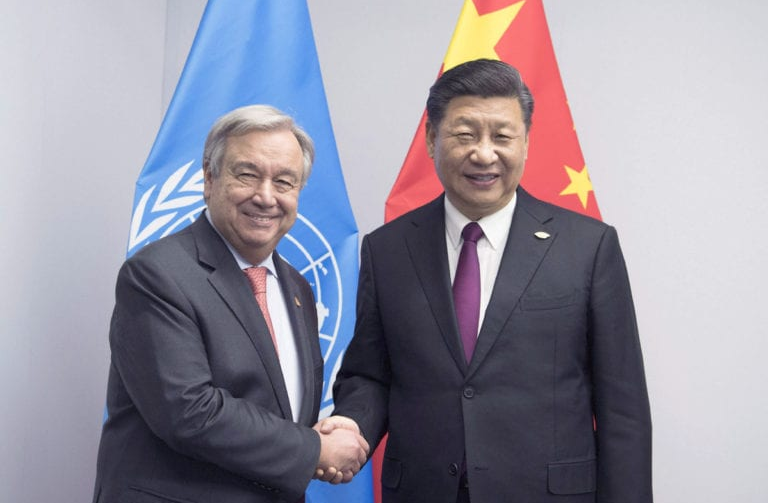 The timing couldn't be worse, given the soaring tensions and weeks-long war of words between US and Chinese officials, both floating bombastic charges against the other of intentionally spreading COVID-19. 
President Trump has even taken to calling the deadly virus the "Chinese virus" - given as he said last month: "It could have been contained to that one area in China where it started." He followed at the time by saying of China "certainly the world is paying a big price for what they did."
Jiang Duan, minister at the Chinese Mission in Geneva, will represent Beijing on the U.N. Human Rights Council's Consultative Group, alongside four other international representatives. 
A Geneva-based human rights watchdog called UN Watch, meanwhile, slammed the development as "absurd and immoral" for the UN to allow China to have a hand in selecting human rights officials for the top body.
"Allowing China's oppressive and inhumane regime to choose the world investigators on freedom of speech, arbitrary detention and enforced disappearances is like making a pyromaniac into the town fire chief," UN Watch said in a statement, according to FOX.
The Human Rights Council, itself long subject of controversy - especially after the Saudis recently occupied a top spot on the bloc - examines freedom of speech, war crimes, and disappeared persons issues around the world.
The central irony is that China - itself long documented to have an extensive 'political prison' system and with more recent charges of "disappearing" doctors and scientists who have tried to blow the whistle over its COVID-19 response - will now have a key role in selecting the top human rights body's make-up.