---
NY Suffers Another 1,500+ New COVID-19 Cases As Cuomo Threatens To Fine "Non-Compliant" Communities: Live Updates
Summary:
Cuomo threatens to fine municipalities for 'noncompliance'
NY reports another 1,500+ daily cases
World leaders wish Trump, First Lady speedy recovery
Russia sees biggest jump in months
Malaysia sees another daily record
Dr. Gottlieb says Trump at "high" risk for serious symptoms
Victoria cases fall to lowest level in months
* * *
Update (1350ET): New York reported more than 1,500 new cases again on Friday, one of the biggest daily increases the city has seen since ending its lockdown.
Today's update on the numbers:

Of the 119,493 tests reported yesterday, 1,598 were positive (1.34% of total).

Total hospitalizations are at 648.

Sadly, there were 7 COVID fatalities yesterday. pic.twitter.com/IM3j0O7uMI

— Andrew Cuomo (@NYGovCuomo) October 2, 2020
New York Gov. Andrew Cuomo delivered a warning Friday to the state's mayors and local governments that could also be interpreted as a jab at de Blasio: either enforce coronavirus-related mask and social gathering laws, or your community could be fined as much as $10,000 for each day of noncompliance.
20 zip codes have been identified as "hot spots", with most of them in the outer boroughs of NYC, or in Rockland, or Orange counties, two NY counties that are in the southern part of the state.
Of the tests conducted in the hotspot ZIP codes, 6.4% were positive. Cuomo said he would be sending a note to local officials saying they "have to step up the compliance," Cuomo said. "If the local governments don't step up the compliance, they will actually be in violation of the law and they can be fined."
* * *
The biggest COVID-19-related news overnight between Thursday and Friday was unquestionably the news that President Trump and First Lady Melania Trump had tested positive for the coronavirus.
Top administration officials are scrambling to get tested, and Secretary of State Mike Pompeo has decided to cancel a trip to Asia scheduled for later this week out of an ""abundance of caution", despite testing negative. No decision has been made yet, Pompeo told a group of journalists on the flight from Rome to Dubrovnik in Croatia. "I spoke with the Vice President's office this morning as well," Pompeo said. "We're taking this obviously very seriously." Nancy Pelosi said earlier that she hoped Trump's experience with the virus might prompt him to take the threat more seriously.
With Russia's COVID-19 outbreak still ravaging Moscow, Russian President Vladimir Putin offered "sincere support" to President Trump and the First Lady. The Kremlin says Putin sent Trump a telegram saying "I hope that your inherent vitality, good spirits and optimism will help you cope with the dangerous virus."
It comes as Russia reports 9,412 new infections, its highest daily tally since May 23, pushing the national total to 1,194,643 cases, while Moscow, the epicenter of the Russian outbreak, reported 2,704 cases alone. 186 people had died nationwide in the last 24 hours, bringing the official death toll to 21,077, though some claim that death toll probably underestimates the true tally.
India's Narendra Modi chimed in on Twitter to wish the Trumps a speedy recovery.
Wishing my friend @POTUS @realDonaldTrump and @FLOTUS a quick recovery and good health. https://t.co/f3AOOHLpaQ

— Narendra Modi (@narendramodi) October 2, 2020
UK PM Boris Johnson, who beat COVID-19 after spending a few nights in the ICU, also expressed his sympathies.
My best wishes to President Trump and the First Lady. Hope they both have a speedy recovery from coronavirus.

— Boris Johnson (@BorisJohnson) October 2, 2020
German Chancellor Angela Merkel also made a perfunctory statement expressing hope for a speedy recovery. Meanwhile, an amusing clip from the European Council summit in Brussels showing Merkel cautioning Italian PM Giuseppe Conte is going viral.
VIDEO: German Chancellor Angela #Merkel backs away from Italian PM Giuseppe #Conte and indicates for him to respect #socialdistancing as he tries to greet her at the European Summit in Brussels #EUCO pic.twitter.com/ThWHPCXfV4

— AFP news agency (@AFP) October 2, 2020
WHO Director-General Dr. Tedros Adhanom Ghebreyesus tweeted his best wishes to Trump for "a full and speedy recovery".
My best wishes to President @realDonaldTrump and @FLOTUS for a full and speedy recovery. https://t.co/6OUZT20huK

— Tedros Adhanom Ghebreyesus (@DrTedros) October 2, 2020
With the world speculating on what treatments, if any, will be used to treat the president, fears linger as former FDA head Dr. Gottlieb noted that President Trump's risk to the virus is "high".
"There's every reason to expect the president to recover... but the risk is still high," @ScottGottliebMD tells @SquawkCNBC, citing age and BMI, of President Trump's diagnosis with #covid19

— Meg Tirrell (@megtirrell) October 2, 2020
As of Friday morning in the US, global cases have reached 34,289,709 after another 318,181 cases were confirmed, according to Johns Hopkins University data...
...while the worldwide death toll spiked by 8,697, the largest daily tally since Sept. 7, bringing the death toll to 1,022,878.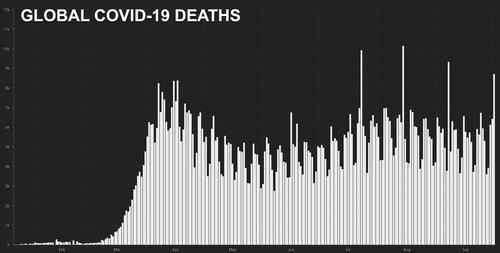 Finally on the vaccine front, AstraZeneca, which is facing an expanded probe by the FDA that has caused a lengthy delay in its US trial, announced Friday that trials were continuing in Japan, and that the company is "in talks" to supply the proper data to the FDA to get it to greenlight the US trials. Most of AZ's trials for its experimental vaccine around the world restarted shortly after an initial disruption,
Here's more COVID news from overnight:
Malaysia reports its highest-ever number of new infections, 287, surpassing the 277 reported on June 4. The virus is believed to have widely spread in the Eastern State of Sabah, which recently held elections (Source: Nikkei).
India's case tally climbs to 6.39 million on 81,484 new infections in the last 24 hours; deaths are just shy of the 100,000 mark, data from the health ministry shows. Fatalities from coronavirus infections rose by 1,095 in the last 24 hours to 99,773, the ministry said (Source: Nikkei).
New daily infections in Australia's hot-spot state of Victoria have fallen to a near four-month low as it records only imported cases, raising the prospect of more domestic borders reopening. The state of Queensland, meanwhile, says it may open its border with the country's most populous state, New South Wales, on Nov. 1, if New South Wales goes 28 days without recording a new case (Source: Nikkei).