---
1.7 Million Without Power As Zeta Batters Gulf Coast 
Zeta made landfall Wednesday afternoon in Louisiana as a powerful Category 2 hurricane, weakened into a tropical storm as it batters the Southeast US Thursday morning. 
According to power outage.us, by 0553 ET Thursday, more than 1.7 million customers were without power across four states. Georgia 708k, Louisiana 508k, Alabama 273k, and Mississippi 231k.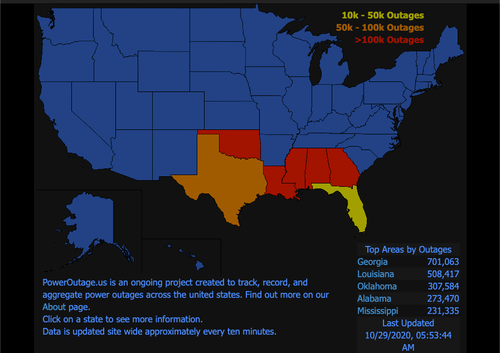 Zeta has picked up momentum, racing through central Alabama and northern Georgia this morning and then the Mid-Atlantic by evening. 
"On the forecast track, the center of Zeta will move across portions of the southeastern US this morning, across the mid-Atlantic states this afternoon, and emerge over the western Atlantic by tonight," the National Hurricane Center said.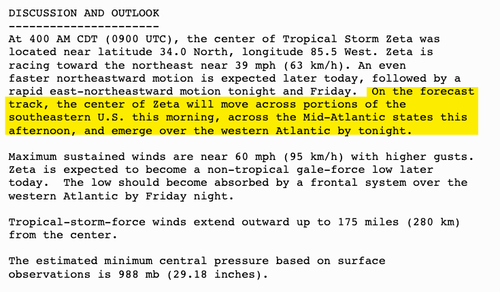 CNN Meteorologist Michael Guy said Zeta's fast track suggests the storm won't lose much energy as it traverses the Southeast today and Mid-Atlantic by evening.  
"This will allow Zeta to keep tropical storm intensity with strong winds throughout its course to the Atlantic," Guy said. 
Zeta is the 11th named storm and 6th hurricane to make landfall in 2020. "Both are seasonal records (the six hurricane landfalls ties with 1985 and 1886). Louisiana is the first state with five named storm landfalls in a season," said Aon PLC.'s meteorologist and head of catastrophe insight Steve Bowen.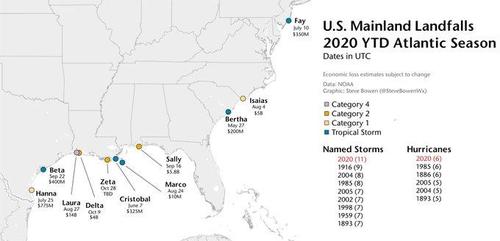 Bowen also said the super active hurricane season has already cost more than $30 billion in damage.