---
Airbnb Shares Surge 115% In Debut, Valuation Tops $100BN
Update (1415ET): What a twist.
After ripping higher during their debut, Airbnb shares are now trading below $146, the price at which shares debuted less than an hour ago.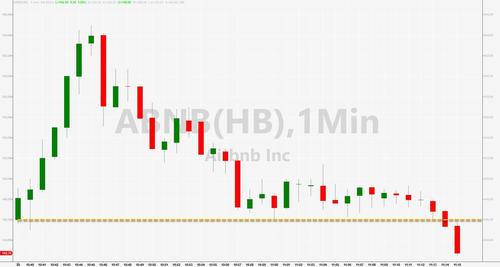 * * *
Although DASH didn't quite make it to $200/share, its shares surged during its Wednesday debut, briefly sparking a rotation from the other momo heavyweights into $DASH, yet another 'sharing economy' startup with lots of cash and hype, but no clear path to profitability.
Airbnb's debut was marked by similarly frenzied trading: shares priced at $68 on Wednesday, giving the company a value of $47BN. But they surged to $146/share during the opening trades, a more than 115% jump, pushing the company's valuation to more than $100BN, more than 2x in the span of 12 hours.
The company is going public at a time when the sector has been hammered by the pandemic, though Airbnb has made itself available to customers looking for convenient "stay-cation" homes, where they can get away from the din of city life for a bit.
The company's revenue shrank nearly 19% last quarter to $1.34 billion vs the prior year as the pandemic killed the travel and hospitality industry. Still, the company managed to turn a profit thanks largely to customers fleeing the city.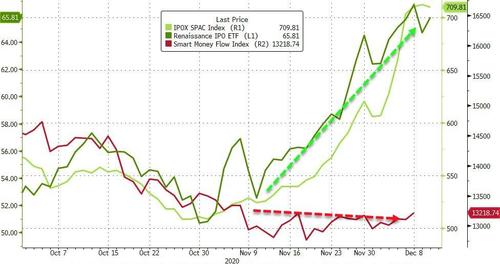 It just goes to show: the economy might be in tatters, but the market for IPOs - particularly the SPAC 'reverse IPOs' that have become all the rage this year - is still white hot.
Airbnb's three co-founders said 2020 has been "the most defining period since we started Airbnb." The company put its IPO plans on hold back in March as the pandemic ground global travel to a halt. By April, room bookings had plunged 72%. Airbnb rolled out a blanket refund policy and doled out more than $1 billion in cancellation fees.