---
Berkshire Letter Highlights: Buybacks, Cash Hit All Time High; Earnings Soar As Market Rebounds
In its latest (surprisingly short at just 12 pages, perhaps the shortest yet) annual letter released at 8am on Saturday, Warren Buffett's Berkshire Hathaway surprised investors when it announced that Q4 net earnings rebounded to a $29.2 billion profit, or $17,909 per share, from a shocking $25.4 billion loss (or $15,467 per share) a year prior, when last year's unexpected write-down at Kraft Heinz and unrealized investment losses reversed following the best quarter for stocks in years, and while revenues also rose to $65.4 billion from $63.7 billion for the fourth quarter, the all important operating earnings - which strip away capital gains and focus on Berkshire's core business - declined 23% to $4.42 billion from $5.7 billion a year earlier, due to underwriting losses at the Berkshire reinsurance group which was hurt by typhoons in Japan, wildfires in California and Australia, and widening losses at its business writing retroactive reinsurance contracts.
Operating earnings exclude most investment results and Buffett has said they are more reflective of Berkshire's performance than net earnings, which tend to fluctuate widely due to unrealized investment gains or losses.
For the full year, Berkshire reversed the disappointing performance in 2018 (when it earned just $4.0 billion in GAAP profits, down 90% from the previous year, prompting the WSJ to describe this as "one of Buffett's worst years ever"), and recorded a whopping $81.4 billion in net earnings, driven mostly by unrealized investment gains with full-year revenues rising modestly from $247.8 billion to $254.6 billion. At the same time total asset across the conglomerate-cum-hedge fund (which at last check managed at least $242.1BN in US stocks ) rose by $110 billion to $817BN as of Dec 31, compared to the year prior.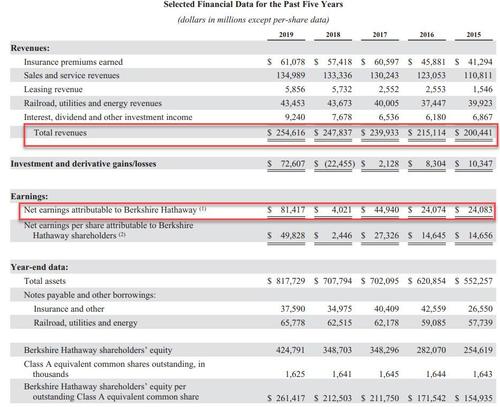 Commenting on the company's $81.4 billion in 2019 GAAP net earnings, Buffett said that "the components of that figure are $24 billion of operating earnings, $3.7 billion of realized capital gains and a $53.7 billion gain from an increase in the amount of net unrealized capital gains that exist in the stocks we hold."
Buffett then focused on the $53.7 billion capita gain, saying that "It resulted from a new GAAP rule, imposed in 2018, that requires a company holding equity securities to include in earnings the net change in the unrealized gains and losses of those securities. As we stated in last year's letter, neither Charlie Munger, my partner in managing Berkshire, nor I agree with that rule.
The adoption of the rule by the accounting profession, in fact, was a monumental shift in its own thinking. Before 2018, GAAP insisted – with an exception for companies whose business was to trade securities – that unrealized gains within a portfolio of stocks were never to be included in earnings and unrealized losses were to be included only if they were deemed "other than temporary." Now, Berkshire must enshrine in each quarter's bottom line – a key item of news for many investors, analysts and commentators – every up and down movement of the stocks it owns, however capricious those fluctuations may be.

Berkshire's 2018 and 2019 years glaringly illustrate the argument we have with the new rule. In 2018, a down year for the stock market, our net unrealized gains decreased by $20.6 billion, and we therefore reported GAAP earnings of only $4 billion. In 2019, rising stock prices increased net unrealized gains by the aforementioned $53.7 billion, pushing GAAP earnings to the $81.4 billion reported at the beginning of this letter. Those market gyrations led to a crazy 1,900% increase in GAAP earnings!
And speaking of market gyrations, here is the breakdown of Buffett's top 15 investments (excluding the Kraft Heinz embarrassment), which naturally soared in the quarter in which the Fed launched QE4. As a reminder, one year ago, the market value of these top investments was just $172.8BN, so a nearly $80 billion increase in market cap.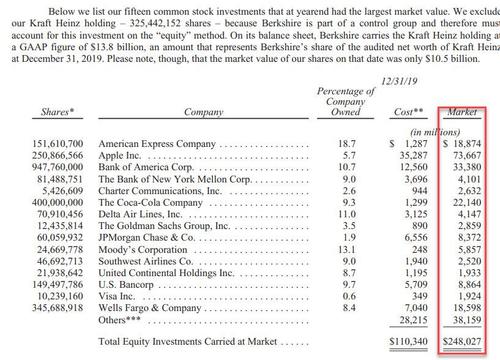 Some other observations on Berkshire's latest quarterly and annual results:
After imploding in late 2018, Kraft Heinz, which counts Berkshire as its largest shareholder, had a tumultuous 2019, with writedowns, management shakeups and downgrades to junk. As Bloomberg notes, Buffett's company carries its Kraft Heinz investment on its balance sheet at $13.8 billion, a figure unchanged since 2018's fourth quarter, even as the market price of the stake dropped to $10.5 billion at the end of last year.
Berkshire's BNSF railroad posted a 5% gain in profit in the fourth quarter, just shy of record earnings in the previous three months, as a 3.8% drop in expenses helped counter falling revenue across shipments of products such as coal, consumer items and agricultural goods. BNSF had posted its full-year filing Friday night, on the eve of the release of Buffett's annual letter, giving investors a sneak peek of results.
Of note: unable to find outside deep-value investments in a market that is overvalued and overflowing with liquidity, Berkshire bought back $5 billion of its own shares in 2019, with the buyback in Q4 rising to $2.2 billion, the most ever. The company changed its buyback policy last year, and some shareholders have been frustrated the company hasn't spent significantly more cash repurchasing its stock. Ironically, it is none other than Buffett who has repeatedly urged his investments to engage in aggressive buybacks even as Berkshire has sternly resisted in putting Buffett's money where his mouth has been for years. 
As he has in prior years, Buffett dedicated a modest portion of the last page of his letter to the topic of buybacks, making it very clear to even the most hardened skeptics, that buybacks to indeed support stocks, when Buffett said that "we will likely become more aggressive in purchasing shares. We will not, however, prop the stock at any level." Almost as if buying back stock tends to, gasp, prop it up. But... but... that nice fellow who runs that giant (money losing) quant shop said... yes, we know. He is wrong. Moving on: Buffett also had a tongue-in-cheek challenge to anyone who thinks the company hasn't bought back enough stocks, saying that "shareholders having at least $20 million in value of A or B shares and an inclination to sell shares to Berkshire may wish to have their broker contact Berkshire's Mark Millard at 402-346-1400.... call only if you are ready to sell." The full excerpt below:
In past reports, we've discussed both the sense and nonsense of stock repurchases. Our thinking, boiled down: Berkshire will buy back its stock only if a) Charlie and I believe that it is selling for less than it is worth and b) the company, upon completing the repurchase, is left with ample cash.

Calculations of intrinsic value are far from precise. Consequently, neither of us feels any urgency to buy an estimated $1 of value for a very real 95 cents. In 2019, the Berkshire price/value equation was modestly favorable at times, and we spent $5 billion in repurchasing about 1% of the company.

Over time, we want Berkshire's share count to go down. If the price-to-value discount (as we estimate it) widens, we will likely become more aggressive in purchasing shares. We will not, however, prop the stock at any level.

Shareholders having at least $20 million in value of A or B shares and an inclination to sell shares to Berkshire may wish to have their broker contact Berkshire's Mark Millard at 402-346-1400. We request that you phone Mark between 8:00-8:30 a.m. or 3:00-3:30 p.m. Central Time, calling only if you are ready to sell.
Yet even with the $2.2BN in Q4 buybacks, Berkshire's cash pile continued to rise, and it ended 2019 at a full-year record, or $128 billion, just shy of the all time high of $128.2 billion in Q3. Buffett has sought to redeploy those funds into higher-returning deals or stock purchases, but has been held back by what he's said are "sky-high" prices for good businesses.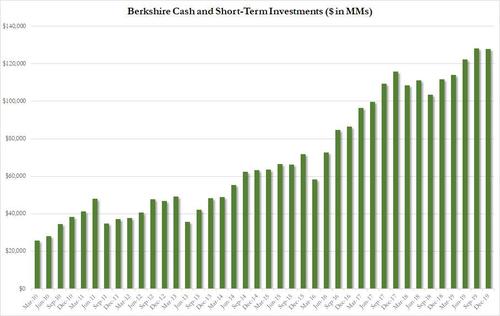 As one can expect, the theme of scarce investments continued in Q4, with Buffett writing that "we constantly seek to buy new businesses that meet three criteria. First, they must earn good returns on the net tangible capital required in their operation. Second, they must be run by able and honest managers. Finally, they must be available at a sensible price. When we spot such businesses, our preference would be to buy 100% of them. But the opportunities to make major acquisitions possessing our required attributes are rare. Far more often, a fickle stock market serves up opportunities for us to buy large, but non-controlling, positions in publicly-traded companies that meet our standards."
And yet despite the massive cash hoard and record buyback, perhaps in response to the company's shrinking set of investment opportunities (despite Berkshire surprising the market by buying a small new stake in Kroger, Biogen, SPY and VOO in Q4) and the decline in the company's operating earnings, the company has underperformed the S&P 500's total return in recent years. In 2019, the company's stock rose just 11% compared with a 31.5% total return in the S&P — Berkshire's biggest underperformance since 2009.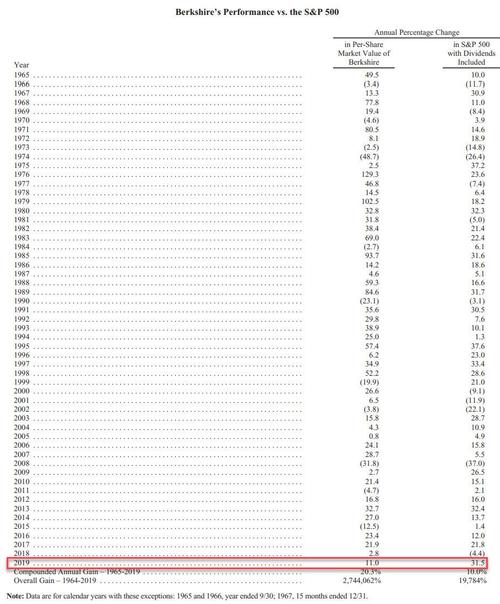 Besides investment opportunities, in his annual letter, Buffett discussed corporate boards of directors, which he said are often ill-equipped to oversee companies and incentivized not to challenge executives.
He also said that at Berkshire's annual meeting in May, shareholders will be able to ask questions of Berkshire executives Ajit Jain and Greg Abel, the two leading candidates to succeed Mr. Buffett as CEO, in addition to questioning Messrs. Buffett and Munger.
Buffett harped on the benefits of diversification, invoking not only a recent Lubrizol incident but also the New Testament:
... one final item that underscores the wide scope of Berkshire's operations. Since 2011, we have owned Lubrizol, an Ohio-based company that produces and markets oil additives throughout the world. On September 26, 2019, a fire originating at a small next-door operation spread to a large French plant owned by Lubrizol. The result was significant property damage and a major disruption in Lubrizol's business. Even so, both the company's property loss and business-interruption loss will be mitigated by substantial insurance recoveries that Lubrizol will receive.

But, as the late Paul Harvey was given to saying in his famed radio broadcasts, "Here's the rest of the story." One of the largest insurers of Lubrizol was a company owned by . . . uh, Berkshire. In Matthew 6:3, the Bible instructs us to "Let not the left hand know what the right hand doeth." Your chairman has clearly behaved as ordered
That said, Buffett did not leave out the Old Testament either:
Our P/C companies have meanwhile had an excellent underwriting record. Berkshire has now operated at an underwriting profit for 16 of the last 17 years, the exception being 2017, when our pre-tax loss was a whopping $3.2 billion. For the entire 17-year span, our pre-tax gain totaled $27.5 billion, of which $400 million was recorded in 2019. That record is no accident: Disciplined risk evaluation is the daily focus of our insurance managers, who know that the rewards of float can be drowned by poor underwriting results. All insurers give that message lip service. At Berkshire it is a religion, Old Testament style.
We can only guess who the Old Testament god at Berkshire is.
Curiously, unlike in prior years, Buffett decided to stay out of the political fray this year, and as Bloomberg notes, the billionaire Democrat and Hillary Clinton supporter didn't mention the words "election," "Trump," or any Democrat running for president in the letter.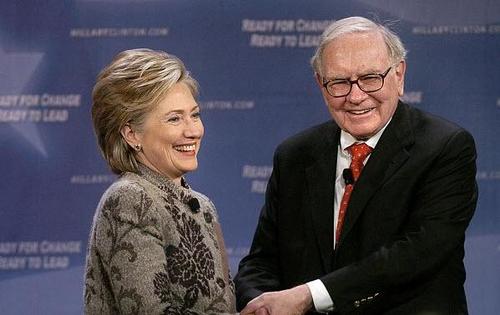 To be fair, Buffett did try to tone it down last year too, when in lieu of bashing Trump, he focused on overall prosperity in the U.S., saying that America's success over the decades has been achieved in a bipartisan manner. And while in the past Buffett had openly campaigned for presidential candidates such as Hillary, he said more recently that he prefers not to use his position at Berkshire to promote his political views or, conversely, to impose his political opinions on Berkshire's business activities.
Some other political flashbacks: Buffett wrote in 2013 that although he voted for Barack Obama the previous November, 10 of the 12 daily newspapers that Berkshire owned at the time endorsed the Republican candidate, Mitt Romney.
In the 2015 letter, written during the 2016 election campaign, Buffett said candidates "can't stop speaking about our country's problems" but that their downbeat views on the U.S. were "dead wrong."
The son of a four-term Republican U.S. Representative has voted for more Democrats than Republicans over the the past 30 years, he said last year. He attended fundraisers for both Clinton and Obama ahead of the 2008 Democratic primaries. While he's yet to publicly endorse for November's election, Buffett said in early 2019, ahead of any campaign announcement, that he would support Michael Bloomberg if he ran for president.
Buffett concludes the letter by noting that his companies collectively paid 1.5% of the total corporate federal tax paid in America in 2019:
In 2019, Berkshire sent $3.6 billion to the U.S. Treasury to pay its current income tax. The U.S. government collected $243 billion from corporate income tax payments during the same period. From these statistics, you can take pride that your company delivered 11⁄2% of the federal income taxes paid by all of corporate America.

Fifty-five years ago, when Berkshire entered its current incarnation, the company paid nothing in federal income tax. (For good reason, too: Over the previous decade, the struggling business had recorded a net loss.) Since then, as Berkshire retained nearly all of its earnings, the beneficiaries of that policy became not only the company's shareholders but also the federal government. In most future years, we both hope and expect to send far larger sums to the Treasury
One thing is certain: if Buffett endorses "bigger government" for the 2020 election, he will end up paying far more in taxes in the coming years. Assuming he is around, of course.
Full Berkshire letter can be found here.