---
Bizarro Market: Retail Investors Are Now Crushing Hedge Funds
As if financial markets needed one more reason to boycott the "smart money" and stop paying 2 and 20 for the "privilege" of underperforming the free S&P500 for the 10th straight year - an S&P which is now actively managed by central banks who step in any time there is even a modest 5% drop in stock prices  - here it is: Retail investors are now crushing the smartest money on Wall Street.
Yesterday we reported that 2020 has started off dismally for equity hedge funds, whose short books and unwillingness to chase the rally crippled their YTD performance, which is at the very bottom of asset classes tracked by Goldman...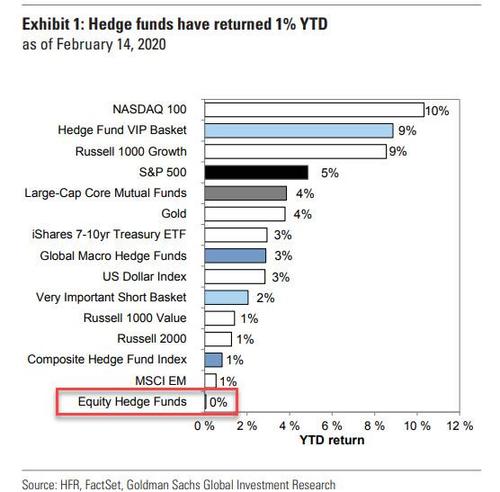 ... yet it was the impressive outperformance of the most popular longs, also known as the Goldman Sachs Hedge Fund VIP basket of stocks...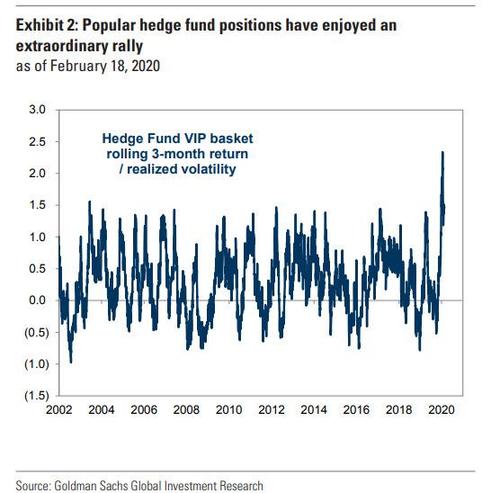 ... that has saved the day for hedge funds, whose performance would have been far worse had it not been for the handful of stocks owned by most hedge funds.
During the last few months, the most popular hedge fund positions have enjoyed one of their strongest rallies on record. Our Hedge Fund VIP basket, which tracks the most popular hedge fund long positions has returned 24% since the start of 4Q 2019, sharply outperforming both the S&P 500 (+14%) and our basket of the largest short positions. The basket's return relative to its realized volatility and its outperformance versus the largest shorts each rank as the strongest in the basket's history. The outperformance of VIPs has continued in early 2020 (+9% YTD), contributing to a 1% YTD return for the average hedge fund.
And not just hedge funds have piled into the same small group of mega cap stocks: as we pointed out yesterday, it was retail investors, i.e., the "dumb money" that saved the day for the "smartest guys in the room" as they scrambled  to buy the names most widely held by the hedge fund community.
Recall that the YTD period has been most notable because after a long absence, retail investors finally stormed back into the market with a bang, buying not just stocks, but call options - highly levered bets typically with a 1 week maturity  - on stocks at a time when nothing seemed like it could go down, in the process creating a self-reinforcing tidal wave of buying that has risen all boats, especially those owned by hedge funds.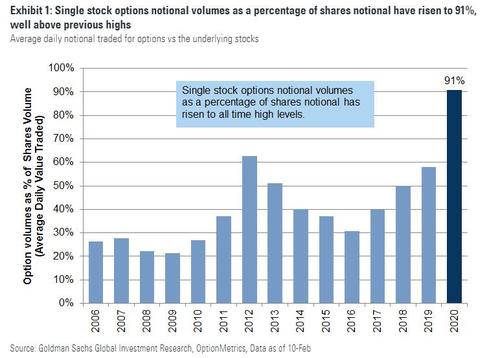 To be sure, it wasn't just single-stocks as index and ETF options volumes have also soared to record highs...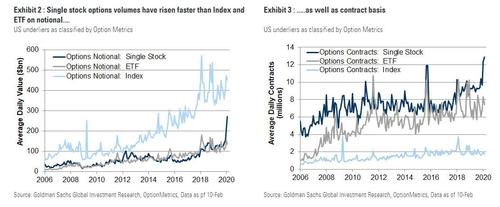 ... but yes, a handful of stocks were the biggest benficiaries.
Goldman confirmed as much, when Ben Snider and David Kostin said that "the most popular hedge fund stocks have also been bolstered by a surge in retail trading activity. The sharp increase in retail trading has lifted a basket of popular retail stocks by 14% YTD and 25% since the start of 4Q 2019."
Which brings us to the most remarkable chart we showed yesterday in our recap of the latest quarterly Goldman Hedge Fund Monitor: retail investors, i.e., the "dumb money" has now trounced the performance of hedge funds, incorrectly known as "the smart money" not only YTD, as the 50 most-popular stocks among retail investors rallied 13% so far in 2020, nearly double the 8.7% return for the hedge fund favorites but since the start of 2018.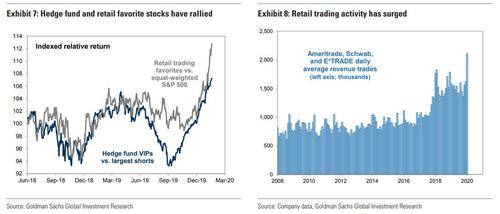 It's not just the breadth of returns that has diverged between the two investor classes. Picking up on where we left off yesterday, Bloomberg writes on Saturday morning that retail investors have also been far better pickers of blockbuster stocks in 2020: "Only two of their popular holdings have gained at least 50%: Tesla Inc. and PG&E Corp. By contrast, individual investors scored seven such wins. Besides Tesla and PG&E, they reaped big pay-offs from Virgin Galactic Holdings Inc., Plug Power Inc., Sprint Corp., Vivint Solar Inc. and Beyond Meat Inc."
These, of course, as the berserker momo names that went parabolic as an army of retail investors staged a call buying spree in one momo name after another, orchestrated out of a peculiar source: the wallstreetbets section on reddit.
We also know the enabler, of course: the retail investing hordes have the Fed's QE4 which was launched in October 2019 to thank for the outperformance. It was then that hedge funds had hunkered down and turned short, when Powell instead of allowing the market to drop, injected hundreds of billions in liquidity into the market, bailing out not hedge funds - he did that back in September with the return of repo operations, but retail investors.
"Retail investors tend to buy what's just done well, and in a market like we've been in the last several years, that's worked very well," said Rich Weiss, CIO of multi-asset strategies at American Century Investments told Bloomberg, adding that "if that type of outperformance by the retail basket over the hedge fund basket would persist for another year or longer, that makes quite a statement, if not an indictment, on professional money managers."
Rich is right, but only partially: it would make an even bigger statement on the Federal Reserve, which now finds it imperative to intervene in the market to rescue all investors, not just a given wealthy subset.
But what is worse, is that this intervention by the Fed, and the tremendous outperformance of retail investors over hedge funds, will further bolster optimism among small investors, who are rushing back to the market with the conviction that they are investing geniuses further facilitated after some brokerages eliminated commissions on trades. According to the latest sentiment reading from the Conference Board, the share of respondents expecting stocks to rise in the next year advanced to 43.1% in January, the highest since October 2018.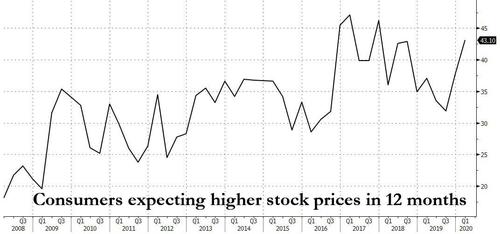 Some additional observations on the two stocks baskets.
Among the 50 favorite stocks for both hedge funds and retail investors, 13 overlap, with tech giants - Apple Inc., Amazon.com Inc., Facebook Inc. and Microsoft Corp - at the top of both lists. That said, retail investors have gravitated more toward smaller companies, with sixteen of the top 50 picks having a market value of less than $10 billion, compared with six for hedge funds.
Ultimately it all really boils down to the far higher beta of the retail basket compared to the hedge fund VIPs: which means that while retail investors tend to win big, they also lose big when stocks tumble. As Bloomberg notes, seven of the top retail stocks have fallen at least 10% this year, including Chesapeake and Groupon. Meanwhile, all of the hedge funds' top selections have fared better.
For those wondering, here is the full list of the Top 50 "VIP" hedge fund names as of Dec. 31...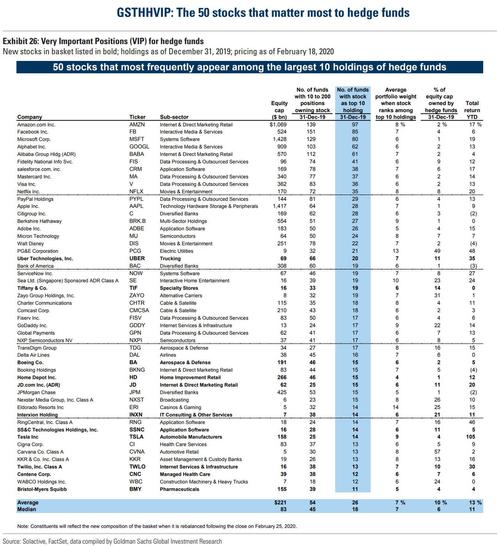 ... and the same list for retail investors.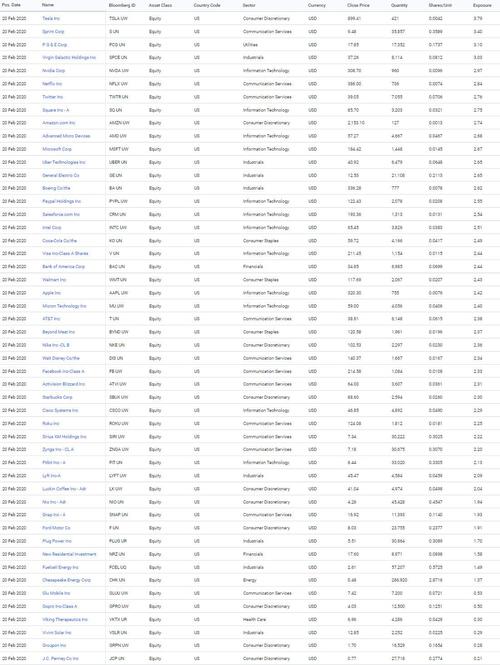 And while it is certainly a novelty to see retail investors outperform hedge funds, we doubt this divergence will last long, especially once the Fed is forced to taper its QE4 in the coming months, at which point the retail panic will be a sight to behold, as will be the length of the list of those furious at Chair Powell.
Which is why the only thing that matters, in our view, is the list of Top 50 most shorted names. As discussed extensively here in the past, it is the 50 or so most shorted - or hated by hedge fund - names that has year after year been and a far better source of alpha (for those who buy them) as they have significantly outperformed the braoder market due to periodic and vicious short squeezes year after year...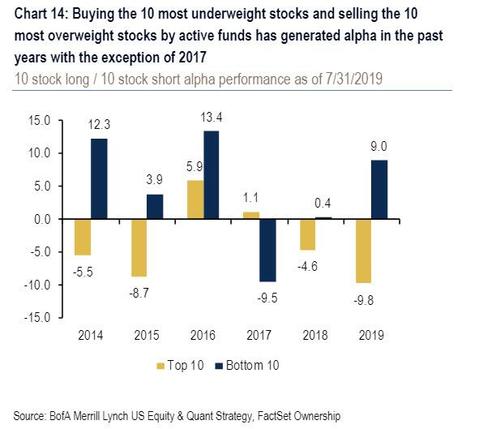 ... especially in this day and age when the link between fundamentals and asset prices has been terminally severed by central banks, something we described most recently in "Going Against The Wall Street Crowd Has Been The Most Profitable In 5 Years."