---
"A Black Box Of Unclear Motives" - World's Oldest Central Bank Blasted After Redacting BlackRock Bond-Buying Report
Ahead of today's Riksbank rate decision, Swedish authorities are facing consternation from many market participants over the lack of transparency about its newly unveiled corporate-bond buying scheme.
While Swedish officials are likely unphased by 'outsiders' questioning their decisions (after their controversial - yet successful - strategy in dealing with COVID), Bloomberg reports that initial enthusiasm by market participants as the world's oldest central bank brought in consultants from BlackRock to help it move ahead with a controversial corporate bond purchase program.
The Riksbank's decision to start buying corporate bonds this month is turning into one of its most controversial policy moves ever.
In response to Bloomberg's request for information about BlackRock's report, 19 pages of heavily redacted text was sent...
"The Swedish corporate bond market exhibits a number of singularities when compared to other Anglo-Saxon markets," the document showed.
Almost everything else was blacked out.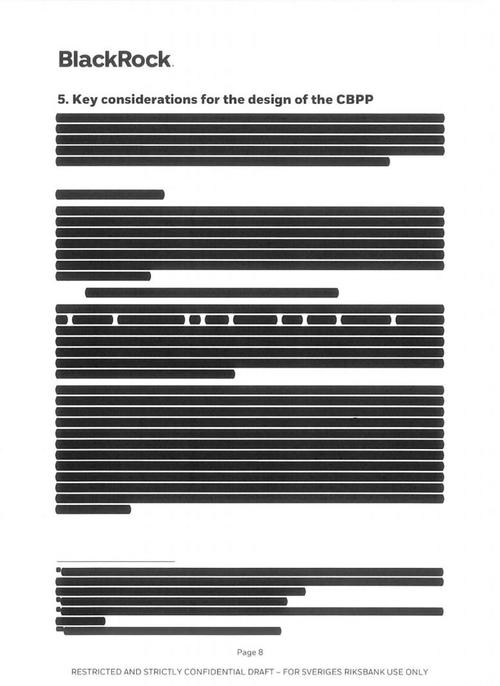 Riksbank cited  a further 68 pages of the report couldn't be shared at all, as they, "in their whole, are covered by secrecy."
As Bloomberg notes, the legal adviser to a parliamentary committee responsible for drafting a new Riksbank Act has suggested the program might be unlawful. And investors have warned that the purchases will distort bond prices in a market that's already rebounded from the Covid crisis.
"It becomes a black box, run by the Riksbank, with highly unclear working methods and motives," said Andreas Halldahl, head of Swedish rates at Storebrand Asset Management.

"It only brings more uncertainty and destroys another market that worked just fine without them."
The corporate bond program even raises questions about the Riksbank's mandate when it comes to unconventional monetary policy, according to Par Osterholm, a professor of economics at Orebro University.
"A relevant question to ask here is how much credit risk it's reasonable for the Riksbank to expose itself to," Osterholm said inan opinion piece in Svenska Dagbladet.
The Riksbank said earlier this month that:
"The Swedish market for corporate bonds is currently functioning in a satisfactory manner, but is assessed to still be vulnerable if the crisis worsens and unease increases."
One look at the market's risk-pricing for Swedish corporate debt suggests all is not well as spread compensation has collapsed to almost record lows once again...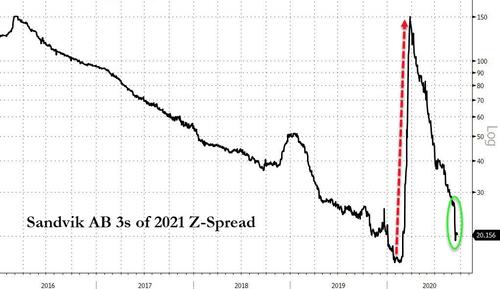 ...as the bond-buying program is barely under-way...
"They set out to 'save' a market, but can't really define what the problem is and how they will make it better," Storebrand's Halldahl said.

"Nor can they say what distinguishes the Swedish market from the foreign ones and in which areas we function so much worse."
The Riksbank started its corporate bond-buying program on Sept. 14, but hasn't provided any details of actual purchases.