---
BMO Strategist Finds Market Signs That "Only Develop Ahead Of Major Corrections"
As BMO chief technician Russ Visch writes in his latest Daily Action Report, yesterday was mostly a non-event as the major averages were relatively unchanged on an extremely light volume day as traders sat on their hands ahead of today's FOMC announcement.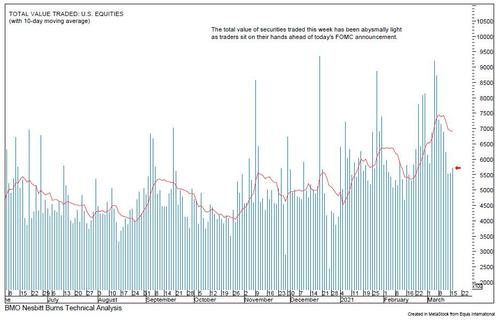 This means that there has been no change to Visch's short-term timing model for North American equities which remains mostly positive, "which suggests bias should remain the upside here with targets that measure to 19,228 for the S&P/TSX Composite and 4177 for the S&P 500."
Yet in a more ominous observation, the BMO chartist cautions that one issue that bears watching is that "the recent breakout in the S&P 500 was not confirmed by new cyclical highs in any of our market based measures of economic activity"...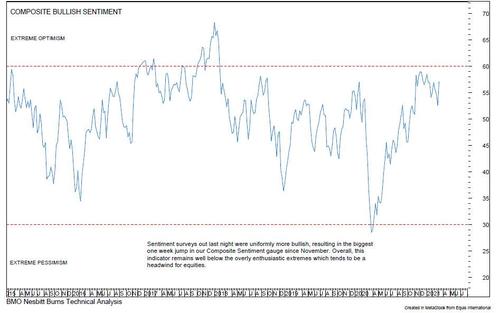 ... such as copper, semiconductors, South Korean stock market...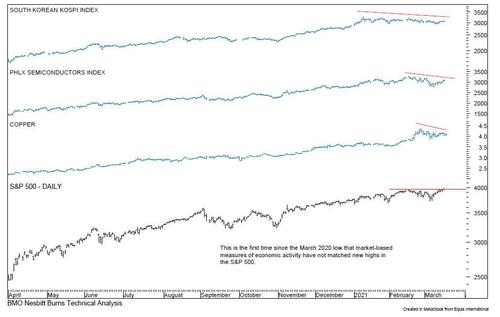 ... or bond market sentiment gauges such as corporate/treasury credit spreads and CDS indexes."
While he notes that it is possible that these "canaries in the coalmine" catch up to the S&P 500 once we get past this week's quad-expiry, "these are the warning signs that typically only develop ahead of major corrections."
To that point, Visch notes that he has written about the potential for a "squishy middle" for equities in 2021, "and continued deterioration in these gauges would increase the odds of that becoming a reality."
And while BMO sees pain in the medium-term what about shorter - i.e., today? As SpotGamma writes in its morning note, while the FOMC always contains the possibility of inducing volatility "we give edge to markets "mean reverting" and initial move today, and holding the major gamma range of 3900-4000 into Fridays close."
Our models suggest a max move of 77bps today with key levels showing as 3950, 3975.  4000 remains the Call Wall and major resistance into Fridays close. Alternatively should Powell upset markets, we'd look for 3900 support.
But while SG is sanguine about today's FOMC meeting, they are somewhat more nervous about Friday's quad-witch opex: in light of the continued reduction in SPX gamma (which no longer acts as an anchor and thus makes greater volatility more likely), SpotGamma notes that it often talks "about how market volatility declines into the large monthly OPEX, and that is portrayed in the graphs below. These charts show the intraday range for markets and you can see that into OPEX (blue arrows) the market "compresses", i.e. the intraday trading range consolidates."