---
California Wildfires Take "Unfathomable" Toll On Napa Wineries
The 2020 vintage in Napa Valley has been stressful for vineyards. There were virus-related lockdowns, severe droughts, heatwaves, and now unprecedented wildfires.
The harvest season for Napa's vineyards began in August and will last through October. But this year, some vineyards have been destroyed during the wildfire season, while others have had harmful smoke from the fires taint the grapes, reported Bloomberg.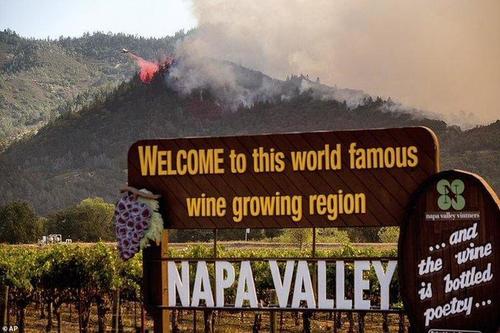 Cal Fire's latest fire report shows 4 million acres across the state have burned this year. 
"The 4 million marks is unfathomable. It boggles the mind, and it takes your breath away," Cal Fire spokesman Scott McLean said Sunday. "And that number will grow."
Last week, we pointed out that attention should quickly turn to a "fast-moving wildfire is ripping in Northern California's wine country. Called Glass Fire, which ignited a little more than a week ago, has been burning in Napa and Sonoma counties. As of Monday, the fire has scorched 66,840 acres and is 41% contained.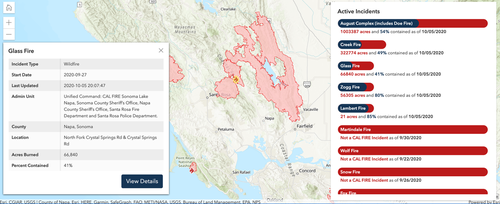 The blaze has damaged or destroyed at least 18 wineries in Napa Valley as more than 215 are under mandatory evacuation orders or evacuation warnings.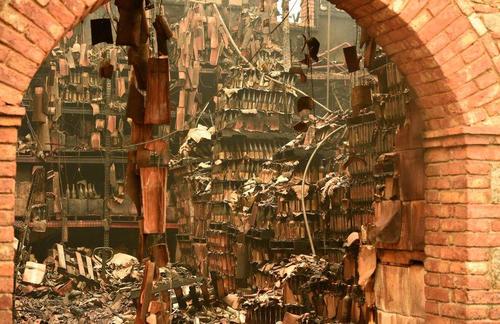 Some of the wineries that have sustained fire damage include Chateau Boswell, Hunnicutt, Hourglass, Dutch Henry, Fairwinds, Burgess Cellars, and Castello di Amoros. Damage has also been reported at Behrens, Newton, Cain, Flying Lady, Sherwin, School House, Fantesca, and Spring Mountain Vineyard.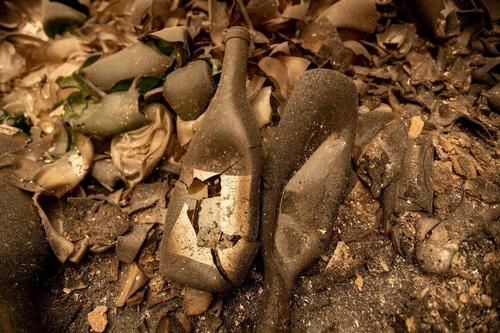 Philippe Melka, a winemaking consultant for high-profile wineries, told Bloomberg that chemical compounds in smoke could easily be absorbed into grapes' skin, making the wine smell and taste like ash. 
Melka estimates around 80% of vineyards in Napa could be affected by smoke. He said wineries in the south of Napa could have escaped smoke damage. 
"But in a year like this," he said, "who will pay $300 for any wines?" 
Napa wineries contribute about $34 billion in revenue to the US economy, provide thousands of jobs, and create a stable local economy for Napa. Moving forward, that could all change, as damaged vineyards could take years to recover. Melka doesn't expect premium cabernets from Napa this year, given the widespread smoke damage.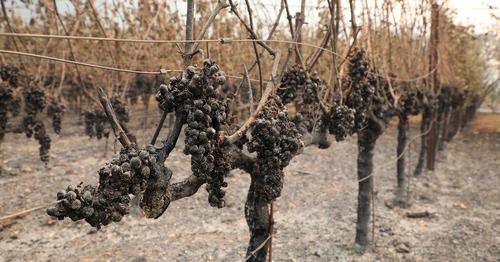 Some wineries are not even considering picking grapes this harvest season for cabernet. Schramsberg Vineyards, which bottles under the J. Davies brand, said there will be no cabernet this year. 
Wine entrepreneur Jeff Smith, the owner of Hourglass Winery, said, "we don't know if the grapes are smoke tainted, because it now takes 24 to 30 days to get results... The labs are inundated. The industry has never had anything like this amount of smoke."
Winemaker Chris Howell of Cain Vineyard and Winery, said, "we'll reprune some vines, but we won't learn the truth of the vineyard until 2021... If the damage is only from smoke, they may recover for the next growing season." 
Howell said if the vineyard has to be replanted, and it could take two to three years and cost $50,000 to $85,000 an acre. And for top cabernet, the plants must be at least 5-7 years old before grapes can be used. 
Given the immense smoke damage or at least the preliminary estimates, while other vineyards have been burned to the ground, the 2020 vintage could quickly produce a shortage of premium cabernets from Napa.