---
China's Evergrande Reports $113 Billion Loss Over Two Years
Two years after it was halted, left for dead, and effectively bankrupted in a controlled demolition, China's one-time property giant, Evergrande, reported long-delayed results and boy were they a whopper: they showed that in 2021 and 2022, the company generated mindblowing losses of $113 billion, on $340 billion in liabilities.
The losses - The company's first since its 2009 listing, and a sharp reversal from the 8 billion yuan profit in 2020 - showed "the existence of material uncertainties that may cast significant doubt on the Group's ability to continue as a going concern", Evergrande said in a stock exchange filing, which of course is irrelevant since much of the defaulted company's capital structure has been in some state of restructuring ever since 2021.
Once China's largest real estate company, Evergrande was the match that lit China's property crisis in 2021 when it was found to be drowning in more than $300 billion in liabilities, sparking a nationwide property crisis that had global ramifications and sent the world's largest asset class (according to Goldman) reeling and plunging China's economy into a brutal slowdown from which it has been unable to recover to this day.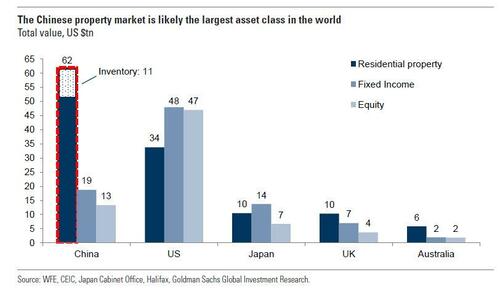 Trading in the company's Hong Kong-listed shares has been suspended since March 2022.
Back then, Evergrande said that it would not be able to publish its 2021 audited results within the timeframe required by Hong Kong's listing rules, blaming the delay on "a large number of additional audit procedures" and the Covid-19 pandemic.
The company said on Monday it had suffered a net loss of 686.22 billion yuan in 2021 and 125.81 billion yuan in 2022, in long-delayed Hong Kong stock exchange filings that could bring Evergrande closer to a resumption of trading.
Evergrande saw its sales plummet during the crisis: according to Bloomberg, revenue plunged by half in 2021 to about 250 billion yuan, before falling further last year to 230 billion yuan, missing the average estimate of six analysts surveyed by Bloomberg.
The developer's debt pile meanwhile continued to balloon, with total liabilities reaching 2.58 trillion yuan at the end of 2021, or almost $360 billion, on soaring undelivered projects. That figure fell slightly to 2.44 trillion yuan as of December last year.
The biggest liabilities last year were from trade and other payables, which stood at around 1 trillion yuan as of December. Current borrowings fell slightly from a year earlier to 587 billion yuan.
"The results are not encouraging at all," said Ting Meng, a senior credit strategist at Australia & New Zealand Banking Group. While not a game changer, they confirm how the company has been in deep distress and struggling with operations and repayments, Meng said.
Still, Evergrande could be closer to resuming trading of its shares after reporting the delayed statements. Trading of the shares was suspended since March 2022, risking a delisting if there's no resumption within 18 months.
"Evergrande's successful publication would help to avert a forced delisting and advance the company's debt restructuring," said Leonard Law, senior credit analyst with Lucror Analytics Pte. "That said, the results do not really matter ultimately, as we believe the business is already broken."
The defaulted real estate giant asked to convene meetings for offshore creditors to approve its credit overhaul plan, after reporting long-delayed financial statements for 2021 and 2022. Court hearings are scheduled to take place next week, exchange filings showed late Monday.
"There's potential for approval of its debt-restructuring plan," said Bloomberg Intelligence analysts Daniel Fan and Adrian Sim. "China Evergrande might act fast to avoid possible breakdown due to offshore litigation for its defaults."
Others remain unconvinced that the shares can resume trading after Evergrande's auditor, Prism, said it was unable to obtain sufficient audit evidence to give an opinion on the statements. It remains "highly uncertain" given that the auditor signaled skepticism over the company's ability to continue as a going concern, said Zerlina Zeng, senior credit analyst at CreditSights, Bloomberg reported.
Loading...