---
Copper & Crude Crashing As Growth Fears Re-Emerge
Headlines signaling dwindling chance of new fiscal stimulus combined with notable disappointments in US manufacturing data has sent the 'growth-signaling' commodities crashing...
Crude is collapsing, back below $39...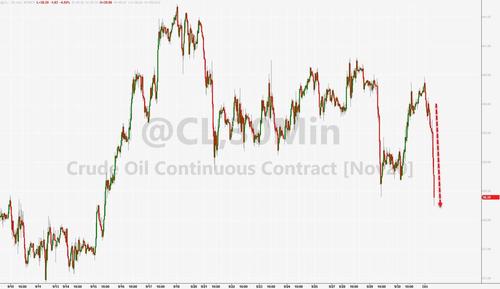 But it's not just US, as COVID continues to re-emerge worldwide in its so-called second-wave, there are ominous signs for consumption.
A 7-day moving average of worldwide commercial flights declined to the lowest since mid-August, according to Flightradar24, a website that tracks flights in real time, while U.K. car usage slumped last week amid new virus restrictions. Europe's oil refineries are struggling to cope with a diesel glut, limiting their prospects for extra crude buying.
And so much for Dr. Copper?
As Bloomberg noted, the driver of the sudden plunge is likely growth concerns coupled with extended positioning. Speculative copper longs have increased steadily over the last 6 months and are now near all time highs in terms of the number of contracts -- this is a 2.4 standard deviation long position, based on the last two years worth of data.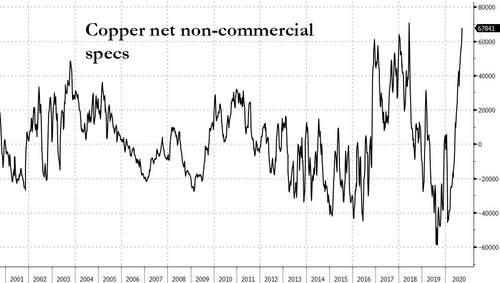 That's substantially more extended than gold was when it peaked a couple of months ago.
Copper has a long way to fall (versus Gold) to catch down to bonds' reality...
But, but, but everyone said we were coming back?