---
Crypto & Stocks Hit Record Highs Ahead Of Fed Taper Talk
After yesterday's ridiculous surge in Small Caps relative to Nasdaq, today saw some of that reverse as Nasdaq led the gains with a massive de-rotation trade at the cash open...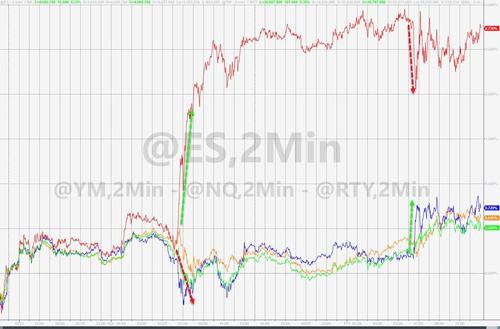 Today's biggest winner was the Trannies which exploded over 14% at its best today thanks to the idiotic surge in Avis...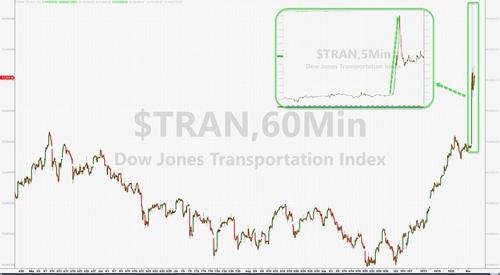 Russell 2000 finally hit a new record high today (taking out the March highs)...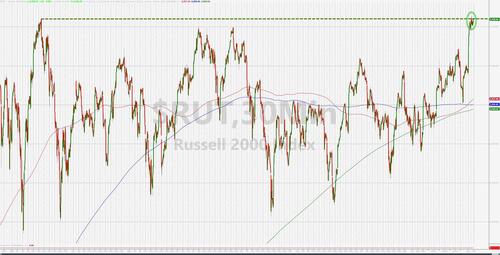 ...finally joining the S&P, Dow, and Nasdaq in that never-before-seen cohort...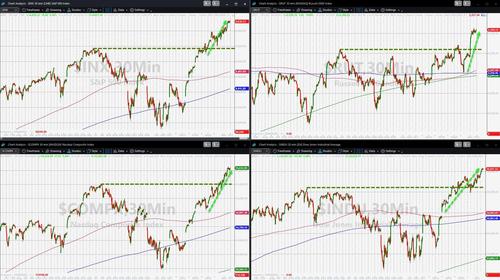 Defensives dominated gains today as Cyclicals ended unch...
Source: Bloomberg
And shorts continue to get squeezed (not all three green arrows are the same amplitude and timing)...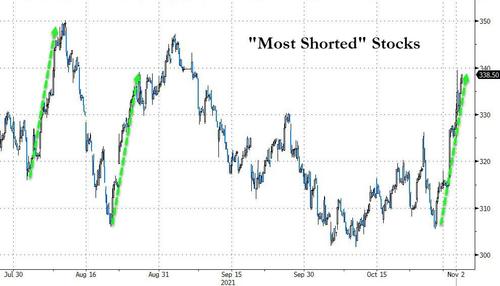 Source: Bloomberg
Then there's AVIS Budget Car Rental (CAR) for which we have no words today. At its peak today it was the largest company in the Russell 2000...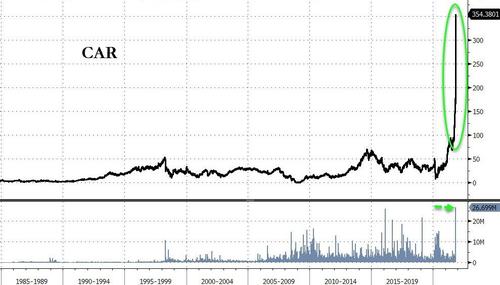 Source: Bloomberg
VIX was monkeyhammered back to a 15 handle today...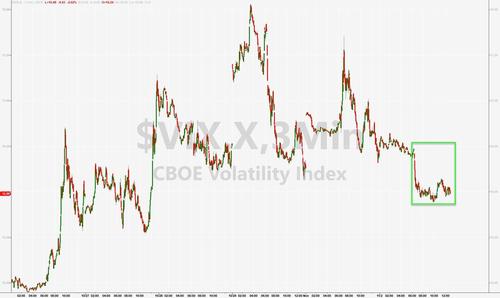 Cryptos soared to a new record aggregate market cap above $2.7 trillion...

With Ethereum surging to a record high over $4500...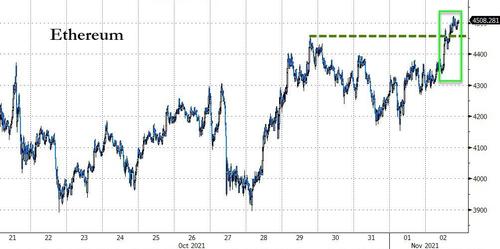 Source: Bloomberg
And Bitcoin bid back above $64,000...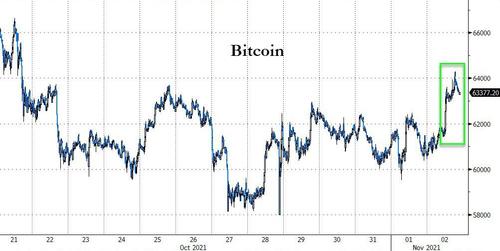 Source: Bloomberg
Along with crypto and stocks, bonds were also bid today, especially the short-end (2Y -4bps, 30Y -1bps)...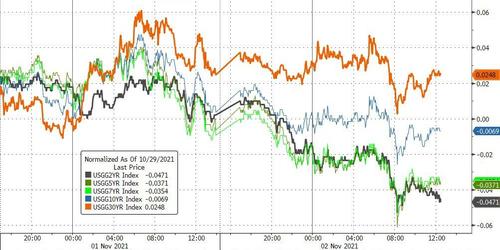 Source: Bloomberg
20s30s steepened a little today but remains inverted...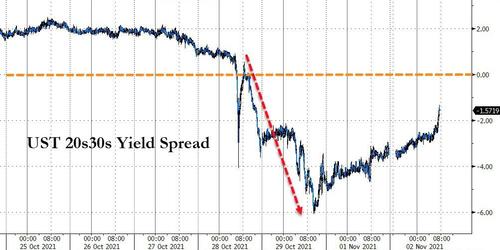 Source: Bloomberg
Global inflation breakevens have slipped lower in the last few days...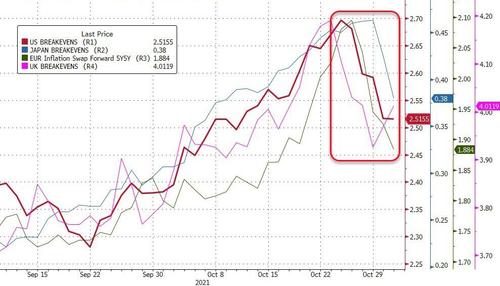 Source: Bloomberg
The dollar managed very modest gains, desperately clinging to the Friday gains ahead of The Fed...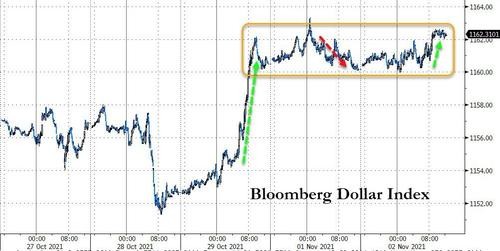 Source: Bloomberg
Gold failed to get back to $1800 again and slipped lower on the day...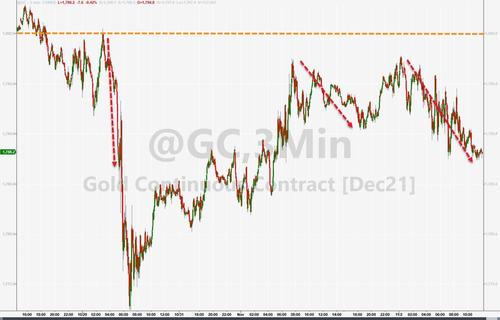 Oil also slipped lower today with WTI unable to hold an $84 handle ahead of tonight's API data...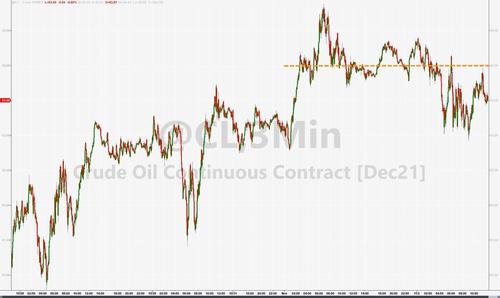 Finally, the S&P 500 hit a record high for the 4th straight day (and 61st time of the year), pushing the major index into a more worrying "overbought" situation...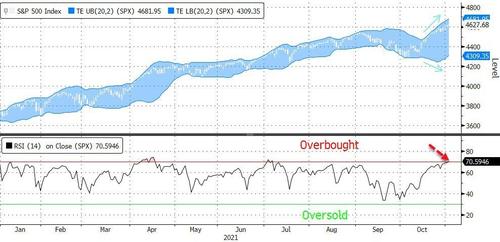 And Greed has reached "Extreme" levels - the 'greediest' since Dec 2020...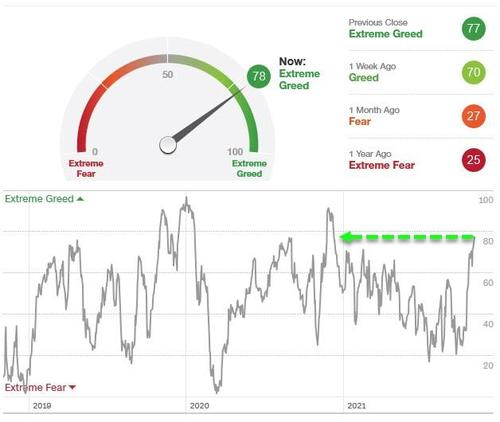 And the Put-Hate is strong again...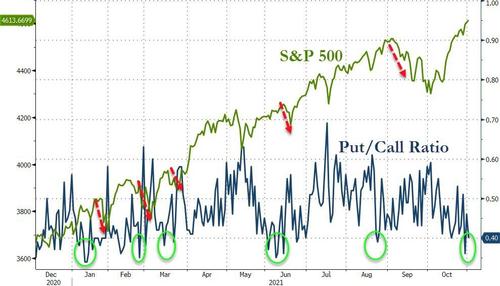 Let's hope that Powell uses lots of lube to feed the taper to the market tomorrow.. or will this be the cry from traders globally...