---
Developer Pivots Luxury Brooklyn High-Rise Condo To Rentals 
A high-end condominium glut in Brooklyn forced one developer to reconstruct its entire business model from condos to rentals for one of its new luxury highrises. 
Avery Hall Investments announced Monday the commencement of leasing at One Boerum Place located at Brooklyn Heights and Boerum Hill. Bloomberg notes the building was never intended for rentals, but a glut of condos in the borough and citywide forced the developer to change paths. 
Avi Fisher, a founding partner of Avery Hall, told Bloomberg that One Boerum Place "was very much envisioned as a condo." At the time of construction, which began around 2016, the condo market in the borough was "roaring, and all signs were pointing to continued growth, and in our company's history, this was the culmination of the condo pipeline we'd amassed," he said. 
In all, Fisher said his firm spent about $250 million on building costs. When 2019 came along, the condo market began to deteriorate. A year later, during the pandemic, the condo market plunged as city dwellers moved to suburban areas and rural communities to escape the socio-economic collapse of the liberal-run city.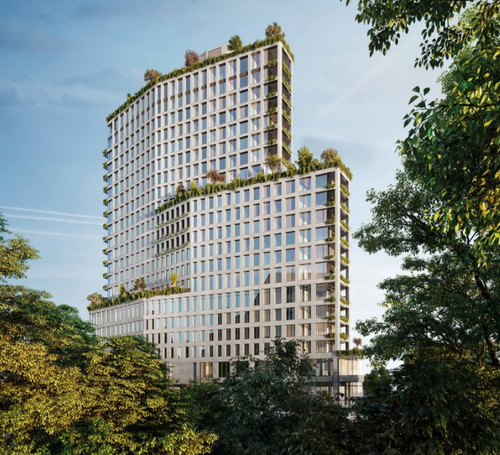 Sales of One Boerum Place were to begin in late 2020, but Fisher and his team began to evaluate the oversupplied condo market. That's when they decided to flip the business model from selling condos to high-end rentals. 
"What solidified the fate of this building was ultimately the pandemic," Fisher said. "The condo market deteriorated to the point where the decision was clear to us."
To change course, Fished received approval from lenders and partners. The press release today outlines "pre-leasing commences" at the luxury building. 
"One Boerum Place will now become luxury rentals, with prices ranging from $8,500 a month for a roughly 1,200-square-foot three-bedroom to $12,000 a month for a roughly 3,120-square-foot four-bedroom. There are also, the developer says, "not many" one-bedroom apartments which will start in "the low $4,000s," and a few two-bedroom apartments that will rent for just under $6,000," Bloomberg said. 
Fisher said his company made the right move:
"As an organization, we felt the right move for us and our investors and partners was to [create] a rental portfolio," he said, "because we believe it will stand the test of time."
Fisher explained the "exodus in Manhattan" resulted in a "large number of [those] people came to Brooklyn." He believes his building could be in a perfect spot to capture the outflow of Manhattanites.
He added: "We don't have to sell this asset now, and the best way we can help participate in the recovery of New York and capitalize on that [recovery] is to execute a rental plan."
Brooklyn's rental glut may get worse as new supply via One Boerum Place has just hit the market.