---
Exxon Surges After DE Shaw Goes Activist
Exactly two months ago we mused rhetorically (and comically) when some hedge fund would finally go activist on the world's formerly largest company, Exxon, which in 2020 became a shadow of its former self, seeing its value slashed in half despite a hefty 9% dividend yield (which may or may not be cut in the future) its market cap shrinking to just $180BN (which Snowflake may soon surpass at the rate it's going).
*CHEVRON TOPS EXXON AS BIGGEST U.S. OIL FIRM BY MARKET VALUE

Will some activist please tell Exxon to halt the dividend and pivot into video streaming

— zerohedge (@zerohedge) October 7, 2020
The answer came moments ago when Bloomberg reported that DE Shaw had finally taken up our challenge, and had gone activist on Exxon, sending the oil giant a letter in which it demands the oil major to "cut costs and spending", ostensibly to preserve the dividend and potentially to prepare the company for a value maximizing transaction. And, as Bloomberg adds, Exxon is reviewing the letter and will comment shortly.
*D.E. SHAW SENT LETTER TO EXXON ON TUESDAY: SOURCES
*D.E. SHAW IS SAID TO PUSH EXXON TO CUT SPENDING, COSTS
*D.E. SHAW IS SAID TO HAVE INCREASED EXXON STAKE SINCE SEPTEMBER
*EXXON REP: COMPANY WILL REVIEW LETTER BEFORE FURTHER COMMENT
While we look for more, we are curious to find out just how big DE Shaw's stake in Exxon is, and of course what DE Shaw's strategic vision is. Clearly a key concern is what happens to the dividend which is probably unsustainable at the current price of oil and with Exxon's current cost structure. It is also why the dividend yield is a whopping 8% (was 10%+ just a few weeks ago) as Wall Street is confident the company will have to slash the generous dividend.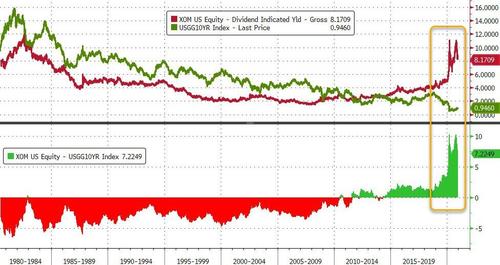 For now, the stock is clearly happy that someone has finally decided to intervene and do something about one of the year's worst performers.