---
Ford, GM Layoff Another 500 Workers As Strikes Ripple Across Heartland 
After United Auto Workers expanded strikes against Ford Motor Co. and General Motors Co. on Friday, both automakers laid off an additional 500 workers at four Midwestern plants because of the worsening impacts of labor actions about to enter the third week. 
Reuters said Ford on Monday "was furloughing a total of 330 workers at its Chicago Stamping and Lima, Ohio Engine plants, while GM layoffs included 130 at its Parma, Ohio Metal Center and 34 at its Marion, Indiana Metal Center." 
On Friday, UAW boss Shawn Fain expanded strikes against a General Motors plant in Lansing, Michigan, and a Ford Chicago assembly plant but spared Stellantis after last-minute talks that offered progress on a new four-year labor deal for UAW workers.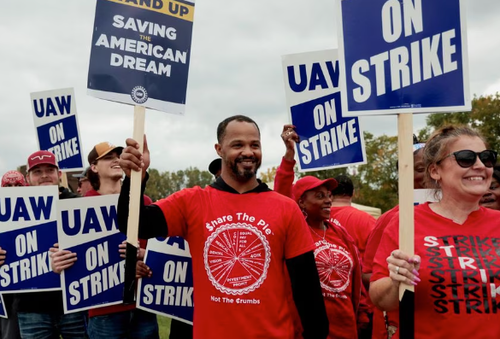 "Our courageous members at these two plants are the next wave of reinforcements in our fight for record contracts," the union boss said Friday. He added, "We are not calling on additional members at Stellantis to go on strike because moments before this broadcast, the automaker made significant progress on the contract."
The Wall Street Journal said, "With the layoffs disclosed by GM and Ford on Monday, more than 6,000 factory workers are off the job because of spillover effects from the strike. That figure includes several suppliers who have cited furloughs directly tied to the walkouts."
About 25,000 out of 146,000 UAW workers are striking at facilities operated by General Motors Ford, and Stellantis.
Last week, Ford's chief supply chain officer, Liz Door, warned:
"We have roughly 125,000 supplier employees that support our Michigan assembly plant.

"And if prolonged, this really could have a significant impact as it expands into our other Ford factories. We see anywhere between 325,000 to 500,000 people that could be laid off."
CEOs of Ford and General Motors blasted UAW boss Fain over the weekend:
GM CEO Mary Barra said: "It's clear that there is no real intent to get to an agreement."

While CEO Jim Farley said, "UAW is holding the deal hostage over battery plants."
Late Monday, General Motors said it received a counteroffer from the union. Last week, Fain dropped pay hike demands from 40% to 30% for a new four-year labor contract. Still, automakers are around 20%.  
In other UAW news, Volvo Group-owned Mack Trucks agreed on a new labor contract with the union on Sunday night to avert a strike. 
JPMorgan told clients Monday that it had reduced General Motors' third-quarter earnings by approximately $191 million and decreased Ford's profit by around $145 million because of ongoing strikes. 
Loading...