---
Futures, Treasurys Jump After Powell Says Economic Recovery Hasn't Progressed Enough To Begin Tapering
We said Powell would be dovish and he did not disappoint.
Fed Chair Powell's prepared remarks ahead of his testimony before the House Financial Services Committee today at 12:00pm have been released and they served as rocket fuel to S&P futures which surged to new all time highs after the central bank head said that "monetary policy will continue to deliver powerful support to the economy until the recovery is complete" which apparently won't be for a long time as the jobs market is still "a ways off" from the "substantial further progress" needed to begin bond-buying taper. Just as importantly, while Powell did concede that inflation is "likely to remain elevated in coming months before moderating" adding that expectations are broadly consistent with the Fed target.
Addressing soaring prices, Powell sticks to the party line that "Inflation is being temporarily boosted by base effects, as the sharp pandemic related price declines from last spring drop out of the 12-month calculation" although as noted yesterday that does not explain why 2022 inflation forecasts are rising. 
In addition, Powell said that "strong demand in sectors where production bottlenecks or other supply constraints have limited production has led to especially rapid price increases for some goods and services, which should partially reverse as the effects of the bottlenecks unwind." The only question is when will the bottlenecks finally unwind...
Some more details from Powell's speech:
Household and business balance sheets are quite strong, core financial institutions are resilient
Strong job gains expected to continue in coming months as health crisis continues easing
Household spending rising at a rapid pace, housing demand is strong and business investment is solid
At our June meeting, the Committee discussed the economy's progress toward our goals since we adopted our asset purchase guidance last December. While reaching the standard of "substantial further progress" is still a ways off, participants expect that progress will continue. We will continue these discussions in coming meetings. As we have said, we will provide advance notice before announcing any decision to make changes to our purchases.
Reading between the lines, the market is delighted that Powell appears to again be kicking the can, with odds of a taper announcement in July - or in the near-future - fading, to the point where even the Jackson Hole meeting in August may prove premature to unveil the taper.
That's why in kneejerk reaction, spoos surged by 10 points, rising just why of their all time high of 4,383.75 hit yesterday...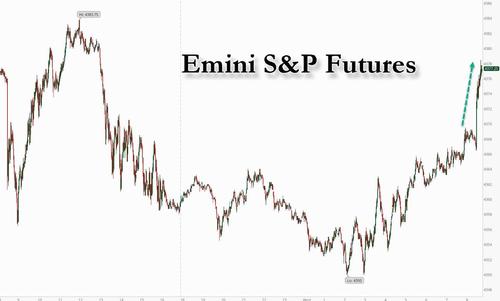 ... while bonds are bid, with 10Y yields dropped as low as 1.37% after Fed Chair Jerome Powell said the U.S. economic recovery hasn't progressed enough to begin scaling back asset purchases.
Powell's full prepared remarks are below (pdf link)