---
"Glut Of Inventory" Hits Hamptons As Rental Demand Cools
Considering the following: private jet demand in the US is sliding, and summer rental rates in the Hamptons have dropped. These could be indications that some of the wealthiest Americans are pulling back on spending as recession fears mount.
Vacation rental company StayMarquis said the average nightly rate for a home in the Hamptons averaged $970 as the summer season begins. This is down from $1,080 last year and follows two years of price surges since the Hamptons exploded in popularity during the pandemic. 
"More properties are available to rent, there are better deals and landlords are more open to shorter stays." Jordan Flerx, a vice president at StayMarquis, told Bloomberg. 
Flerx continued, "You can take advantage of properties that you would not have been able to shoot for in the past."
The slowdown in demand for Wall Street's most popular summer playground, situated 90 miles east of Manhattan, may result from capital market turmoil over the past year and a half. The Federal Reserve's most aggressive interest rate hikes in a generation to tame high inflation has led to sliding banker bonuses. 
The slowdown has sparked a "glut of rental inventory" that has led to favorable conditions for tenants, according to Judi Desiderio, the CEO of Town & Country Real Estate. This means tenants have the upper hand in price negotiations. 
Bloomberg provides a list of available Hamptons properties that show discounting: 
"Southampton Seclusion" (Southampton)

July 2023 Price: $110,000
July 2022 Price: $120,000

"Village Fringe Luxury" (East Hampton)

July 2023 Price: $60,000
July 2022 Price: $70,000

"Art Village Retreat" (Southampton)

July 2023 Price: $60,000
July 2022 Price: $75,000

"Sandpiper Spindrift" (Westhampton)

July 2023 Price: $68,000
July 2022 Price: $75,000
"North Fork Waterfront" (East Marion)

August 2023 Price: $40,000
August 2022 Price: $50,000
Besides sliding demand for summer rentals in the Hamptons, there has been a drop in private jet demand in the US.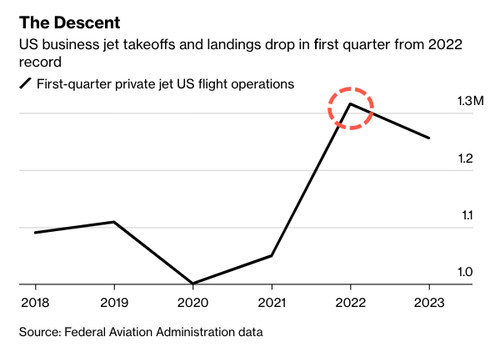 Also, the latest debit and credit card data published by the Bank of America Institute shows higher income consumers are beginning to crack.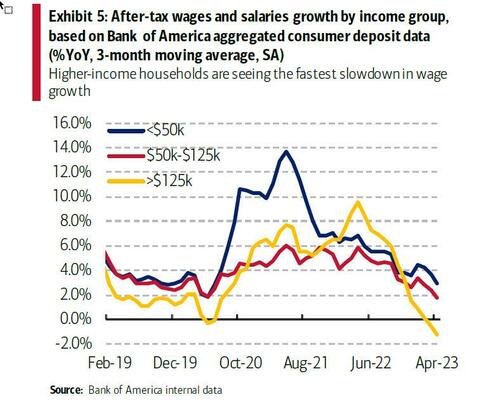 The signs are becoming more evident the upper cohort of American consumers is curtailing spending as the economic storm clouds gather. It raises the question of whether financial advisors are recommending their wealthy clients to brace for the impact of a hard economic landing.
Loading...