---
Ira Sohn Conference Highlights: Einhorn's "New Oil", ESG Mania And More
The Sohn Investment Conference has gained public scrutiny over the past couple of decades as the marquee event in the hedge fund universe, where top managers gather to announce their latest long or shorts - either just after they've put them on or just before they unwind them - hoping to generate breathless media coverage and (with some fading luck) some follow-through in the market. But in the age of COVID-19, virtual conferences just don't carry the weight they once did - which is understandable since part of the conference's appeal was its head-to-head nature and its setting at Manhattan's Lincoln Center.
But it's not just the dismal performance of the hedge fund community in the past decade, coupled with its inability to generate any alpha ever since the government cracked down on SAC's use of "expert networks" in 2010, that interest in hedge funds has collapsed (don't tell the producers of Billions). With the market enduring its bumpiest ride since February, and Bill Ackman stealing the spotlight by announcing his Dominos play from a completely different conference, there was a lot of other news vying for attention from the financial press on Wednesday, and investors could be forgiven for forgetting that Sohn even happened. But just in case you're curious about what was said, here's a quick recap.
Greenlight Capital's David Einhorn was the main even on Wednesday, and he didn't disappoint. In his extremely topical commodity-focused pitch, Einhorn declared copper "the new oil" and pitched Teck Resources, while also discussing the potential of Freeport-McMoran as a "pure play" trade on the price of copper.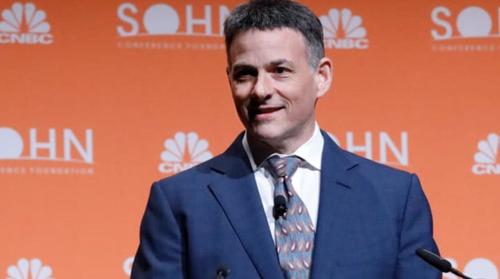 Finkle is Einhorn
After Greenlight badly underperformed the market during Q1, Einhorn penned a letter bashing "broken" markets, the Fed, Chamath and Elon and blaming them all for his firm's underperformance.
On Wednesday, he pointed out that while Teck has done well this year, it has underperformed Freeport. But setting aside the performance of individual firms, Einhorn argued that copper is facing a number of bullish supply-oriented trends. First, the pipeline of potential new capacity for copper - once praised as "Dr. Copper" by market enthusiasts for its perceived status as a harbinger of economic trends - is small because it takes a long time to create new mines. Because of this, supply is expected to be outpaced by demand by 2024, according to Einhorn.
Teck briefly spiked on Einhorn's endorsement, while Freeport finished more than 4% lower.
Einhorn tied it all together by highlighting copper's importance to the green energy trend. He devoted some of his time to discussing the upcoming rush for electric vehicles, which ties into his copper theme since copper is used in batteries and electric car motors, as well as wind and solar installations.
Popular tech and stay-at-home names were also featured. Octahedron Capital's Ram Parameswaran pitched Peloton, whose shares are hurting from a recent recall, saying its stock could rise 4x from its current level. Meanwhile, Glenernie Capital's Andrew Nunneley pitched Hello Fresh, calling it it the "Tesla of meal kits."
D1 Capital's Dan Sundheim talked about Netflix, while discuss his "really bullish" view on used car sales online.
SPACs featured in at least one pitch, as Glenview Capital's Larry Robbins pitched Fortress Value Acquisition, Thomas Bravo and Fast Acquisition, all of which rose in typical kneejerk fashion as the newswire headlines hit. Robbins also shared five "management stories" that he said were undervalued: DXC Technology, Myriad Genetics, Brookdale Senior Living, McKesson and Walgreens Boots Alliance.
Trendy ESG stories also made an appearance with Impactive Capital's Lauren Taylor Wolfe (one of the few female investors to ever pitch on stage at the conference) pitched KBR as a solid bet for investors looking to capitalize on the transition to a green economy.
Just in case you couldn't tell from the name, Wolfe's firm is ESG-focused, and Wolfe said the transition to green energy is one she has been focusing on. While a lot of the companies in the space are venture-backed and pre-revenue "story stocks", Wolfe said Impactive Capital instead went in search of companies that are already profitable, yet are poised to see accelerated growth tailwinds thanks to the energy transition.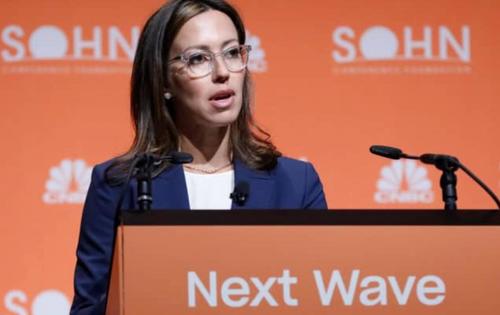 Lauren Taylor Wolfe
Another female on the schedule, Perceptive Advisors' Ellen Hukkelhoven, pitched a long position on BridgeBio Pharma.
To sum up, the big stories at this year's Sohn conference were chiefly focused on tech and ESG, two themes that will likely continue to dominate markets as humanity moves past the coronavirus pandemic into the post-COVID world.