---
Hedge Fund CIO: We've Lost Faith In Media, Politicians And Scientists; We Still Have Absolute Trust In The Fed
By Eric Peters of One River Asset Management
"Drift. Apathy. Distrust," barked Biggie Too, feeling it, already in a groove.  "Frustration. Irritation. Uneasy anticipation," continued the chief global strategist for one of Wall Street's Too-Big-To-Fail affairs.
"Biggie got this deep dark feeling he's way too early," whispered Too, lips pursed, right at home in 3rd person. "We lost our faith in politicians and the media. Institutions. Now we're losing trust in science, our scientists, Biggie sees them cracks spreading," said Biggie, pointing to his bank of screens, Fauci getting Fox'd.
"And yet, through it all we still have absolute trust in the Fed," said Biggie, squinting. "Guess this thing goes and goes until our central bankers get humiliated too. When we discover inflation ain't transitory."

Overall:
"Our current market prices reflect market and trading dynamics unrelated to our underlying business," wrote AMC's management to the SEC, seeking approval to issue more shares, of which he controls an unlimited supply. The meme stock had jumped nearly 100% in a single day, extending gains this year to +2,850%.  At nearly 8-times its pre-pandemic high, AMC's price has diverged far from reality if there is even such a thing.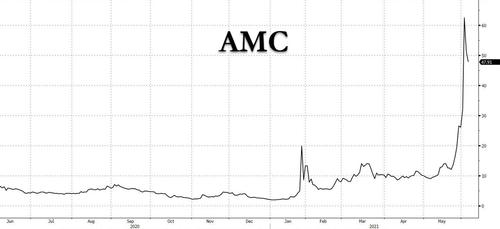 Oil prices jumped yet again, extending this year's rally to over 40%. OPEC responded by increasing output, over which it has an outsized influence, trying to roughly match supply to our reopening reality. Unlike equity, which can be created as easily as fiat currency in infinite quantities at the click of a mouse, the production of commodities is a far more difficult affair. Capital intensive. With varying lead and lag times that reflect real world realities. And this makes their prices especially sensitive to both the quantity and velocity of fiat.
Now into our second year of 15% federal deficits, funded for free by newly created dollars, those things which are hardest to produce are generally rising faster than others. So far this year, consumer prices have leapt at a +6.2% annualized pace. With the Federal Reserve able to buy as many bonds as needed to hold 2-year yields at 0.15%, a level wildly disconnected from reality, real interest rates are now deeply negative.
National housing prices are rising at the fastest pace in recorded history: +20% from this time last year, with sales surging +35%. Over that one-year span, the S&P 500 has risen +40%. In 2021, it is rising at a +30% annualized pace (+12.6% year-to-date).
Such is the magic of money illusion.
And this, of course, is the unstated aim of the latest stage in our experiment. But its success relies on wages outpacing these various metrics, if the system is to trend back toward equilibrium. But year to date, average hourly earnings have risen at a +3.4% annualized pace.
New Ideas Party:
"Next week I will send to congress a bill that will make bitcoin a legal tender," announced El Salvador's President Bukele. There are 195 countries on the planet. El Salvador ranks 103rd in GDP. 20% comes from remittances, most of which cost recipients 10% in fees. About 1/3 of the nation lives below the poverty line. 70% have neither a bank account nor credit card. El Salvador leads in nothing really. But the President and his New Ideas Party just made it the first nation on earth to accept bitcoin as legal tender. It won't be the last.