---
Homebuilder Optimism Explodes Higher As Mortgage Rates Plunge To Record Lows
US Homebuilders' Confidence index soared higher in July (to 72 from 58 last month), back to March (pre-COVID) levels.
Measure of present single family sales rises to 79 vs 63 last month

Future single family sales gauge rises to 75 vs 68 last month

Prospective buyers traffic measure rises to 58 vs 43 last month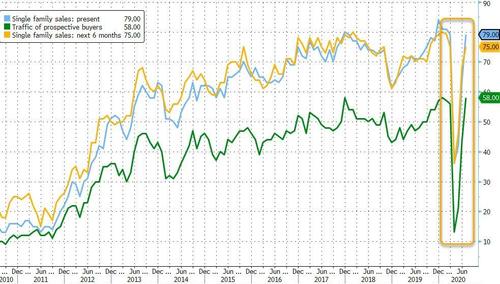 "New home demand is improving in lower density markets, including small metro areas, rural markets and large metro exurbs, as people seek out larger homes and anticipate more flexibility for telework in the years ahead," Robert Dietz, NAHB chief economist, said in a statement.

"Flight to the suburbs is real."
At the same time, the average rate on a 30-year fixed mortgage fell to 2.98%, mortgage-finance giant Freddie Mac said Thursday, its lowest level in almost 50 years of record keeping. It is the third consecutive week and the seventh time this year that rates on America's most popular home loan have hit a fresh low.
Below 3% is a "tremendous benchmark," said Jeff Tucker, an economist at Zillow Group Inc.

"It's also an indication that we remain in a crisis here."
But, the relative spread over Treasuries remains dramatic to say the least...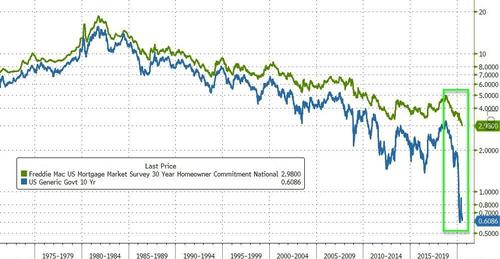 There's just one thing, while homebuilders are almost at euphoric levels, homebuyers aren't so convinced...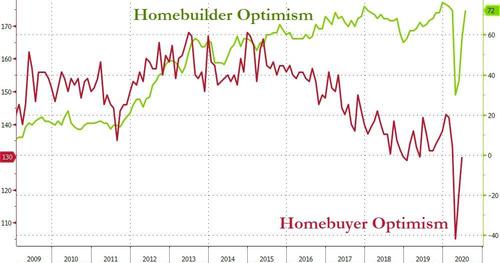 Source: Bloomberg