---
Intel Beats But Stock Slides On Poor Profit Margin, Disappointing Guidance
Intel is currently undergoing a dramatic transformation, and as such its just completed quarter is hardly indicative of what to expect, moments ago INTC reported revenue and earnings which both handily beat expectations, while the company also guided higher. Here are the key Q1 numbers:
Revenue 19.7BN, down 0.8% Y/Y, but beating exp. of 17.86BN
Adj. EPS 1.39, beating exp. of 1.15
Looking closer at the company's segments reveals the following revenue picture:
Data Center Group Revenue $5.56 billion, -21% y/y, estimate $5.89 billion
Internet of Things revenue $1.29 billion, +46% y/y, estimate $781.5 million
Mobileye revenue $377 million, +48% y/y, estimate $332.6 million
Non-Volatility Memory Solutions revenue $1.11 billion, -15% y/y, estimate $607.9 million
Programmable Solutions revenue $486 million, -6.4% y/y, estimate $441.4 million
Client Computing revenue $10.61 billion, +8.2% y/y, estimate $10 billion
Adjusted EPS $1.39 vs. $1.45 y/y, estimate $1.14 (range $1.10 to $1.25)
Yet not all was great: Intel's gross margin was 55.2% missing analyst expectations of 57.98%, as the global semiconductor supply-chain fiasco is clearly impacting even companies like Intel. Why does this matter - because until 2019 margins were regularly above 60%, but it was the covid pandemic that really hammered profit margins.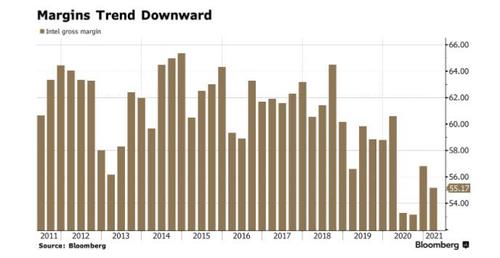 There was more bad news in the company's Q2 guidance, where the company projected EPS that missed the Wall Street estimate by 6 cents, despite projecting stronger revenue. This makes sense in a world where Intel is having troubles passing on rising costs:
Sees adjusted revenue about $17.8 billion, beating the estimate $17.64 billion (range $17.14 billion to $18.22 billion); Sees GAAP revenue $18.9 billion
Sees adjusted EPS $1.05, missing the estimate $1.11
However, the poor Q2 guidance was offset by Intel's stellar full-year revenue forecast, which was raised by $500MM to $72.5BN, while EPS is expected to come just above the Wall Street consensus:
Sees adjusted revenue $72.5 billion, up from the $72 billion forecast previously, beating the estimate $72.09 billion; Sees GAAP revenue $77.0 billion, saw about $76.5 billion
Sees adjusted EPS $4.60, saw $4.55, beating the estimate $4.56
Intel admits to sandbagging guidance, saying that the forecast could be even strong if supply (i.e., the chip shortage) normalizes considering the record demand for PCs. Sure enough, notebook platform volumes increased 54% compared with last year, as demand for laptops remains off the charts:
*INTEL GAVE CONSERVATIVE FORECAST, COULD BE HELPED BY SUPPLY
*INTEL SAYS PC ENVIRONMENT VERY STRONG, COULD BE RECORD YEAR
*INTEL SEES NO INDICATION OF PC DEMAND SLOWDOWN
Some more headlines from an interview with CEO Gelsinger:
Intel Upside Constrained by Supply, CEO Gelsinger Says
Intel Says PC Environment Very Strong, Could Be Record Year
Co. Gave Conservative Forecast, Could Be Helped by Supply
Co. Sees No Indication of PC Demand Slowdown
Intel Profitability in 2H Crimped by Costs, Competition
CEO Says Will Be Aggressive in Gaining Market Share
CEO Says Signs of Enterprise Spending Returning
Co. Has 50 Customers in Pipeline for Foundry Effort
Despite the solid beat and even more solid full year guidance, investors were not excited by the company's disappointing quarterly guidance and margin miss, and pushed the stock lower after hours, although much of the kneejerk snap lower has been recovered.