---
Victoria's Secret Sale To Sycamore Imminent; L Brands' Shares Pop
Shares of Victoria's Secret parent company L Brands jumped 10% Monday on news private equity firm Sycamore Partners is close to a deal to purchase the women's lingerie brand, reported CNBC.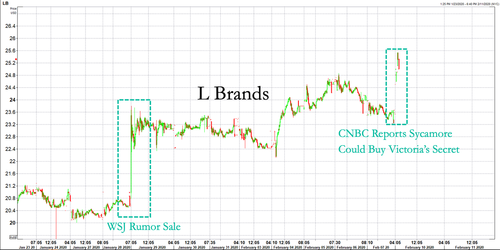 News of the potential deal involving Sycamore was released in the overnight hours, with more details expected this week. 
There was no word on a succession plan for L Brands CEO Les Wexner. Still, as we noted several weeks ago, his mediocre performance as CEO and controversial relationship with late sex criminal Jeffrey Epstein, assured that his time at the helm of the company is coming to an end. That said, since we first previewed the potential sale of Victoria's Secret, there has been no indication if the transaction is tied to Wexner's relationship with Epstein.
Victoria's Secret has experienced declining sales in the last four years, which triggered a mass exodus of investors from L Brands' stock, sending it plunging 74% since 2016. Shareholders criticized Wexner for his inability to evolve Victoria's Secret to changing consumer demands, despite L Brands having massive success in its other companies, such as Bath & Bodyworks personal care shop. 
Victoria's Secret generated $7.4 billion in sales last year but has been considered a dying brand among consumers. 
The brand canceled its once-popular annual fashion show several months ago, ironically as "woke culture" deemed it objectifying of women.
Sycamore already owns department store Belk, office retail company Staples, women's apparel brand The Limited, music store Hot Topic, and fashion brand Torrid.